For ID card printing, the most suited material is PVC, which is often associated with pipes. PVC stands for Polyvinyl Chloride, in short, it's a plastic material, and not all printers can print on such materials, so it's important for you to go with a printer solely dedicated to ID card or PVC card printing. In India, people use such printers for hospitals, educational institutions, and office use as well. The durability and printing quality of such ID cards are way superior to normal high-quality paper-printed ones. And it's a fact that because of the custom layers of the hologram on them, it becomes really hard to tamper or copy.
And you know all of that, that's why you're searching for the best ID card printer. right? Well, it's important that if you're buying one, always look for the best option, otherwise, you'll end up just wasting your money, and the printing quality won't be good enough to satisfy your needs. To help you out with this, we've compiled a list of the Best ID Card Printers in India. Along with that, a detailed buying guide will be waiting for you below, it'll walk you through some of the important factors when buying such a printer on your own.

How To Choose The Best ID Card Printer In India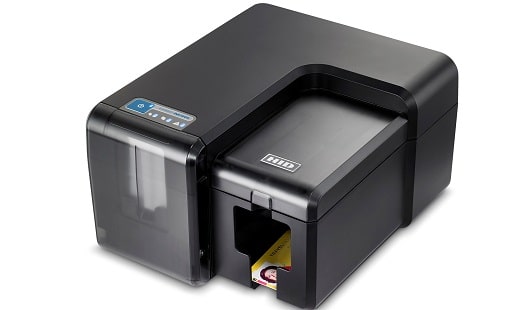 Now it's time to look at some of the important and deciding factors when buying an ID card printer on your own.
Selecting the Right Printing Technology
Overall, there are two types of printing technology when it comes to ID card printers. One is DTC, which stands for Direct to Card, and the other one is Retransfer (reverse transfer). Well, you might be wondering which one of these techniques is best for ID cards. right? In our opinion, both are quite similar to one another, but the only difference is that DTC printers leave a white border area after printing, so you have to manually cut it out. On the other hand, retransfer printers print with a full bleed, which means no white areas are left after printing.
Talking about how both of these printer types work, they actually heat up the color or ink so it vaporizes. And once the ink is vaporized, the printer sprays it on the PVC card, and this is how you get a perfectly printed and high-quality picture ID card.
DPI
Another important thing to look at is the DPI range of an ID printer. DPI refers to the number of dots of ink or color printed per square inch of paper or PVC. The more DPI means the better printing quality you'll get when printing PVC cards, and the same applies to normal color printers as well. Most ID card printers in the Indian market provide a DPI range of 300 DPI or more, which is pretty good. Furthermore, by purchasing a high-DPI ID card printer, you can ensure that you will get a crisp and high-quality image when printing ID cards for your business or other purposes. In our list of the best ID card printers, we made sure not to add any printer that goes below 300 DPI, so pick one from the listed ones and you won't have any issues.
Hologram Layer
As mentioned earlier, having a multilayer hologram on your ID card can help you add another layer of security, making it extremely difficult to tamper with your organization's ID cards. But not all printers come with this functionality, so you may have to browse a lot of printers before you find one. Thankfully, to our list, we have added some printers that can help you put that multilayer hologram on your ID cards. So go ahead, and check out all the printers we have listed in this post, pick one that suits your needs perfectly, and you'll be good for the most part.
Connectivity
Most of the time, you'll find ID card printers with USB port connectivity only, but there are some other options that come with Ethernet ports as well. If a printer has ethernet connectivity, that would definitely cost you a little more than average, but it'll be totally worth it. It's because, with such printers, you can connect them to the main internet network of your organization or business building, and anyone can access that printer to print ID cards and other stuff if they're on the same network.
Satyakam Pradhan is an Independent Computer Networking Professional from Cuttack, Odisha, India. Satyakam completed his graduation from Bhubanananda Orissa School Of Engineering. He regularly writes topics about technology, gadgets and computer for IndiasStuffs.com