A toilet paper holder or toilet paper dispenser is an essential unit that holds plenty of toilet paper. Varieties of the model in paper holders are available in the market. These can include a hinged length of wires mounted horizontally on a wall, a freestanding vertical pole on a base, and a thicker axle either mounted on a frame or settled into a wall.
They help avoid contamination, arrange the tissue, and keep around neat & clean. Keep your tissue roll & toilet paper organized in your bathroom by using toilet paper holders. Toilet paper dispenser for commercial toilets has various benefits and serves many purposes.
All of these types are perfect fits in any bathroom. Toilet paper holder is being offered in varieties of colour options, cute designs, shapes and size. Different materials are also used to design a toilet paper holder include wood, plastic, metal, or stainless steel. Stainless steels holder comes with shine plating & finish.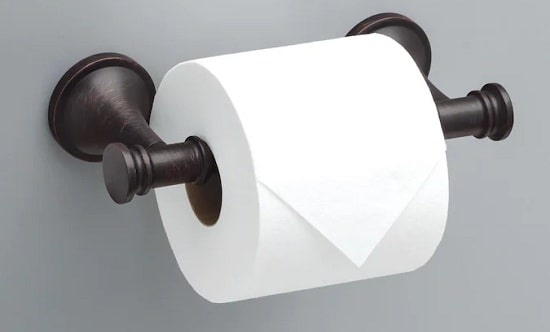 Best Buy Toilet Paper Holders In India
They come with all essential screws and plugs for easy assembling; they can match any bathroom interior. On the other hand, plastic & wooden models provide adequate value for your money. They are very budget-friendly but less durable than stainless steel options.
How to choose the Best Toilet Paper Holders?
Here are some points to consider before buying toilet papers:
Size
Select a size based on your bathroom space and décor. Sizes ranging from 12 cm to 30 cm and above are also available. If you are a newbie and looking for something, go for a standard one. These are the standard toilet paper holder size. The standard toilet paper holder size is approximately 18 cm wide. The standard variety has only one job: to equip toilet paper from a spiralling paper roll.
Material
When you are thinking of buying a toilet paper dispenser, choosing the dispenser material is also an essential measure. Toilet Paper holders are available in plastic, wooden, metal, and stainless steel material. Toilet paper is made for hygienic purposes; for this reason, the material choice should be kept under consideration to protect it from damage. Choose a material based on your bathroom expedience and the surrounding climate.
Any uncertain humidity or continuous exposure to moisture will cause a speedy deterioration of your dispenser. Get over the crisis by choosing an appropriate material for your bathroom accessory.
Mobility
The mobility of your toilet paper holder remains an element. Variations of tissue paper holder with a top cap are operated to disperse the rolling paper evenly and smoothly, without any uncertain tear. So, look at the parts carefully as you do not want to get stuck in a situation with an easily unconsolidated rolling toilet paper dispenser. Or even a one where your toilet paper gets ripped off due to the force of your typical pull due to a tight paper holder top cap.
Features
We can now find numerous toilet paper holders with different unique features. The additional features add an advantage to your life. You can keep things on a stylized dispenser with many features. Features include:
Mobile keeping space.
Two or more rolling paper-keeping holes.
Other bathrooms are essential for keeping space for cabinets.
Your toilet paper dispenser size will correspondingly grow a size bigger with additional features.
Style
The favourite part of any purchase is the setup. Your toilet paper dispenser's design will be essentially based on your lifestyle or your bathroom aesthetics. Toilet paper holders range from trendy to extravagant. The multifunctional toilet paper holders are topping the buyer's guide charts. Common users love the multifunctional dispenser; it has additional features while keeping your toilet paper parched and clean.
Conclusion
Keep in mind that buying a toilet paper dispenser is not an easy job. Invest in proper hygiene and attractions. Style your bathroom with a perfect fit of bathroom accessories.
Santosh Kumar, He is a SEO + Blogger have 12 years of experience in writing tutorial, informative and product reviews topics.