India is a beautiful country and while some people choose to tie the knot outside of India just so they can have a lavish destination wedding, there are some amazing destinations in India as well where you can get hitched.
There are so many communities, castes and religions in India and as diverse as the people are, that's how diverse this country is too. There are some amazing destinations that can be perfect for your dream wedding. If you're looking to get married soon and you want an amazing destination, forget international destinations because this list of the top Indian wedding destinations will change your mind about where you want to get married. Here are the top Indian wedding destinations you will love.
List of Famous Wedding Destinations In India
1. Jaisalmer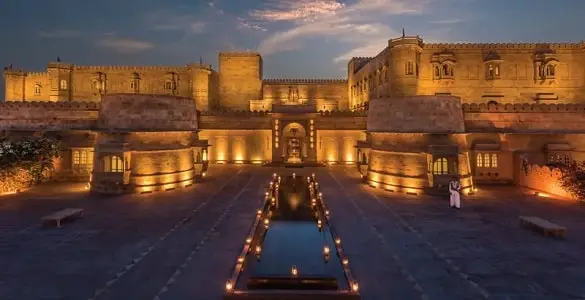 Jaisalmer represents culture and tradition. Jaisalmer is the ultimate wedding destination for couples as weddings here are romantic and definitely unforgettable. Some of the best places in Jaisalmer to have an exotic wedding is the Suryagarh Palace, Gorbandh Palace, the Rajwada Fort, the Narayan Niwas and the JawaharNiwas. There are other exotic venues as well such as the Sarovar Poolside, the Bageecha Lawns, the Sam Sand Dunes and the Taal Amphitheatre. If you want an amazing royal wedding you should definitely choose the Himmatgarh Palace and the Mandir Palace.
2. Gujarat
Gujarat might not seem like a great place for a wedding destination just yet, but once you check out the forts and palaces in this city, you will begin to plan a royal Indian wedding that will be a memorable one. The city is full of vibrant colors, food and culture. If royal weddings have been a dream, this city offers you some amazing places which include the LalBhavan, Riddhi Siddhi Hall, Revival Lords Inn and Hotel Royal Highness that you can pick for your D-Day.
3. Hyderabad
What better place to get hitched than the city of the 'Nizams'. No city can get any better than Hyderabad when it comes to royalty and class. The city is rich in heritage and you can plan your wedding in perfect style here. The decorations at the weddings held in Hyderabad are outstanding and you will enjoy the attention to detail in this city. The city is also well known for the food which will keep your guests very happy. Some of the best places to get married in Hyderabad are The city of Pearls, Chowmalah Palace and the TajFalaknuma to name a few.
4. Agra
Agra is rightly known as the most romantic place in India simply because of the presence of the glorious TajMahal here. This place celebrates love and is one of the best destinations for a romantic wedding. There is nothing better than the symbol of love being a part of your wedding. There are many popular venues in Agra and all these venues represent royalty and love.
5. Goa
If modern beach weddings are more your style, then come to Goa. This is an ideal destination for a wedding where you can entertain your guest to no limits. Goa is best known for the beach weddings they host which are at par with international destinations. It's peaceful, romantic and very classy. The food in Goa is always great and if you've got guests who like to get high, you won't end up spending too much on your wedding since alcohol is Goa is cheap. You can pick hotels like the Radisson Resorts, Taj, Lella and Park Hyatt Goa who will arrange for a beach wedding.
6. Neemrana Fort
Neemrana Fort is one the best places to celebrate the amazing union of two people. This place is located close to Gurgaon and is one of the best looking ancient forts in India. The architecture of the Neemrana Fort is simple breathtaking and makes it one of the most photogenic wedding destinations in India. The historical Neemrana Fort is a popular wedding destination for couples from Northern India.
7. Jodhpur
Jodhpur represents royalty and class. A wedding here is nothing short of a dream. Jodhpur offers comfort and royalty that is rare to find in other wedding destinations. The various palaces and havelis located near the amazing Thar Desert makes it one of the most mysterious and beautiful wedding destinations in India. Jodhpur is filled with history and tradition with magnificent gardens, monuments and temples surrounding the area. One of the most popular venues in Jodhpur is the UmaidBhawan.
8. Shimla
Shimla is romantic, cold and serene. This is a perfect wedding destination where you can get some of the most amazing pictures for your memories. If you want to experience snow and want to feel like you're actually away from India, then Shimla is one of the best places that you can choose to tie the knot. Some of the best places to get married in Shimla include Radisson Hotel and Woodville Palace.
9. Andaman and Nicobar Islands
There is some amazing aura about the Andaman And Nicobar Islands that makes it one of the most exotic wedding destinations in India. These islands are blessed with amazing climate through the year that makes it ideal for the perfect romantic wedding. The pristine beaches laced with coconut palms make it one of the best wedding venues in India. The Andaman And Nicobar Islands not only present the perfect place for a wedding but also a beautiful holiday for your guests as well. The most popular venues here are the Havelock Islands or The Ross.
10. Kerala
'God's Own Country' has to be the number one place for you to get married in India. This city is beautiful, natural and rich. It is perfect for a romantic beach wedding that can include your traditions perfectly. Kerala also has the amazing back waters if you want to try something different from a beach wedding. You can choose to go traditional or modern in Kerala and it is perfect if you want to have multiple functions where you can combine traditional and modern ideas together.
Santosh Kumar, He is a SEO + Blogger have 12 years of experience in writing tutorial, informative and product reviews topics.