Delhi and New Delhi, seem synonymous and common alike, doesn't it? Most people use one term or the other to identify this namely place. But if you quickly glance over these two places, you'll find that there are a lot of differences and completely different geographical boundaries to encompass them.
And that's what we'll be looking to do in this post. Identify the differences between Delhi and New Delhi. This would come in handy for anyone who's trying to prepare for competitive exams or improve their general knowledge. So let's get on with it.
New Delhi and its brief
New Delhi also known as the capital city of India is a famed modern city constructed to epitomize the growth and modern-day India. It also houses all three branches of the Government of India and acts as a central seat for national decision-making and current affairs. But then that's where the difference with Delhi starts. It is also one of the richest states of India. New Delhi is an urban district located in the city of Delhi. Isn't it that fascinating, that New Delhi is an urban district under Delhi?
Delhi and its brief
Delhi is officially recognized as the National Capital Territory of Delhi or NCT and is part of the Union Territory with its government and regulations. The city of Delhi has government just like any other state or Union territory and is governed by the elected government based on public elections. Delhi has over 11 districts divided to govern and regularize of which New Delhi is one of them. It's also an old city with roots that can be traced back to the 6 century BCE.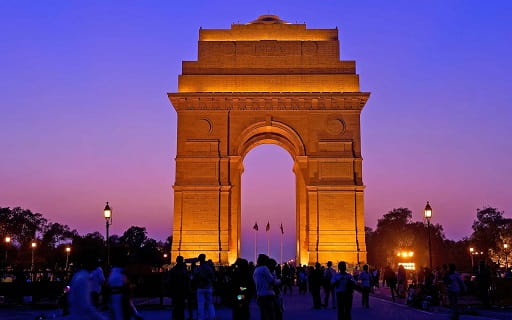 Difference between Delhi and New Delhi
Difference between Delhi and New Delhi
#
Delhi
New Delhi
1
Delhi is the Union Territory also known as the National Capital Territory of Delhi (NCT). It is bordered by Haryana on three sides and Uttar Pradesh on the east side.
New Delhi is the capital city of India and is one of the 11 districts of Delhi.
2
Delhi is a historic old city having been founded in 6 century BCE and is famous for its old heritage and empires.
New Delhi is a modern city designed based on the modern needs of India and to station a functioning capital city and its government. The city was built in the 20th Century.
3
Delhi is known to have been the capital city of numerous empires in the past ranging from Delhi Sultanate to the Mughal Empire.
The very foundations of Delhi were laid by Emperor George V in 1911 and were designed by famous British architects Sir Edwin Lutyens and Sir Herbert Baker. The city was officially inaugurated in 1931 by the then Viceroy of India Lord Irwin.
4
With the substantial ruling of the Delhi Sultanate and Mughal Empire, the city of Delhi has architecture reminiscent of that era. Many building structures in Delhi are inspired by Mughal architecture and their designs.
New Delhi has modern and western architecture built with amenities and facilities that make it a perfect place for the capital.
5
Major monuments and architectures of Delhi are Red Fort, Lotus Temple, Jama Masjid, Humayun Tomb, Delhi Gate, and more.
Major monuments and architecture of New Delhi are India Gate, Parliament of India, Rashtrapati Bhawan, Connaught Place, Lodhi Garden, Akshardham Temple, and more.
6
Delhi has a total area of 46,208 sq kms.
New Delhi meanwhile has a total area of 42.7 sq. kms.
Delhi in itself has been a major capital city of multiple empires previously for the past 2000 years and it was not a surprise to see New Delhi, the modern-day capital city of India built right in the heart of Delhi as one of its districts. Where Delhi captivates with its majestic history and learnings of India, New Delhi provides a gateway to approach and sustain the modern-day needs of the people and the government. It is also worth noting that Delhi being a Union Territory is governed by the Delhi Government whereas New Delhi contains all the major power of national matters with parliament, judiciary, and executive all being positioned there.
Parkash Singh is a PGT Teacher in Kendriya Vidyalaya Rohini, New Delhi. Parkash completed his starting education from Bihar Board and graduated from Babasaheb Bhimrao Ambedkar Bihar University. He regularly writes educational and informative articles at IndiasStuffs.com