Nag Panchami is celebrated as one of the holy festivals in India, Nepal, and Bangladesh. On this day, snakes and serpents are worshipped for a happy and prosperous life. In 2022, Nag Panchami will be celebrated on 2nd August. It is on Tuesday. In India, people worship snakes and consider them as God. Therefore Nag Panchami is one of the auspicious periods for the devotees.
Puja Timings
If you want to offer prayers on this day, you must be well aware of the tithis and puja timing. The puja muhurat will commence at 5.43 AM and will end by 8.07 AM. You will get 2 hours and 43 minutes to complete the puja. It is okay if you make all the preparations by this time. The Panchami tithi will begin at 5.43 on 2nd August. It will end by 6.11 AM on 3rd August.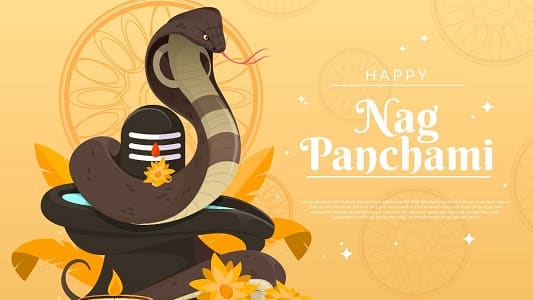 Nag Panchami is celebrated two days after Hariyali Teej. You must have seen women give or keep a pan of milk in front of their house or in front of some temples to feed Nag Devta. This is done to protect their families from the snake bites. However, if you want, to offer prayers you must visit a temple.
About festival
Just before the Aryans came to India, there lived a clan known as Nagaas. They were a famous clan during this period. They were popularly known for their worship of the snakes. Instead they were dedicated snake worshippers. After the Naga culture, it was the Indo-Aryans who worshipped the snakes. They were great followers of snakes. Most prominent cobra kings like Vasuki, shesh nag were worshipped with total dedication. You must have heard that Balaram, brother of Lord Krishna, was also the incarnation of sesh nag. He was also worshipped.
You must have also observed most ancient architecture of the statues represent the snakes in their architecture. They were designed in their looks. Snakes live in Patal Loke. They also demand worship. This is why it was decided they are also entitled to get good prestige and prayers. Nag Panchami is celebrated to offer prayers to them and protect the family from their bites.
During this period, twelve nag devtas are worshipped by the devotees. They are are as follows.
Ananta
Vasuki
Shesha
Padma
Kambala
Karkotaka
Ashvatara
Dhritarashtra
Shankhapala
Kaliya
Takshaka
Pingala
They are worshipped in many temples with milk and other fruit items. It is a holy festival in many parts of India. In Gujarat, this festival is celebrated for 15 days. Nag Panchami falls on the Krishna Paksha of Shravan month. Bola Chhath is also celebrated the day before the Nag Panchami. It is also known as Bahula Chhath. On this day, cattle are worshipped. It is the main festival of the villages in Gujarat. This festival is also celebrated in many parts of Andhra Pradesh. You can also find this festival in Tamil Nadu. They are known by different names.
Santosh Kumar, He is a SEO + Blogger have 12 years of experience in writing tutorial, informative and product reviews topics.