Singapore, a vibrant and bustling city-state in Southeast Asia, is renowned for its blend of modernity and cultural richness. From impressive skyscrapers to lush green spaces, Singapore offers a myriad of experiences for travelers. Whether you're a nature enthusiast, a food lover, or an adventure seeker, this city-state has something for everyone.
If you're planning a trip to Singapore, here are 10 things to do in  Singapore that will make your visit unforgettable.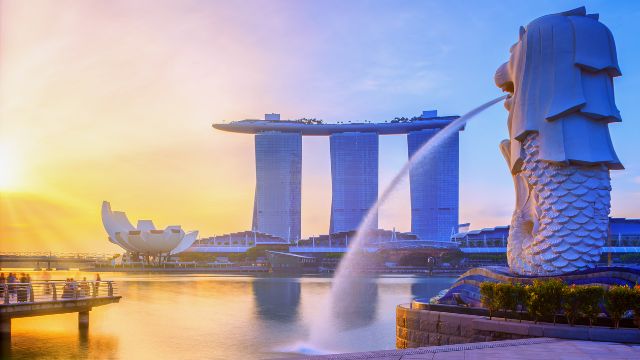 1. Explore Gardens by the Bay
One of Singapore's most iconic attractions, Gardens by the Bay is a futuristic garden spanning over 100 hectares. With its magnificent Supertrees, Cloud Forest, and Flower Dome, this nature park provides an immersive experience in the heart of the city. Stroll along the elevated walkways, marvel at the vertical gardens, and enjoy the stunning views of the Marina Bay skyline.
2. Visit Sentosa Island
For a day of fun and adventure, head to Sentosa Island, a resort island packed with exciting attractions. Relax on pristine beaches, visit Universal Studios Singapore, or dive into the underwater world at S.E.A. Aquarium. Don't miss the mesmerizing light and water show, Wings of Time, that takes place in the evening.
3. Discover Chinatown
Immerse yourself in Singapore's rich cultural heritage by exploring Chinatown. Wander through its bustling streets, lined with colorful shophouses, traditional Chinese medicine halls, and vibrant markets. Visit the Buddha Tooth Relic Temple, where you can witness intricate architectural details and pay your respects to the sacred relic.
4. Indulge in Local Cuisine
Singapore is a food lover's paradise, offering a diverse culinary scene influenced by various cultures. Don't miss the opportunity to try local delights such as Hainanese chicken rice, laksa, chili crab, and roti prata. Explore the vibrant hawker centers like Lau Pa Sat and Maxwell Food Centre to savor these mouthwatering dishes.
5. Experience the Night Safari
Embark on a unique wildlife adventure at the Night Safari, the world's first nocturnal zoo. Hop on a tram ride and witness animals like lions, tigers, and elephants in their natural nighttime habitats. Explore the walking trails to observe fascinating nocturnal creatures up close. It's an unforgettable experience for both kids and adults alike.
6. Stroll along Orchard Road
For an ultimate shopping experience, take a leisurely walk along Orchard Road. This famous shopping belt is lined with luxury boutiques, department stores, and trendy fashion outlets. Indulge in retail therapy, explore the latest fashion trends, and pamper yourself with a wide range of international brands.
7. Explore Little India
Step into the vibrant enclave of Little India, filled with colorful facades, aromatic spices, and traditional Indian culture. Visit the Sri Veeramakaliamman Temple, admire the stunning Hindu architecture, and browse the bustling Mustafa Centre for a wide array of goods. Don't forget to savor some authentic Indian cuisine, like dosas and biryanis.
8. Visit the National Museum of Singapore
Immerse yourself in Singapore's history and heritage by visiting the National Museum of Singapore. Explore the interactive exhibits, multimedia displays, and artifacts that showcase the nation's past. Gain insights into Singapore's diverse cultural roots and its journey towards becoming the modern metropolis it is today.
9. Take a Bumboat Ride along Singapore River
Discover Singapore's colonial past by taking a bumboat ride along the historic Singapore River. Admire the beautifully preserved shophouses, warehouses, and bridges that tell the story of Singapore's trading history. Marvel at the modern skyline as you cruise along the river, enjoying the scenic views.
Singapore offers a delightful blend of modern attractions and cultural experiences that cater to all kinds of travelers. From the awe-inspiring Gardens by the Bay to the lively streets of Chinatown and the mouthwatering local cuisine, this city-state promises a memorable journey. Make sure to explore the diverse neighborhoods, engage with the locals, and immerse yourself in the vibrant atmosphere of Singapore.
Santosh Kumar, He is a SEO + Blogger have 12 years of experience in writing tutorial, informative and product reviews topics.