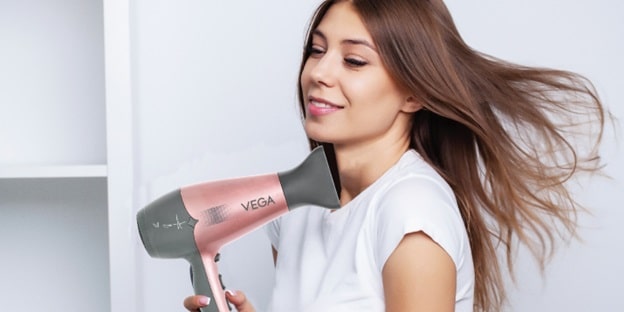 Not all of us are aware of the fact that hair dryers are not made in the same way. There are quite a number of factors to consider for getting the right hair dryer; for instance, the texture of your hair, the length, the porosity of hair strands, Purpose and the pattern. Many of us make the mistake of getting a generic hair dryer and end up getting disappointed with its performance. Little do we realize that the problem isn't with the hair dryer but with our lack of understanding regarding the product. Purchasing the right hair dryer for your hair type can make a huge difference not only while styling your hair, but even after it, by ensuring that your style remains intact and the hair remains healthy and smooth.
Now the question is how to pick the right hair dryer for women depending on hair type? Let's quickly get into that.
Ionic Hair Dryer For Thick & Frizzy Hair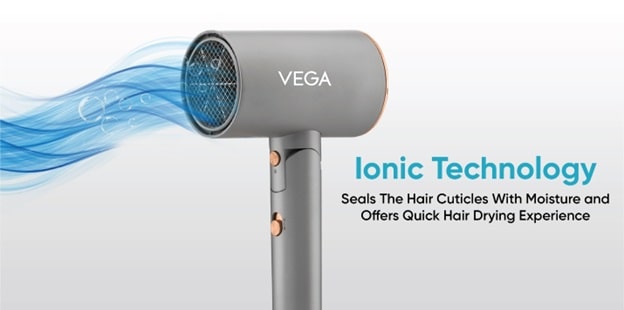 Sub 3
If you have that thick, unmanageable hair, that consumes a long time in drying we feel you! Now cut that time into half by switching to Vega Ionic 1400W Hair Dryer. Ionic hair dryers release negative ions which dries up the positively charged water ions, which in turn makes it very easy to dry thick hair strands. The 2 Heat/Speed settings smartly fuses high velocity heated and Ionized air to lock moisture and deliver ultra-fast drying. It also features a cool shot button to set a desired hairstyle perfectly.
Adjustable Heat Settings For Thin & Fine Hair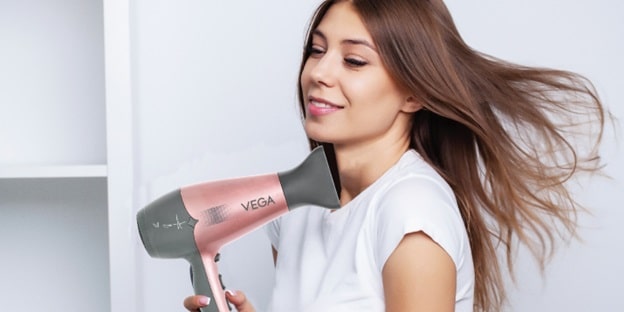 A hair dryer that comes with adjustable heat settings is best suited for this type of hair, as fine hair strands tend to absorb heat quicker than thick hair. Therefore, all you need is to strike a balance when it comes to choosing the heat setting for quick drying with less heat. Incase you feel like you need extra heat for styling, try increasing the air flow through speed setting instead of putting the heat up. Get Vega Go-pro 2100 Hair Dryer that comes with 1800 – 2100 Watt powerful motor, 2 speed, and 3 heat settings that help you get the most efficient drying experience for your hair type.
Diffuser Attachment For Curly Hair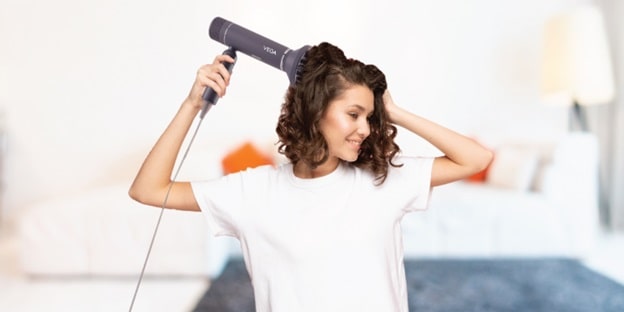 If you don't want to lose the defined curly texture of your hair post drying, you must go for a hair dryer with diffuser attachment. A diffuser works by spreading the airstream over a wider area in a more controlled way. In order to protect the pattern of your hair, it is important to use a diffuser while blow drying as it helps to smoothen and lock the curls. The Vega Style Pro 1600W Hair Dryer features a concentrator nozzle and a diffuser to spread the airstream over a focused and wide area respectively in a more controlled way, thereby guarding the beauty of your curls.
Moisture Locking Hair Dryer For Dull Hair
Dull & dry hair is prone to damage and hence, it's advised to get a hair dryer that not just provide controlled drying, but in the process keeps the natural moisture of the hair intact. Such a hair dryer won't strip off the natural moisture of the hair while drying it. Here comes Vega Ionic 1400W Hair Dryer yet again to the rescue. This hair dryer delivers negative ions to the hair shaft eliminating frizz and restoring its natural shine making it look healthier. This ionic feature also plays the key role for imparting a sleek and shiny blowout for styling.
So far, it's clear that resorting to a hair dryer tailor-made for a particular type of hair is crucial for maintaining good hair health. Choose from a range of Vega Hair Dryers and get the best hair drying experience.
Santosh Kumar, He is a SEO + Blogger have 12 years of experience in writing tutorial, informative and product reviews topics.