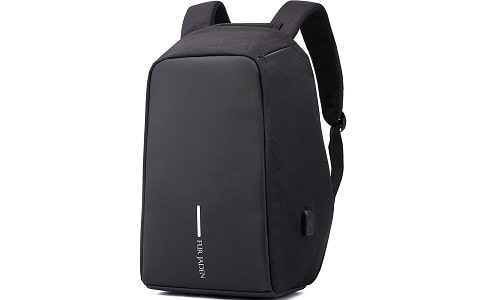 Seeing the increasing incidents of theft during travel, you should carry an anti-theft backpack to protect your belongings. These backpacks are popular for their anti-theft design as they are made from a strong & robust material.
Plus, they come with a plethora of pockets and pockets; they also have premium quality hidden zippers, a quality lockable feature to keep your essentials securely inside. All these backpacks are not the same, there is a slight difference in look, size, features but all are designed to serve the same purpose.
For instance, some backpacks feature portable safe and lock to minimize penetration, while some have PVC coating on the surface. Depending on your preference, priority and list of features, you can choose any one of these wisely. If however, you are not sure how to choose an anti-theft backpack, you can read this article.
Best Buy Anti Theft Backpack in India
This article is about the top three anti-theft backpacks that keep safe your belongings, also provide enough space to store devices, USB cables, laptops, books, etc. Let's take a look:
1. Fur Jaden Anti Theft Backpack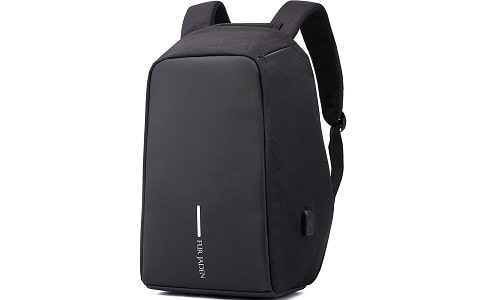 This anti-theft backpack in the black colour is suitable for both men and women for trendy college students as well as for stylish office use. It comes with large room space that can easily fit up to a 15.6-inch device. Furthermore, it comes with multiple pockets to keep other accessories like a USB, charger, books, etc. The highlighting thing about the backpack is that it allows you to charge your phone while being on the walk due to the attached charging dock in the back.
With the use of a backpack, you can keep your belongings & laptop dry & safe when they are inside them. Talking of material, it is made of water-resistant material, making it an ideal backpack for several years. The material used in it is known for sturdiness, reliability, and durability. It weighs 600 grams and has seven different sizes of compartments. Come to the straps, its straps are designed to allocate the weight equally on each shoulder.
| | |
| --- | --- |
| Pros | Cons |
| It is the most sturdy, lightweight and compact backpack on this list. | The straps are flimsy and made of poor fabric. |
| Suitable for both men & women | |
2. Artistix Talon Backpack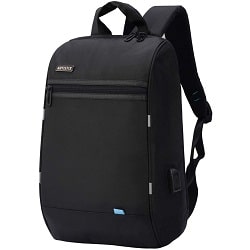 Artistix anti-theft backpack is designed to make travelling easier without overloading you. This backpack ensures great functionality and comfort for your everyday commute. Also, it helps keep your essentials as it provides an organized space for your personal belongings. Talk about the material, it is crafted of high-density premium nylon, which is water-resistant. This 499-gram backpack features an anti-theft zippered pocket in the lower back for keeping a wallet, passport, credit cards, etc. you can also store your laptops, tables, or any other device in it. It has been offered elastic pocket & front stash pocket also to store small water bottle and documents, small book, medicines, goggle respectively.
| | |
| --- | --- |
| Pros | Cons |
| It comes with a 12-month warranty. | Not found. |
| It is made of premium quality polyester. | |
3. Dyazo Design 3 Type Anti Theft Backpack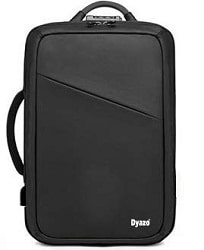 It is a smart trendy backpack by Dyazo that can easily convert to a handbag and briefcase. you can use it for business, college, travel, trip, and work. This three in one design convertible bag has multifunctional compartments, and tough shockproof foam padding to protect laptops, mobile or any other device. It features an Ipad compartment, Laptop compartment, Zipper mesh pocket, front pocket, main pocket, and USB line.
| | |
| --- | --- |
| Pros | Cons |
| It is made using high-quality Oxfordawn material, which is tearing & wear-resistant. | Bit expensive. |
| It is one of the stylish backpacks. | |
How to choose the best anti-theft backpack in India?
Even though anti-theft backpacks give you the needed protection against thieves, there are many more benefits. This is why there are several factors you will need to consider while choosing it. These include comfort, durability, pockets, size, anti-theft features, and much more.
Comfort is a key aspect, whether it is about being carried on the shoulders. While most anti-theft backpacks have built-in cushioned padding designed to provide great ease in carrying all your essentials while travelling. Plus, the design enables your back to breathe and many of those waterproof fabrics keep your belongings dry during climate change like rain or sun.
You need to choose the anti-theft bag that has premium-quality zippers that offer fast and easy access to keep your stuff in the backpack. One must choose a bag that has hidden pockets and intelligent pockets.
Be sure the bag has several pockets in a different zone of bags, such as internal pockets, external pockets, an RFID pocket, secret pocket, separate pockets with zippers, multiple pockets, and hidden pockets. By the way, anti-theft backpacks are available with a range of pocket layouts and you can look for the ones ideal for your needs while buying the anti-theft backpack.
Similar to normal bags, the anti-theft backpacks are available in different sizes & designs. With a plethora of options, you have the option to choose one as per your needs. For example: While travelling with family one has to carry an oversized bag whereas a person should dedicate a bag with a laptop case and a space to keep their books and notes. For business or weekend trips, you need something lightweight to carry.
Before you purchase an anti-theft bag, some questions you need to ask yourself, including do you carry costly stuff, credit cards, what are your means of travel, and how frequently do you travel? Always choose a bag that offers multiple features RFID pocket, a slash-proof backpack, a laptop compartment, locking zippers, a locking cable, GPS enables, hidden compartments, etc.
Unlike a regular backpack that is made of normal fabric, the anti-theft backpack is made of slash-proof fabric that prevents your belongings from thieves who try to snatch the bag. This is a vital component for any anti-theft backpack that you will need to check while buying it.
Anti-Theft Backpack Frequently Asked Questions
=> What is an Anti-Theft Backpack?
Anti-theft bags resemble little "portable safes." Due to its purposefully simple design, it doesn't appear to have any pockets or zippers. Where are they now? They are covered up to stop pickpockets from stealing your bag! They guard against abrasions by being made of highly durable and water-repellent fabrics.
=> What Qualities Do Anti-Theft Bags Possess?
Hidden satchels
Notch-resistant fabric
Water repellent
Durable zippers
=> What are the Advantages of an Anti-Theft Backpack?
Durable
Comfort
Easy Access
=> What to Check for in a Backpack with Anti-Theft Features?
Security
Any anti-theft backpack must deter burglars from targeting your bag, as the name implies. As a result, stealth backpacks have covert pockets.
Pouch
Before investing in an anti-theft backpack, ensure you have adequate room to safely store your documents and passport.
Design
The anti-theft backpack ought to be compact, useful, and fashionable. It seems to be of medium size to prevent discomfort on your back. This must adjust to your demands; if you bring your computer to work, get a padded bag instead.
Special features
Several backpacks are available with cool added features, some of which have a USB port so you can link your phone to a power bank within. Others include a tiny, insulated pocket to keep liquids or medications cool.
=> Which Anti-Theft Backpack Should a Woman Select?
Anti-theft backpacks which resemble capsules or little safes are undoubtedly practical, but when it comes to fashion, they're not the best option—especially if you're a fashion victim!
Some bags blend style, comfort, and security. These have the benefit of keeping your possessions secure and fashionable, even though they might not be as useful while hauling a computer or tablet.
These backpacks are stylish and versatile enough to be worn daily and while traveling.
=> The primary attributes of this stylish anti-theft backpack are:
Safety: These were made without a visible zipper on the front, preventing anyone from attempting to open them and take your belongings!
Practical: Such anti-theft backpacks all include a secret latch at the rear that provides access to a sizable, thoughtfully compartmentalized interior.
Capacity-They offers a considerable storage capacity despite their compact size, allowing you to easily fit a 13-inch computer, magazine, iPad, wallet, and phone inside.
Elegant and comfy- they won't damage your back when you have to wear these all day or all night. They are quite light and quite pleasant. One will feel gorgeous and confident when carried on the back or shoulder because it is made to be pretty and stylish.
Quality: They are made of waterproof materials (oxford or imitation leather) plus incredibly durable (polyester), making them resistant to moisture and abrasions.
Purchase an anti-theft bag immediately to feel secure whether using public transportation or traveling. Don't wait. Your possessions will be shielded from thieves!
Conclusion:
The above options are ideal in terms of durability, security, anti-theft design, versatility, comfort and security.
Santosh Kumar, He is a SEO + Blogger have 12 years of experience in writing tutorial, informative and product reviews topics.