Do you feel not asleep through the night at the thought of letting your baby fall out of bed? Often every parent is restless about the fact that the child should not get hurt. And once you're asleep, you can't keep an eye on the baby all the time. To keep the baby's safety and comfort in mind, you should need handy equipment like Bed Rail. This tool will ensure your child's safety in your absence and keep him away from any danger.
Installing Bed Rail Guard will be a hassle-free task thanks to the innovative features offered by various brands in India. But, choosing the right bed rail can be a daunting task due to the many options available which can leave you confused. With one of the high-quality safety rail guards, your baby will protect against sharp edges of the bed or floor where he might fall.
Best Bed Rail for Kids in India
To help you make the right decision, we bring three of the top best bed rails for kids available on Amazon. Let's take a look:
1. Luvlap Bed Rail Guard for Baby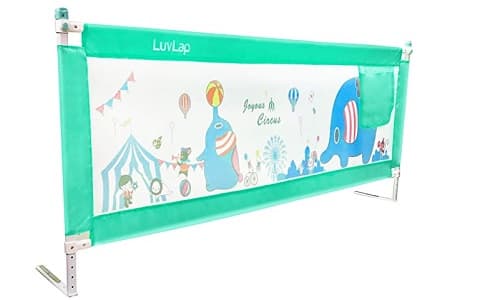 On this list, the first Rail Guard is presented by Luvlap, which assures the safety of the baby by falling from the side of the bed. Whether you have a queen-size bed or a king-size bed in your room, it can compatible with all. No matter, how large your bed is it suits every bed size. As it has a foldable design, you can fold for compact storage and transportation. The fabric is premium and safe for manual washing. You can install & remove it without any hassle.
The fabric is breathable and also gives a clear view of the baby's actions on the other side. For added convenience, you can adjust it according to your requirement. It is easy to detach and convenient to assemble & disassemble. Due to the portable design, you can carry along anywhere or shift from one bed to another bed. Even, the green colour is so pretty & bright.
| | |
| --- | --- |
| Pros | Cons |
| Breathable net fabric is used to design this rail. | It is less sturdy and too fragile. |
| It is very easy to assemble. | |
2. Baybee Bed Rail Guard Barrier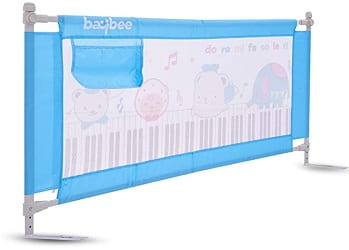 This bed Rail Guard barrier allows the baby to twist, turn and roll without the risk of falling or getting hurt. The best thing about the brand is that they provide rail in different colours and beautiful cartoon designs that will help mix well with the interior & décor of the baby's room. This super sturdy bed rail is made from high-quality steel, comes with a fixing strap & base cross holder. Due to the perfect design structure, it is suitable for full, Twin, Queen, King, and California King Bed. You can use it even for a long duration when your kid grows to an adult to avoid side falls.
| | |
| --- | --- |
| Pros | Cons |
| It is a highly compatible guard barrier. | Not Found. |
| It comes with a safety belt. | |
3. Safe-O-Kid Bed Rails

This bed rail is made from strong rust-free material, making it durable & sturdy. The tear-free Nylon Oxford of rail is compatible with all types of beds & mattresses. It keeps the baby from falling and slipping off. The buyer should note that this product is not an alternative for adult supervision2. When not in use, you can wash it for hygiene and disinfection. Their screws will not damage the wooden bed.
| | |
| --- | --- |
| Pros | Cons |
| It is made from tear-free and washable Nylon. | Not a budget-friendly product. |
| Three different size options are available in the same product. | |
How to Choose the Best Bed Rail for Baby?
From crib to bed, it's a huge change for both mom and baby. Choosing the best rail for the child can help reduce the risk of falling off the bed. There are tons of options available when it comes to bed rails. To make your selection easier, we will introduce you to some aspects you should consider.
The first you will need to check which type of bed rail works great for you. The major three types of bed rail include:
Foam Bumpers
Foam bumpers are soft foam railings. Those firm pillows that are kept across your child's bed are called foam bumpers.
Convertible Bed Rails
The convertible rail looks the same and works exactly as a crib. These bed rails are plastic or metal railings that can be attached to a child's bed. But, unlike a crib railing that fastens sturdily into position, convertible bed rails can fold down.
Inflatable bumpers
Unlike foam bumpers, inflatable bumpers are a less long-lasting solution because they need to be re-inflated regularly if you use them every night. These railings are the best option for frequent travellers who want the assurance that their baby will sleep safely.
The baby railing height can be varying significantly. Some railings are designed to be close to the bed. For a child who is an active sleeper or tends to roll over in bed, it is necessary to choose a higher rail. While babies are good sleepers, a foam bumper is a great option. For a baby who is active at night, parents have to opt for a convertible rail that has a particularly long rail.
Construction here means two-fold material. Rails can last longer and are more durable if made of quality materials. If you want your child to have a bed rail for the whole time then be sure to look for one made from a durable and solid material. You also have to make sure the railing isn't built with toxic materials.
Compatibility with bed frame
The baby rail you are going to choose should be compatible with your bed frame. Inflatable rails and foam bumpers install just above the mattress so they work well with any bed. Some other options, such as convertible bed rails, may not be mounted around the bed frame like the previous ones.
Conclusion
The Baby Rail is a valuable tool when it comes to baby safety and comfort. There are a lot of options in the Indian market, so you can choose the best rail for your child's safety.
Santosh Kumar, He is a SEO + Blogger have 12 years of experience in writing tutorial, informative and product reviews topics.