Whether it is an artist or a learner, both are habitually looking for the best paint brushes for oil painting that are suitable for painting in a range of different styles. To showcase your painting and crafting skills, you need to look for a brush that doesn't leave bristles and holds its shape.
And especially when you're looking for oil painting brushes that should be perfect for animated brushstrokes, have long handles, and be sure to keep the surface of the frame clean. The most common shapes of brushes are round, filbert, and flat, but there are some other good shapes and sizes of brushes available.
To make a choice, you can take help from a painter or you can also make sure by watching online videos. But, almost every painter uses a selection of these in a variety of sizes, but you may prefer to choose one shape more than the others.
Best Quality Oil Painting Brushes in India
Oil Painting brushes that are made naturally are soft, form fine points and strokes. If you're too looking for the right brush set for oil painting, check out the given options.
1. RIANZ Painting Brushes Set of 12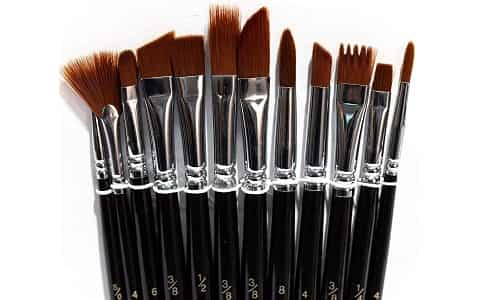 The brush set by RIANZ is available in various sizes made for detailed work. They are designed for versatility; therefore, you can use them for all paint types like Oils, Watercolors, Acrylics and Gouache. These brushes are well suitable for various other crafts like face painting, Ceramics, Nail Art, model & miniature making.
The brushes are designed to the needs of both enthusiast student artists as well as seasoned professionals. In this set, you'll get different shapes of brushes like a round, angular, flat, filbert, and angle with a razor-sharp tip and different sizes in brushes like medium, small and large. Brushes with soft & flexible hair along a wooden handle are perfect for optimal grip and great hand feeling. With this product made in India, you can put your imagination on paper.
| | |
| --- | --- |
| Pros | Cons |
| Different sizes and shapes of brushes are available in a pack of 12. | The handles seem fragile. |
| Each brush has a sturdy wooden handle. | |
2. Faber-Castell Synthetic Hair Set of 4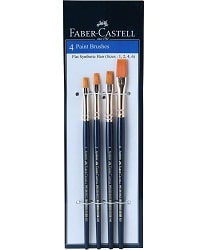 If you are a beginner or fond of casual painting, you need a product that is long-lasting and useful at an affordable cost. That is none other than Faber Castell's brush set of 4. These brushes have a wooden handle and anti-rusting ferrules, making them one of the durable & outstanding products at genuine cost. Furthermore, their synthetic hair paint brushes are perfect for painting with watercolour, acrylic colour, poster, etc. The set of four brushes is a good start for those who are at the learning stage. In the set, you'll get round and flat brushes which are enough to learn oil painting.
| | |
| --- | --- |
| Pros | Cons |
| Suitable for beginners. | It is not perfect for a large canvas. |
| Brushes have a sturdy wooden handle and soft ferrules. | |
3. Artist's Den Synthetic Hair Mix Brushes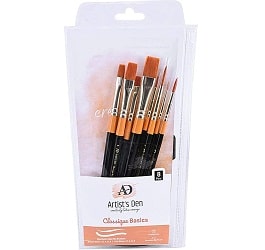 This set of 8 mix brushes has super smooth synthetic hair that offers your artwork a perfect finish. Moreover, it has wooden handles that give a natural grip & balance for comfort & ease of movement. However, they are perfect for oil paints, face painting, water, model work and all artists' levels. To keep brushes safe, the brushes come with a reusable zip pouch. Its premium quality anodized aluminium ferrules keep bristles in place and make cleaning a breeze.
| | |
| --- | --- |
| Pros | Cons |
| A reusable pouch is offered to extend durability. | Not found. |
| The set of 8 brushes includes every size and shape of the brush. | |
How To Choose The Best brush for oil painting
Do you have the passion to paint? If yes, you must have the right type of brush that will help you to carry out the work smoothly. In this part, you will learn about some of the best brushes for oil painting in India. Let us explore it.
Check the size of the brush:
You must also check the size of the brush while painting. The oil painting brushes are available in various sizes. You can select the suitable one from the list. If you are drawing or painting something small in size, you can go with the small-sized ones. Further if you are painting something big, you must go with the large size brushes. They will be much suitable.
Check the bristles:
You must also check the bristles of the brush. The bristles need to be soft and smooth. They will allow you to paint in the better manner. The rough or the hard bristles may be a bit challenging for you to draw or paint something. However, the natural bristles are also the best choice for painting.
Go for the best material of the brush body:
It is also important to give proper preference on the body of the brush. This is another important thing to check while buying the painting brush. It needs to be strong and durable. The strong body of the brush will help you to easily paint anything.
Check the price of the brush;
It is also vital to check the price or cost of the brush. There are various companies that charge a good amount for the brushes. This is not at all acceptable. You must never pay unnecessary price for the brushes. This is unjustified to a great extent.
Check the reviews:
You need to check the reviews of the brush from various authenticate sites. Never go with the fake ones as they would mislead you with the wrong information's. You must first check the site and then go through the reviews.
Enquire about the warranty period:
You must also go through the warranty period of the brushes. There are many companies that do not provide any warranty period for the brushes. It is better to avoid buying such brushes. There must be a minimum period of warranty for the product that you intend to buy. It is also crucial to check the warranty period of the oil painting brush.
Conclusion:
The many ranges of brushes affect how well it holds their shape, how much paint it holds, how firm the brush is, and how soft the bristles are. Hopefully, this guide helps in choosing the right oil painting brush set.
Santosh Kumar, He is a SEO + Blogger have 12 years of experience in writing tutorial, informative and product reviews topics.