ies can provide many advantages to kids as well. Kids love cartoons and animated or cartoon movies are really inspired from that and kids love watching cartoon movies too. Movies can facilitate kids in learning stories of different cultures and can enhance their skills. It is sometimes get really tough to find the right movie to show your kids. Cartoon films are among the best ones for kids that can provide them both amusement and lots of things to learn. Keeping this in mind, here we have compiled a list of The Best Cartoon Movies of Bollywood for Kids to show which can not only entertain them but also teach them. These movies are not only loved by kids and children but also are commended by older audience.
10) Jumbo
Jumbo movie released in 2008 is based on the story of a baby elephant named Jumbo who gets on an adventurous trip to find his father whom he never met.  It is a sweet, decent and simple movie which is recommended for kids. This movie is a remake of the Thai movie named Khan kluay. The movie doesn't get a very good response on Box Office but it is able to please the kids which make it to enter at 10 in list.
9) Delhi Safari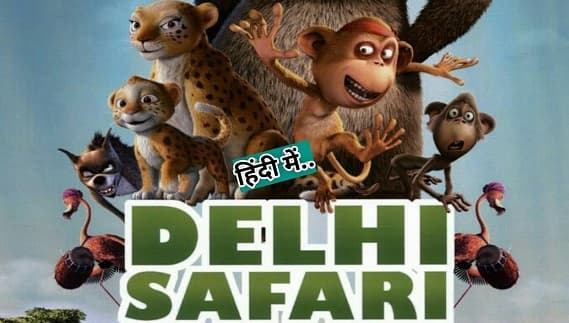 A stereoscopic 3D animated movie Delhi Safari is full of entertainment and fun. It is a story about group of wild animals get in trouble when their habitat (Forest) is in danger and in order to save their home; they plan a trip to Delhi. The film released in 2012, received National Film Awards taking Indian animation movies at the next level is certainly a wonderful movie to watch with kids.
8) Bal Ganesha
Bal Ganesha , released in 2007 is based on the adventures of Lord Ganesha as a kid. Famous movie among the children shows the lord Ganesha as a mischievous child. It shows the transformation of a child to lord Ganesha and stories from his childhood. The movie is full of fun and entertainment and also provides a great teaching to kids which make the one of the best movies for kids to show.
7) Dashavatar
Released in 2008, the movie Dashavatar is based on the ten incarnations of Lord Vishnu inspired from Hindu Mythology.  This movie not only inspires its viewers but also comes with religious values. These incarnations show how some of the evil powers on earth were stamped out by the most popular heroes from the past. This movie is very popular not only among kids but among adults as well.
6) Roadside Romeo
Roadside Romeo is another best animated movie voiced by famous bolywood actors Saif Ali Khan and Kareena Kapoor. Awarded as Best Animation film in 2010 is the story of a dog named Romeo and His Girlfriend Laila and their adventurous life. It is a mainly a romantic comedy which makes kids laugh out loud and entertain well.
5) Mahabharat 3D
Considered as India's most expensive animated movie released in year 2013, it is based on the epic Mahabharat in Hindu Mythology. There is one more interesting fact about this movie is that all the big stars gave their voices for the main roles like Amitabh Bachchan, Sunny Deol, Anil Kapoor, Vidya Balan and many other big stars. This movie comes with a great lesson and not only liked by kids but adults too and one of the best movie to watch for kids.
4) Ramayana – The Epic
Ramayana, the most famous Indian story is the immortal tale of Good Vs Evil. The movie shows how lord Rama and his fellows fight the evil Rakshasa Ravana in order to save his wife Sita. A perfect tale that gives us the true meaning of Valour, Devotion, Duty, Relationships, Dharma and Karma. The movie is popular among all the age group of people.
3) Kochadaiiyaan
Kochadaiiyann, the Tamil animated movie released in 2014 is a saga of revenge undertaken by a son to regain his Father's name and kingdom. The movie released worldwide in 3D and for traditional viewing in 2014 in Tamil and five additional languages.  Overall, the film got a mixed response and overall considered to be the one of the best animated movie for kids in the row.
2) Char Sahibzaade
The Movie released in 2014 is based on the true story of the Sacrifices of four sons of Guru Gobind Singh Ji (10th Guru of Sikhs) for the protection of religion. The movie follows their sufferings, bravery and their honor for the sake of Sikh religion. . It is a very emotional film, and one that anyone would like to watch over and over again. The movie received worldwide success and liked by everyone. It is one of the best movies based on history to show your kids.
 1) Cheenti Cheenti Bang Bang
Cheenti Cheenti Bang Bang movie is a comedy movie released in year 2008. The story centers two ant kingdoms i.e Red and black ants who are absolutely against each with other animals as well supporting each kingdom. The story becomes more interesting when ants from opposite group falls in love with each other. The movie has more to show and is very much liked by kids listing it here to be must watch for every kid.
Santosh Kumar, He is a SEO + Blogger have 12 years of experience in writing tutorial, informative and product reviews topics.