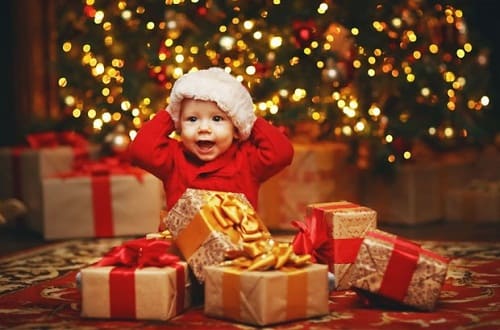 There is nothing cuter than seeing the happiness and excitement on a kid's face when they get a new gift. Especially if the gift is interesting and chosen carefully, it could fill the kid's heart. Although choosing the best gift could be overwhelming for a grownup some people end up getting it right. But, most of them cannot decide what to go with.
If you are looking for a Christmas gift for your kid, then we can help you with the selection. All the products listed below were selected based on the customer and expert reviews. Consider purchasing any one of them, it could make the kid happy and also, at the same time, help develop some sort of skills or talent.
Best Buy Christmas Gifts In India
1. Skillmatics Educational Game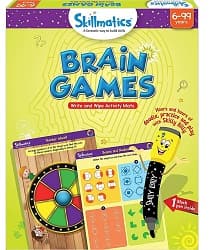 Skillmatics is a brand that has established its presence on the Indian market for some time. This brand offers a lot of good toys that could attract any kids and some of the toys from this brand is good as gifts. This toy from Skillmatics is an education brain game best for kids with age above 6-years.
This toy set comes with 6 double-sided activity mats that are certified to be safe to use. While some people might argue that kids would find brain games boring and uninteresting, we beg to differ. A majority of the kids might like it if they are above the age of 6-years. The 19 different engaging games that this toy set offers is truly engaging and interesting. While the manufacturer mentions it to be brain games, it is not so complicated, it is more fun to play it. This product could help the kid develop problem-solving skills, communication, mental maths, thinking out of the box, and concentration.
Pros
Reusable brain games
19-different engaging games
Innovative games
Made in India
Duster and pen offered with the product
Cons
The quality of this product is not very good
2. House of Quirk Animal Finger Puppets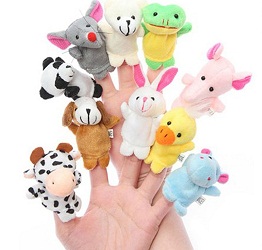 Unlike most of the other Christmas gifts, this one is cute and very interesting. Most of the kids could love a cute finger puppet. While they might find it difficult to master the skills to use it. They would find the puppets funny and cute. House of Quirk offers these 10 finger puppets at a very reasonable price and we recommend that you consider purchasing it.
While these finger puppets are just toys, each of the 10 puppets is 10 different animals that could be a den of knowledge for a kid. Each of the puppets is adorable and could attract any kids. The soft exterior velvet texture makes it more suitable for kids to play with. These puppets could help boost and ignite the imagination, this could keep the kid engaged for a long time. The manufacturer has used light and attractive colors to make these puppets. This makes it comparatively better for kids with a sensory processing disorder.
Pros
Set of 10 different finger puppets
Each finger puppet is a different zoo animal
Adorable and attractive at the same time
Each puppet could ignite the imagination of the kid
All the puppets come with all the body features
Cons –
The manufacturer's packaging is poor. The user will have to repack this product in a better box.
3. Just 4u Enterprise Star Master Projector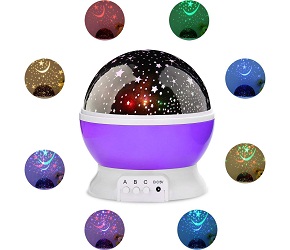 Dancing light projectors are one of the best things to which kids are attracted to, most of the parents have reviewed this product to keep the kid's engaged for a long time. This dancing light projector is marketed by Just 4u Enterprise at a reasonable price. If the kid loves moving lights, then we recommend that you consider purchasing this as a Christmas gift for the kid.
While most of this type of products do not last long, this dancing projector light is durable and could last a comparatively long time. This product comes with 9 different color lights and the user could switch on one color or more than color based on what the kid likes. When switched on, this dancing light projector produces a cute dancing light on the walls and the ceilings. The attractive lights could keep the kid engaged and could help boost his/her imagination.
Pros –
Very attractive piece
Not too bright to hurt the kid's vision
Comes with an option to select single or multiple color lights
Powered by 4 AAA batteries
Silent and rotates slowly
Could mimic the natural clear night sky
9 different color options
Cons –
While the manufacturer claims it to mimic the natural night sky, it does not. It gives an unreal feel.
4. Outgeek 3D Felt Christmas Tree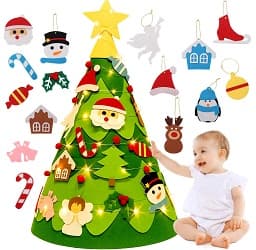 Christmas is never complete without a Christmas tree and kids love to play with the tree. While the price of this product is comparatively higher than others on this list, the features offered by the product make it reasonable. This Christmas tree is easy to assemble and comes with several attractive parts.
The overall height of this Christmas tree is 2.4-feet and the manufacturer offer 28 different pieces with this product. The set includes ornaments and lights to could fill the kid's heart with joy. The size of the ornaments is comparatively big and it does not possess a danger or choking the kid. The lights are built to withstand a harsh environment. The design of the tree is so simple that the kid could decorate the tree with the ornaments and the light all by themselves. This could help improve their imagination and boost the practical skills of the kid. All the ornaments are made of high-quality felt fabric and they are durable and lightweight.
Pros –
Durable, lightweight, and easy to use
Each ornament is designed carefully to make it safe for the kids to use
The light and ornaments are easy to hang
The ornaments and tree are made of soft felt fabric
Cons –
The tree might look folded and uneven, but a right pressing and iron could make it look perfect.
5. Cuty Kraft 11 pcs hair clip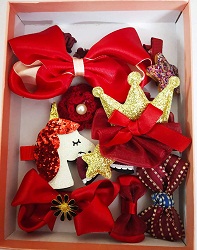 Looking for a Christmas gift for a young girl who loves makeups and dressing up cute? Then, this set of hair clips from the brand Cuty Kraft will not be better than any other gift. This one comes designed to offer a cute look to the kid. The price of this product is comparatively better than other products.
This set of hair clips are designed based on the Christmas theme, which makes it a perfect gift for young girls. They are easy to use and does not possess any threat to the kid. There are 11 different hair clips in the box, which makes it compatible with almost any outfit. The 11 different hair clips include star clip, heart, crown, bow knot, and 7 more patterns. While most of the other products come in poor packaging, this one comes in an attractive gift packaging. You could simply purchase the product, gift wrap it and sent it.
Pros –
11 different hair clips
Each clip has a Christmas theme design
Compatible with almost every Christmas outfit
Easy to use
Reasonable price
Cons –
Few customers were not satisfied because few of the clips were not neatly designed.
6. Jungle Magic Garden Scienz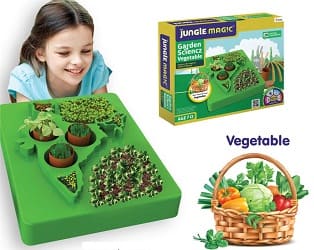 This product is marketed by the brand Jungle Magic Store and it is one of the best toys we could find on the market. While this toy does not have anything to do with Christmas, it could be the best toy to present if the kid likes growing plants and is keen to explore plant life.
This product cannot be classified as a toy because it could help to teach the kid how to grow plants. It does not end with plants, the mold that comes with this product helps to enlighten the kid Indian geography in a very simple way. There is too much information offered if you look into it. So, you could expect a lot of questions from the kid. The overall design of the product would help to improve the culture and traditions of India.
Pros –
Very engaging contents
Could enlighten the kid with Indian culture and traditions
Fun to do experiments
Could keep the kid engaged for a long time
Best for kids above the age of 7-years
Cons –
The quality of the mold and other solid parts are too poor
7. Skillmatics I Can Write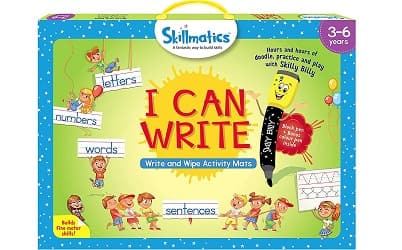 Yet another gift product from the brand Skillmatics, unlike the previous product. This one is comparatively less versatile. However, the quality of the product is comparatively better.
If the kid loves to draw or scribble, then this product could be the best Christmas gift for him or her. Most of the customers who are satisfied using this product have reviewed the product to be engaging and fun. This product comes with a set of 6 double-sided activity mats that could be reused. The product also comes with 2 pens, 1 cloth duster, and a Billy achievement certificate. All the activity mats in this product are best designed to improve the kid's problem-solving skills, concentration, focus, and attention. There are a total of 14 different highly engaging games in this product.
Pros –
Best to improve problem-solving skill
Offer 14-different highly engaging games
Reusable product
Best for a kid of age above 3-years
Comes with 2 pens, 1 duster cloth, and 1 achievement certificate
Made in India
Cons –
Few of the customers reviewed the product to be poorly designed.
8. Disney Bowling Set
There would be no kid who does not love mickey mouse and a cute bowling set. This bowling set is a good Christmas gift that comes in the Christmas theme. The product is marketed by the Disney store.
This product is best for kids who love to engage in some sort of game. The color and overall design of this product could keep the kid busy for a long time. The bright color makes this bowling set attractive. Unlike most of the other bowling sets available on the market for kids, this one comes with a ball that has holes to insert the finger and hold the ball. The entire bowling set is made of high-quality non-toxic plastic that could resist almost any stress and strain. This product is best for kids above the age of 3-years.
Pros –
Comes in a bright color
Made of plastic
Best design that offers maximum engagement and fun
Non-toxic plastic used
Best for kids above the age of 3-years
Could help on hand and eye development and coordination
Cons –
The entire product is made of plastic, if used harshly, it could break or deform.
9. Farraige® Magnetic Score Dartboard Kit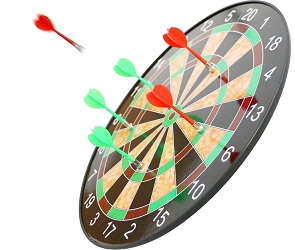 Farraige is one of the best brands on the market today that market top-quality toys for kids. This dartboard kit is designed for small kids and therefore, the manufacturer has taken all the security measures to prevent any mishaps that could occur.
This dartboard kit comes with both a 16-inch dartboard and a set of 6 red and green color magnetic darts. Yes, magnetic board and darts, which prevents any accidents. The dartboard is easy to install on the wall and the powerful magnet makes sure that the dart sticks on the dartboard with ease. This product is best for kids above the age of 6-years.
Pros –
Ideal for kids above the age of 6-years
16-inch dartboard with 6 red and green color darts
Simple to install on the wall
Powerful magnetic incorporated product
Does not use sharp darts, instead, the magnet sticks the dart to the board
Cons –
Few of the customers have reviewed the product not to be efficient.
10. KRIWIN Christmas Accessories for Kids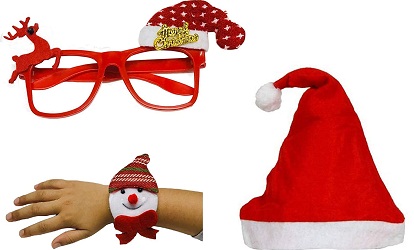 Kriwin stores is not a well-known brand or store. However, the products from them are comparatively better than other brands. If you need a Christmas gift for a kid at a reasonable price, then do not avoid this product.
This Christmas themed product comes in a pack of 1 Santa Claus cap, Christmas themed googles, and a wrist band of the same. This product is designed to suit kids of any size and it could suit even adults. The entire product comes in a cute red and white color combination. All the products are made of high-quality material and it is comparatively durable than other products that come at the same price range.
Pros –
Christmas theme products
Santa Claus cap, red Christmas themed goggles, and wrist and.
Cute red and white color combination
Comes at a reasonable price
Cons –
The quality of these products is poor.
As already mentioned in the introduction, these are the best Christmas gifts that you could give a kid and make them happy. While there are a lot of toys and things available on the market today, we find these things more worthy and compatible.
Santosh Kumar, He is a SEO + Blogger have 12 years of experience in writing tutorial, informative and product reviews topics.