Along with wearing stylish clothes, the custom of accessories has also increased. If you look at your favourite style blogger on Instagram, you will find that they have promoted the eye evil bracelet craze. Many people believe that eye evil accessory keeps you away from evil eyes, misfortune and bad luck.
It protects you from negative vibes, bad Karma, maliciousness that could otherwise have a negative impact on your health, well being or your life in general, and helps to keep life in balance. For some people, wearing an eye bracelet is related to feeling like love, fear, connection, fear and more. The effect is on the overall security of your personal life and feelings.
Wearing a silver eye bracelet can also be used in contemporary style for everyday use. The trend of eye bracelets has increased so much that manufacturers are coming up with varieties in them. Here we have brought our personal favourite three eye bracelet by choosing from the market, definitely check it.
1. KUKSHYA JEWELLERS Evil Eye Bracelet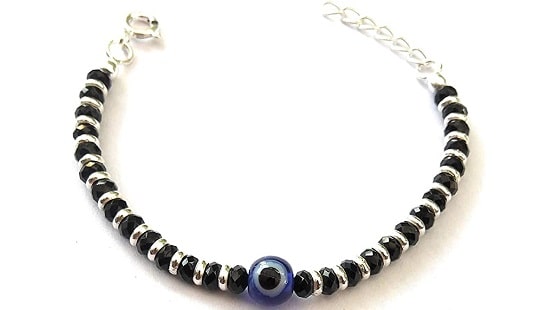 First, we have the Evil Eye bracelet, better known as Bangle Kada by KUKSHYA JEWELLERs, which is designed with Chandi, Nazariya Beads or Crystals. The silver using is it is 92.5 Original Pure, which have a long-lasting sparkle. This evil eye bracelet helps to keep away babies from the evil eye. The pearls are attached in such a way that they will not hurt your baby's delicate skin. However, the original silver is considered to be relatively malleable, soft, and easily damaged. To prevent tearing, the silver is combined with other metals to produce a long-lasting and durable product.
Moreover, it helps to keep the body cool whenever wearing any jewellery for the long term. This eye bracelet can be suitable gifts for birthdays, Naming Ceremony and festival celebrations. The reason for choosing this bracelet is that it comes in an elegant complimentary gift box.
| | |
| --- | --- |
| Pros | Cons |
| It won't hurt hands no matter how long you wear. | A little bit expensive. |
| The combination of sliver, eye evil and black pearls makes it elegant. | |
2. Jewel string Evil Eye Bracelet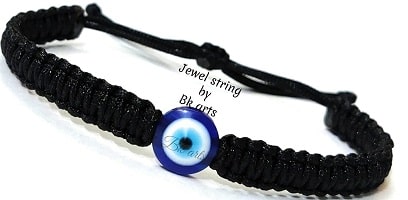 The perfect look evil eye bracelet by Jewel string is designed to avoid any negative effects with stylish adjustable and black cord well finish. You can make your style trend by wearing this bracelet regularly. Not only girls, even baby boys, but adults can also wear this bracelet due to its design and appearance. The Lucky Evil Eye represents blessing, positive vibes and protection. Talking about material, it is made from polyester which is smooth & comfortable, hence doesn't cause rash or redness.
| | |
| --- | --- |
| Pros | Cons |
| It is ideal for gifting purposes. | The black colour may fade after some use. |
| It is a handmade bracelet with an adjustable feature. | |
3. Evil Eye with Black Cord Handmade Bracelet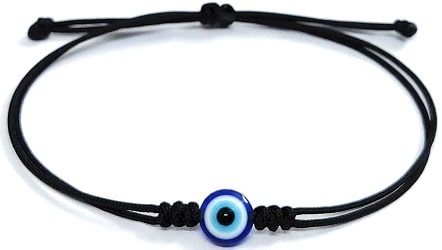 Agirav is presenting an Evil Eye with a Black Cord Black Knot Handmade bracelet for both men and women. The excellent look evil eye bracelet is made from premium quality Nylon, making it ideal for regular use. It is the best fit on a 6 to a 7-inch wrist. Lightweight design doesn't irritate your wrist, therefore doesn't cause redness. It is one of the premiums, classy and trendy eye evil bracelets on this list. You can adjust according to your required size due to the adjustable knot.
| | |
| --- | --- |
| Pros | Cons |
| It is crafted from imported thread and beads. | Very delicate. |
| The bracelet's fabric is washable. | |
Final Words:
Earlier it was started with only an eye bracelet but today it is coming with rings, pendant sets and earrings. The given bracelets are some of the best seller alternatives on Amazon. Go and check it.
Santosh Kumar, He is a SEO + Blogger have 12 years of experience in writing tutorial, informative and product reviews topics.