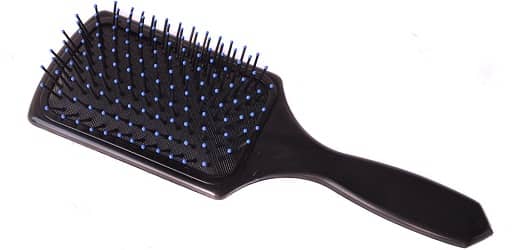 Hair brush is an essential thing for our daily regime. Brushes are used to simply comb your hair, or used during straightening the hair, styling your hair and lot of other purposes. For any need to your hair, a hair brush is quite essential. Every hair brush is designed for its specific need. Some might work best on wet hair and some on dry hair. The bristles also matter when you are selecting your hair brushes. Whether you are using it for styling purpose or during blow drying, it is important to use the right kind of brush for your purpose. You have to choose the best one to ease the process of combing. For your benefit, we are listing out the 10 best hair brushes that you can find online which can be used by both men and women. In addition to that, we are providing the types of hair brushes available for you to get a basic idea and also a buying guide. Let us get started.
Different types of Hair Brushes
If you do not have that much knowledge on hair brushes then this section is for you. It would be much easier to style your hair or do whatever you want if you have the correct kind of hair brush. Let us go into the different types available in the market, so that you will get an idea on which brush to buy.
Round Brush:It is a common type of brush that most of us prefer. It consists of boar-bristles which are very good at creating shiny and smooth look on your hair. They can be used on long hair and it gives you the volume look too. For longer hair, it is better to take a round brush with more diameter.
Paddle Brush: This is the kind of brush that is most commonly used. It helps to detangle your hair and tame it in a proper way. You can use it with a blow dryer to dry your hair quicker.
Detangling Brush: As the name itself indicates, this brush is ideal for smoothing your dry or wet hair without damaging your hair. If you have thick hair and often have tangles, you can use this brush to not break your hairs while combing. However, do not use this brush at any time with blow dryer.
Smoothing Brush:This is the best brush when you are styling your hair. When you comb your hair for ponytail or a bun, you might find bumps or separations on hair spoiling your styling. With the smoothing brush, you will be able to overcome this problem and gives your styling the perfect look.
Enhancer Brush: This kind of hair brush have double set of bristles which helps to enhance shine and smoothness. So, this brush can be used at last once your styling is done to give that last minute shine.
Straightening Brush: This is a thermal hair brush which gets heated easily and can flat-iron your hair. This gives your hair the straightening look with smoothness.
Best Hair Brushes For Men & Women In India

After seeing the types of hair brushes, you might be wanting to order one. However, with so many options out there in market, it would be confusing to select the perfect hair brush for your hair. So, we are listing out the best hair brushes in India for you to look at. All these hair brushes have high ratings and will serve you for a long time. Let us go ahead and look at the details.
1. Vega Round Brush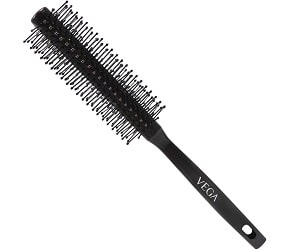 The first hair brush from our list is from Vega who offer wide variety of high quality hair brushes. This brush is a round brush of model R3-RB. This brush is perfect when you would like to curl your hair. It even adds volume and you can style your hair to have waves or curls. The bristles of this brush have ball tips which stimulate the scalp in a better way when you comb. This releases natural oils. Also, with these bristles the brush can easily enter your hair and comb conveniently without tangles. They are even thin and can be carried in a handbag comfortably. The cleaning of this brush is quite simple. All you need is a shampoo and water. The handle does not slip in your hand and you have excellent grip which is important when you comb your hair.
Things We Liked
Vega brand is one of the best for hair brushes.
Adds volume, curls and texture to your hair
Bristles are ball tipped and nylon made
Things We Did Not Like
Some people complained about the quality and hardness of bristles.
2. FOK Rectangular Cushion Paddle Hair Brush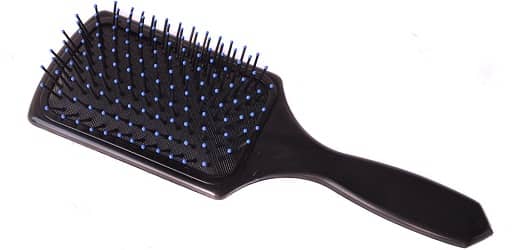 FOK is one of the best beauty accessory companies available in the market. Our next hair brush is from this popular brand. It is a paddle type hair brush. This hair brush is perfect for any length hair and when you comb out, each hair strand is combed giving the volume to the hair. If you have more tangles in your hair, this cushioned paddle brush is the perfect choice. It detangles both wet and dry hair. Tangling up is a greatest problem and when you comb, breakage happens. But with this hair brush, detangling is proper. This paddle brush have nylon rounded tips giving your scalp necessary massage improving blood circulation. Even though the bristles are nylon made, they are flexible enough to not hurt. The frizz is reduced by making your hair smoother.
Things We Liked
This rectangular paddle hair brush gives smoothness and volume to your hair while detangling effortlessly.
Made of flexible nylon rounded tip bristles
Any hair length person can use this brush comfortably.
Things We Did Not Like
Some people reviewed that rounded tips fall out after using for some time.
3. Roots Wotta Brush Hair Brush Detangling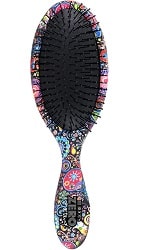 With a number of unique designs, the next product is from Roots Wotta. This hair brush is specially designed for detangling your hair and with its high quality design, this detangling can be done with one stroke. In addition to that, the bristles are very flexible and sensitive making your detangling experience pain free. The bristle tips are ball type giving the adequate massage to your scalp when combing. You can use this comb on both wet and dry hair. This brush flexes and bends as you like for superior separating of knots. You can use this comb on any hair type. With unique designs, this comb looks bright.
Things We Liked
The bristles have ball tips massaging your scalp gently and they can flex in different directions
Detangling experience is completely painless and knots are also removed painlessly.
Can be used on any hair type and length
Things We Did Not Like
Some people felt that the bristles are too soft and over flexible.
4. GUBB USA Oval Hair Brush Vogue Range for Men and Women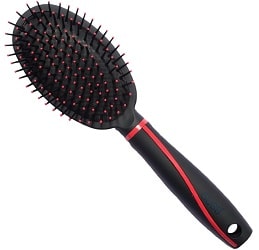 With so many items in market, GUBB is a popular brand which also manufactures hair brushes of high quality. This is a oval cushioned hair brush with soft bristles handling your scalp effectively. Also, with the ball tips, you can get adequate massage for your scalp without damaging your hair. The handle is designed ergonomically making it firm to handle and while combing gives you the maximum support needed without hurting your hand. The hair texture is not lost as it doesn't break your hair while combing and detangles it gently. You can style your hair easily with oval cushioned shape. The shiny appearance of your hair is improved and makes your hair smooth.
Things We Liked
Oval shaped cushion gives perfect styling factor to your hair
The soft ball tips of bristles help to massage your scalp gently without damaging your hair or scalp
Comfortably designed handle for firm grip
Things We Did Not Like
5. Vega Flat Brush with Wooden and Black Colored Handle with Black Brush Colored Head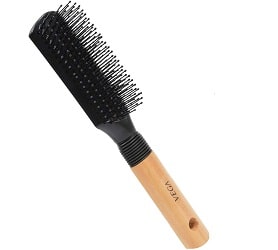 The next one on this list is again from the popular Vega brand. It is a flat brush and can be used as a daily styling hair brush. Gives perfect volume to your hair and also helps polishing, smoothening, or shaping your hair in your required style. The ball tips of the bristles stimulate your scalp, detangle your hair and root of the hair gets lifted. This flat brush is rectangular in shape and has a sleek design. You can carry it along with you in your hand bag and can use it on the go. There are about 9 rows of bristles. The handle is colored black and wood. This gives perfect grip while combing your hair
Things We Liked
Any hair type can take this comb pretty well
It has 9 rows of ball tipped bristles
Portable hair brush with a comfortable grip
Things We Did Not Like
Some people complained about the quality and hardness of bristles.
6. AGARO Delight Paddle Hair Brush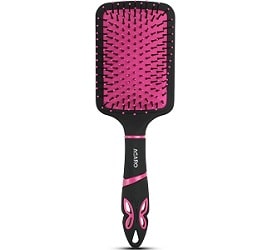 The next hair brush from our recommended list is from AGARO and is a paddle hair brush. It comes in unique black and pink combination. The nylon bristles are flexible and are strong which allows for gentler brushing. Also, the bristles have ball tips and they are anti-static which gives you smoother combing experience. By using this hair brush you can smoothen, straighten or groom your hair well and it also adds some shine to your hair. There is a cushion base which touches smooth on the scalp giving you stress free combing. You can comfortably use this brush for anyone in your family and works well on wet hair too.
Things We Liked
Nylon ball tipped bristles which are strong and flexible. The tips are anti-static.
Soft cushion base give you best combing experience
You can smoothen, straighten or add shine to your hair using this brush.
Things We Did Not Like
7. Sacred Salts Hair Detangling Brush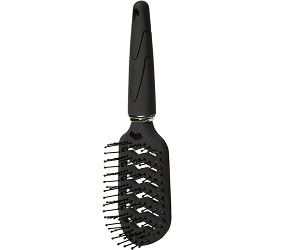 The seventh hair brush from our list is from Sacred salts and is a perfect detangling hair brush. Specially made of anti-static material, this hair brush would not produce any electrostatic hair problems which we usually face. The pins are made of soft material but are tough enough to detangle. They are long lasting too. You can speed up drying process by the holes present on back of the brush making it a much quicker process. The hair brush have special 7 row tunnel vents which is the best option for styling your hair and it can be of any length, can be wet and most importantly can style oily hair much effectively. The handle is made of non-slip material and gives you the comfortable grip while combing.
Things We Liked
This detangling hair brush is made of anti-static material and doesn't have the general electrostatic problem which we usually have
With holes present, blow drying is faster
7 row tunnel vent helps to style your hair in the best way possible
Things We Did Not Like
8. Foreign Holics Flat Hair Brush for Regular Cushion for Men and Women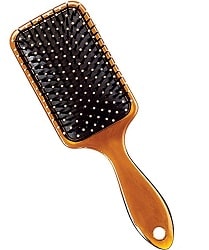 We have a flat hair brush for our next product. This hair brush is from Foreign Holics and is reliable model. The hair brushes are available in different models and colors. You can also go with their combination products. Some include round brush or wide teeth comb or a paddle brush. The handles of this perfect flat hair brush have a velvet touch which gives absolute control when you comb your hair and also for not slipping the brush out of hands. The finish is perfect and it has round tips for scalp massage. Detangling can be done gently without breakage. They can be comfortably used by both men and women.
Things We Liked
Helps with detangling of hair which is either wet or dry
Can be used by men and women
Comes in different models and available in multi colors
Things We Did Not Like
There are few complaints about the handle quality
9. Foolzy Large Square Paddle Brushes for Hair Brush Detangling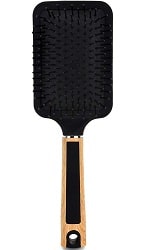 The Foolzy paddle hair brush is a large one which is square shaped. It has a cushion which is touchable. Most of the hair brushes work against the hair breaking hairs because of the tangles and knots. This paddle brush works miraculously in detangling your hair separating each strand gently without breaking your hair. The handle is long which is 4.5 inches. This makes it easy to carry and comb without slipping your hand. It gives the adequate grip that is necessary. The bristles are made of nylon with ball tips giving the air circulation for scalp promoting hair growth. Also, the soft cushion when it touches the scalp doesn't feel hard. Combing with this hair brush is an advantage if you have dandruff. They sweep of dead cells, promote oils and give your scalp a healthy feel.
Things We Liked
Soft air cushion which can touched by scalp and has nylon ball tipped bristles promoting hair growth.
Detangling is an easy process with this brush and doesn't break your hair
Long handle gives you perfect grip and this brush also helps remove dandruff
Things We Did Not Like
Some customers reviewed that the wooden handle keeps coming out
10. AY Round Hair Brush with Soft Nylon Bristles for Women and Men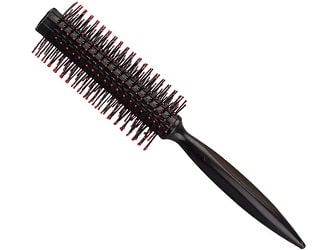 This is the last hair brush that we are going to list today. It is from AY and is a round brush. You can make quick curls using this brush and your hair looks amazing. With ball tipped nylon bristles, you would have gap between bristles, allowing some air circulation and you wont pull your hair. With the nylon bristles, you can smoothen your hair and it stays stronger. The brush is thin and can be carried easily in your bag. Also, the hair brush is lightweight which doesn't strain your hand while combing.
Things We Liked
These hair brushes can be used for any hair length
Ball tipped nylon bristles allow air circulation and give smooth curls to your hair
Easier to carry and is light weight
Things We Did Not Like
Some people reviewed that rounded tips fall out after using for some time.
How to Choose the Best Hairbrush In India

Now that you have seen the best hairbrushes that are available in the market, if you are still not sure on what to look at while selecting them, then this is the section for you. Selecting hair brushes depends on your hair type too. Nothing can damage your hair like a wrong hair brush. Let us see some things that you need to check before ordering a hair brush.
The size of the hair brush is an important thing to consider. If you have short or medium hair, a small brush might work for you. But for longer hair, big hair brushes are recommended.
The material used to make hair brush should be of high quality wood or plastic.
If you have fine hair, then you must be more careful than the others. Because fine hair can easily get damaged compared to other hair types. If you have this type of hair, you can go with boar bristles. They add smoothness and shine by distributing oils uniformly. Most of the people find that bristles which are synthetic or are a combination of nylon and boar are good.
Vented brush works well with medium or short hair. A paddle brush is normally used by most of the people.
For the people who have heavy curls, you can go with a paddle brush which have wider teeth.
For thick or wavy hair, a boar bristle brush and nylon material makes the bristles much stronger which allow to go easily into thick hair not breaking your hair.
For those who have fine hair with frizz, you should never use nylon bristles as they are too strong for your hair.
A wide tooth comb is another best option for curly or coarse hair.
An oval cushion brush helps to detangle any dry hair and adds shine to your hair.
Final Verdict
Hair brushes are an essential part of your daily grooming activities. It plays a vital role in maintaining a healthy and smooth hair without damaging it. In this article, we have provided the buyer guide with different types of hair brushes and the top 10 best hair brushes that you could select. Go over them, choose a brush from our list and go to the link that we have provided to check more details and pictures. Once you are satisfied you can use the same link to order your hair brush.
Santosh Kumar, He is a SEO + Blogger have 12 years of experience in writing tutorial, informative and product reviews topics.