Hair is an important part of human body which defines beauty of your face. It is quite essential that you take proper care of your hair before it starts falling or breaking. Treating hair properly when it is wet is also an important point to consider. For quicker drying of hair, so many methods are used. However, naturally drying your hair is the best way to lock the moisture and nourish the hair. A hair drying towel helps you to dry your hair quickly as well as keep its moisture locked. In this article, we are listing out the top 10 best hair towels that you can order online. Along with that, we are also giving a buyers guide which helps you to select a towel properly. Let us get started.
How To Choose The Best Hair Towel

Once you have checked all the products that we have listed, you might now be in confusion on which one to buy as all the products that we listed are good ones. You need to know some important things to consider before you buy a hair towel. With these things in mind, you will be able to select the one which suits you the best. Below are the points that you should keep in mind before selecting.
The material of the hair towel is the primary factor that you need to look at. Egyptian cotton, micro cotton, supima cotton, organic cotton, Bamboo, etc., are some of the materials. The popular organic cotton is made from cotton which grows without any pesticides and fertilizers of high quality are used. So, they are safe and feels much softer. The bamboo material either blended or as a whole is very good in absorption. On the other hand, you can also select synthetic materials like Rayon is popular. The microfiber feels softer and light and specially have that high absorption rate.
The texture is the next important thing to consider. Usually towels are designed with varying loop lengths. If there are short loops, they can absorb moisture faster and your hair can be pulled together. Longer loops generally do not do this and in fact have the opposite effect of absorbing moisture.
The type of weaving is our next factor. Jacquard is a type which gives a plush look. They have secure pattern and hence lasts longer.
The grams per square meter (GSM) also plays an important role. The thickness of towels are based on this unit. It is the thread count. The more it is, the more strong a towel can be.
Best Hair Drying Towels In India

1. Wazdorf Quick Turban Hair-Drying Absorbent Microfiber Towel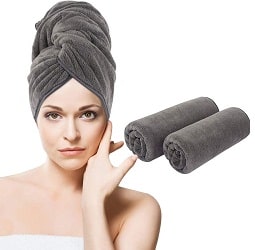 The first item from our list is a turban shaped hair towel. The material that it is made of is microfibre which is the best material to absorb water quickly and efficiently. Hence, it quickly helps to dry your hair without much hassle of hair dryer which breaks your hair. This natural way of ddrying helps to preserve your hair texture and promotes smooth and shiny growth. Additionally, you do not wait long to dry your hair. Once you have your shower, if you wrap your hair, the dripping of water is stopped as the towel absorbs the water quickly. You just need to wear the cap like structure, twist your hair and secure into the loop. This takes just minutes.
Things we liked
Microfiber material
Quick drying
Easy to wear
Things we didn't like
Some people are not satisfied of quality
2. Gokart Cotton Super Absorbent Quick Dry Head Wrap Turbie Towel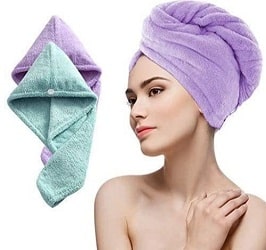 This super absorbent towel is from Gokart and has occupied second position in our list. You do not worry about the head size as it fits to almost any size head. It is very light to wear and you do not feel the burden as you would normally with a turkey towel. So, even the kids can use it comfortably. It helps to dry your hair quickly and does not damage it in the process. It in turn protects the shine and smoothness of your hair. It is very easy to wear. It has a cap like structure. You can wear it in 2 ways either from back side or front side whichever way is comfortable for you. All the colors are cute and you will be getting a random color when you order it.
Things we liked
Easily wearable
Suitable for beauty salons, families and almost any kind of head
Lightweight
Things we didn't like
3. REMUS Quick Turban Hair-Drying Absorbent Microfiber Towel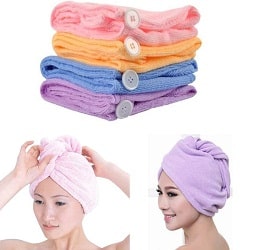 The next towel from our list is from Remus. This turban like hair drying towel is ideal if you want to dry your hair quickly after taking a shower. The material that this towel is made of is microfiber fabric which is highly efficient in quickly drying your hair. It fits every kind of head that you can think of. It is also gentle on your skin. With the soft touch material, you will not feel the general roughness you find with other normal towels. This leaves your hair lustrus and beautiful. The wet hair after showering doesn't drip water once you get wrapped into this towel as it magically absorbs the moisture.
Things we liked
Quick drying
Suitable for any head and hair type
Anti dripping
Things we didn't like
4. Orson Hair Towel Wrap Absorbent Towel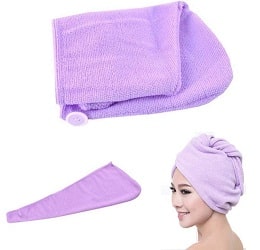 With a round shaped cap and best material Orson's hair towel is perfect to use for quickly drying your hair. It measures 57 cm by 23 cm which is perfect for almost any head and hair length. The dripping that usually happens with normal towels is avoided here and the microfiber material helps to absorb as much moisture as it can within very less amount of time. It is gentle on hair and is easy to wear.
Things we liked
Easily wearable
Absorbs Moisture quickly
Measures perfectly for any hair length
Things we didn't like
5. Surat Dream Hair Absorbent Microfiber Drying Wrapper Towel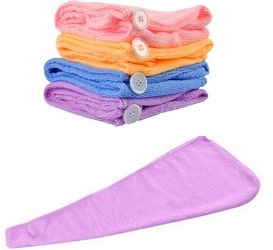 If you are fed up of using bulky towels causing headaches and not drying your hair in time, this Surat microfiber towel is a perfect for you. This is lightweight and with the microfiber material, your hair doesn't drip as it usually does. It quickly absorbs the moisture leaving your hair dry within minutes. It comes in 57 cm by 23 cm size which is suitable for any head. This is quite simple to wear and doesn't cause any trouble while setting it in place.
Things we liked
Lightweight to use
Easy to wear
Made with microfiber
Things we didn't like
Colors might not be appealing
6. COBRA Quick Turban Hair-Drying Absorbent Microfiber Towel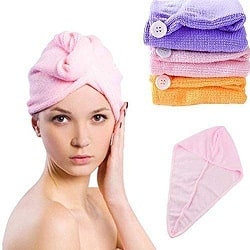 For an ultimate drying of your hair this quick turban hair-drying towel is a perfect fit for you. With the ultra wicking technology, the water gets drawn from skin and hair more perfectly. In addition to that, these towels are made of ultra fine microfibers having 80% more power to absorb than the normal towels. This saves you a lot of time and you do not have to go out with dripping hair. 75% of water gets absorbed in just 10 minutes. With this quick drying material, it has an added benefit to keep your hair soft without losing the texture.
Things we liked
Ultra wicking technology makes it 80% more powerful in absorbing.
Made of soft microfiber material
Easy to wear it immediately after shower.
Things we didn't like
7. Store2508® Microfiber Hair Drying Cap. Hair Towel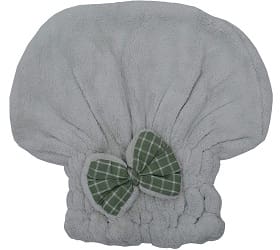 This next hair drying towel is made as a cap for the comfort of the users. It is designed in such a way that any head can fit into it comfortably and also the hair type or hair length doesn't matter. When it comes to material, it is made of superfine microfiber called as coral fleece. This allows for high absorption of water from hair and hence quickly dries it. This microfiber also dries your hair without much damaging it and keeps the texture in place. The cap is super light weight and looks cute.
Things we liked
Designed like a cap.
Made with Coral Fleece
Fits almost any head and any hair type or length
Things we didn't like
There is a review that it did not much help with drying.
8. Fiama Bath Essentials Hair Wrapper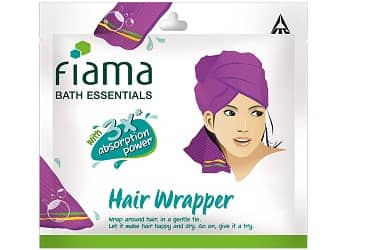 Fiama is one of the popular companies that produce bath products. We all know about their soaps or bath gels. They also manufacture hair wrapper. This hair wrapper is made of micro-fibers which means your hair dries out faster than you think as it has the best apsorption rate. We can say that the absorption rate is 3 times faster than the normal towels. At the same time, these wrappers helps to keep your hair gentle without spoiling the texture. You just need to twist your hair in this wrapper, flip it up and fix it in place with the button provided and you can do other things while your hair gets dried up. This wrapper should later be rinsed and dried for the next use.
Things we liked
Gentle with hair
Microfiber material dries your hair 3 times faster
Easy to use
Things we didn't like
9. Piesome Absorbent Microfiber Towel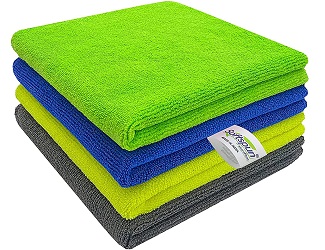 This towel is a perfect one to quickly dry your hair. It is not bulky as the usual towels would be and is lightweight. The cap like structure allows you to wear this towel easily for quick drying. All you need to do is place the rounded cap wrap on back on you head and the elastic loop should stay on top. Thwn start twisting your hair in the wrap and place through the loop. This keeps your towel in place without slipping. As it is lightweight, you do not feel heavy on your head. The material of this towel is made of microfiber giving you maximum absorption. So, once you get out of shower, immediately wrap with this towel, you will not have any dripping.
Things we liked
Made of high quality microfiber material for maximum absorption
Lightweight towel
Wearing the towel is easy and quick
Things we didn't like
Not suitable for all hair lengths
10. Dholakiya® D1-Towel of Hair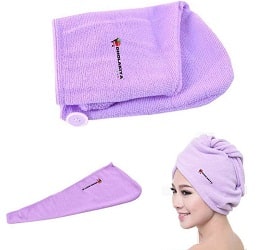 The last item from our list is from Dholakiya. This hair towel is ideal for faster hair drying. It is simple to use and doesn't slip over your head. It stays secured. You just need to place this towel on your head while bending forward, then just twist your hair in thee towel and place it back on top through the loop and secure it with button. This way, this towel works faster helping you to dry your hair in minutes. As the material is made of highly absorbing microfiber, you do not need to worry about water dripping from your hair. It is shaped to fit your head perfectly. You do not need to worry about placing it on your head. It is a simple process. The length of this towel is about 25.6 inches and the rounded width is 9.8 inches. If you wish to dry your hair quite quickly, this towel is the best choice.
Things we liked
Perfect dimension for any length hair
Microfibre material absorbs moisture well
Easy to apply to hair
Things we didn't like
Conclusion
We have listed from our research, the top 10 hair towels in India for drying purpose. We have also given a buyers guide which you can use to select a towel from our list or if you want to go on your own. Once you get a clear idea, you can click on the links provided to purchase or check more details. You should also check reviews about the product before buying to be double sure of what you are buying.
Santosh Kumar, He is a SEO + Blogger have 12 years of experience in writing tutorial, informative and product reviews topics.