There are various clothing options in the market at different price points and types. It's essentially an insurmountable number of combinations and choices that you can have for your dresses and clothes. And if you're a girl, then the choices become unlimited literally. However, even the girl's clothing comes in various types for different body structures.
This is why a dress suitable for someone with a different body structure won't fit the other. For say, slim girls can find clothing options different than those of the regular body types. But that doesn't mean that slim girls don't have clothing options. There are a lot of choices. And we here will look into the best Indian dress options for slim girls in our article today. Read along.
Best Indian Dress Options for Slim Girls
1. Maxi Dress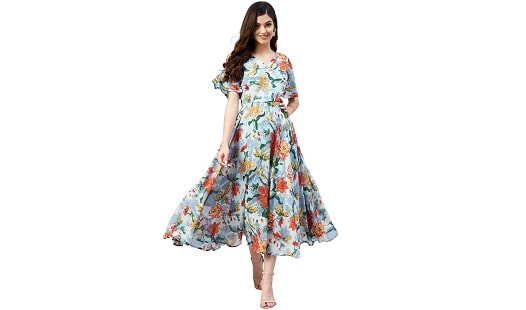 The first pick in our list is the maxi dress that is much loved by every girl. It fits the look and the body type of slim girls with ease. It comes with great fitting on the waist and flows down loosely on the lower part of the body giving a perfect outfit look. You can pair this dress along with small jewelry and you'll be eye-catching in no time.
2. Skinny Fit Jeans
Skinny-fit jeans are the perfect piece of jeans for slim-body type girls. The entire design of skinny fit jeans was made to provide an accentuated and body-hugging look which the skinny jeans do perfectly for the slim girl. It also helps to create an illusion of height and showcase you as a taller person while providing a gracious look.
3. Heavy Pleats-based Tops
Tops that come with heavy pleats have versatile usage and allow the person to become a more attractive persona with the dress. It provides volume to the body and creates a sophisticated look. It comes in a variety of options like high neck, mandarin collar, turtle neck, and more. All of these look good on skinny and slim girls and give them a proper look.
4. Horizontal Stripe-Based Tops
The vertical stripe-based dresses are meant to provide a slim look and are more suited to regular body types while the horizontal stripe-based tops provide a broader look and accentuate the body with the deception of a larger frame. This works great for slim girls who want to dress in a manner that doesn't showcase them as too skinny or slim. Horizontal stripes come in a variety of dresses like kurta, tees, tops, and more.
5. Tuck-in Shirts
Tuck-in shirts are trendy and are definitely on the buy list for many girls. And it suits the slim body type too perfectly. The tuck-in shirts paired with a good lower body dress or clothing like jeans, palazzo, and more will provide a great attire look for the person. With the tuck-in shirts, the hips often appear brighter and provide a larger frame look in comparison to other dresses.
6. Bell Bottom Trousers
Bell bottom trousers have been a classic dressing pick among girls and it's always in the run. The structure of bell bottom pants makes them great for slim girls as they are loose at the waist and the thighs and also shaped in the bell bottom design at the bottom. This can help in masking your slim figure and give you a good body look.
7. Patiala and Palazzos
Patiala and palazzos are the perfect dress to go with when it comes to Indian dresses and make a good pick. The entire design of Patiala and Palazzos is to provide a snuggly fit and accentuate the body curves whilst also providing a good look which makes it ideal for slim girls. It makes them more figurative than original look.
8. Saree
The saree is an erstwhile Indian dress and suits every body type. The dress is the epitome of Indian traditional wear and allows anyone to pull it off with a great look. A saree along with a good blouse set allows for a perfect look that can work as both an official and functional look. You can even choose a variety of sarees to go with.
Final Words
There are various dress types and variety that slim girls can choose from and we picked the best of the lot in our list for today. All of these do a great job of accentuating your overall personality and providing you with a glorious attire look for either official or casual work.
Santosh Kumar, He is a SEO + Blogger have 12 years of experience in writing tutorial, informative and product reviews topics.