Every kitchen utensil is designed for a specific purpose, like a pan for cooking meals, a serving tray to transport a large portion of meals & drinks from the oven or pot to the table. Serving trays are versatile pieces of the tool, that can be made from different types of material like wood, stainless steel, plastic, etc.
Apart from the material, they are available in different shapes, designs, patterns and colours. The tray will not only help in serving the items but will also add flair to the presentation of your favourite dish in front of guests, relatives and friends.
Also, a beautiful tray set with attractive colour & design brighten up kitchenware and catches the attention of guests. Be it is your morning breakfast, brunch or evening snacks, a tray will give even convenience to carry dishes from the kitchen to the table.
Best Serving Trays Set in India
Tons of options available in the Indian market when it comes to buying a serving tray under different colours, designs and price ranges. If you are also thinking of converting your old-fashioned serving tray into a modern Utensil, then consider the options given below.
1. BRIGHT LINE Set of 3 Serving Trays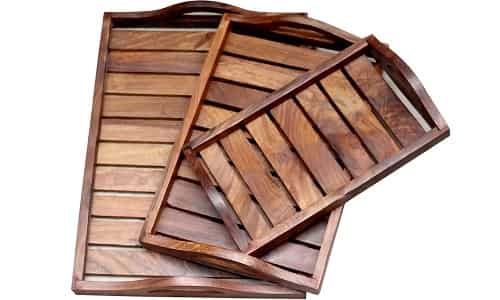 The set of three serving Trays by Bright Line is an elegant piece of wood for every Indian Kitchen. Talking about construction, they are made of natural wood and designed to help you do the tasks you need. Also, the material is eco-friendly and adds a natural touch to your kitchen. To save space in your kitchen's countertop, you can stack them together since their size varies from each other.
The set features two oval handles for easy transportation and carrying. Also, they are large and well cut enough to prevent slipping off. Plus, it enables you to carry them from one place to another with ease. This beautiful wooden set is perfect for serving wine, dishes, coffee, breakfast, fruit, etc. Apart from a serving tray, you can use them as a small tabletop on a sofa or bed.
| | |
| --- | --- |
| Pros | Cons |
| All three trays have three different sizes. | The corner & edges of the trays are not so smooth. |
| This tray is made from high-quality wood, which is eco-friendly. | |
2. GOOD HOMES Melamine Serving Tray Set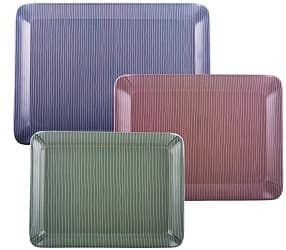 Serving Tray set by GOOD HOMES is a perfect tool for serving afternoon tea, cakes and every meal in bed. They are a highly practical choice for your home. The tray set is the best example of durability as they are made from sturdy wearing melamine, ensuring a long-lasting finish to resist tear and wear. The three-piece set of different colours is elegant and stylish. However, they are microwave safe, freezer safe, leakproof, dishwasher safe, rustproof, high polish, ultra durability, heat resistant up to temperatures of 140 degrees.
| | |
| --- | --- |
| Pros | Cons |
| All three trays are available in different colours. | Not found. |
| These trays give a very elegant look to your dining table. | |
3. HighOnDesign Wooden Serving Tray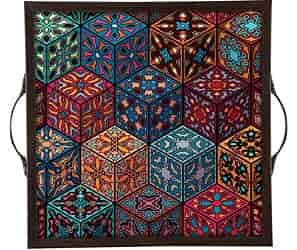 This handcrafted tray is made of wood with a handprinted design, giving it an elegant look. It would add to your table décor. The tray is highly recommended, a great for serving snacks, food and drink. The factor you'll love the most is its decorative décor square rectangle shape. Each piece by HighOn Design is handcrafted and there is maybe a variation in design and colour.
| | |
| --- | --- |
| Pros | Cons |
| It is a perfect gift for a wedding anniversary, Christmas, mother's day, etc. | Very costly. |
| One of the most antique trays on this list. | |
Conclusion
The serving plate is a valuable piece for every Indian kitchen designed to serve dishes, drinks, snacks, and other items. The top three serving plates ensure better quality, stability & durability.
Santosh Kumar, He is a SEO + Blogger have 12 years of experience in writing tutorial, informative and product reviews topics.