Forget about the days when sewing a cloth required a significant amount of time. With the advent of sewing machines, the effort it takes to sew a cloth has been reduced to a considerable extent. Modern sewing machines have some advanced features that make them unique in all ways. A sewing machine can sew a buttonhole and a cloth within a fraction of seconds.
You can now create magic with your hands and a sewing machine to make innovative clothes. This is because of Singer sewing machines. They are constructed to add extra glamour and beauty to your apparel. In the next few lines, you will learn about some of the best sewing machines under this brand.
List of Best Singer Sewing Machines in India
1. Singer Promise1408 Automatic Zig-Zag electric sewing machine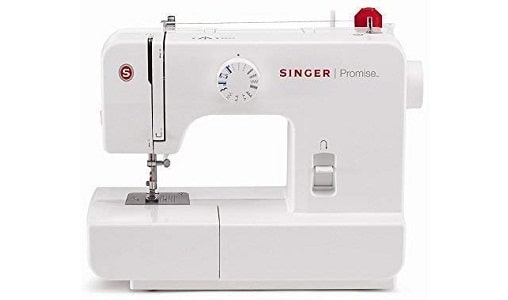 It is one of the suitable sewing machines that comes with ample opportunities. It comes with some good features. It has a metal frame that keeps the machine sturdy and durable. You will get many accessories with the sewing machines. It comes with a zipper foot, a buttonhole foot, and a pack of needles and bobbins. With this sewing machine, you can make designer dresses and apparel. The machine comes with an LED light that makes the stitch easily visible to the user.
| | |
| --- | --- |
| Pros | Cons |
| It comes with a fashionable and modern look. | It would have been better if the zipper foot was made a little durable and better. |
| It comes with some advanced accesories and tools. | |
| It is fit for the modern people who have less time to stitch the dress. | |
| It comes with a LED light for easy visibility. | |
| It comes with a sturdy metal frame. | |
2. Singer 8280 sewing machine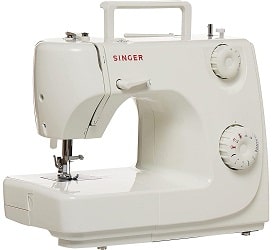 Modern people have less time on their hands. People are unable to devote even a single minute to sewing a cloth or dress.But if you have a perfect sewing machine in your home, you can smoothly carry out the sewing process. Singer is one of the most noted brands and has some of the best features. It has an in-built thread cutter available in the presser bar. The sewing speed of this device is 800 SPM. It runs smoothly on electricity. There is an LED light that allows you to have an optimal view of the stitches.
Pros
Cons
It is much faster and prompt
sewing machine.
It would have been better if the operating mode of the sewing machine was made a little easier.
It has LED light that helps you get optimal view.
It has in-built thread cutter.
It has a sewing speed with 800 SPM
It is much compact and great.
3. Singer Simple 3233 85 watt automatic sewing machine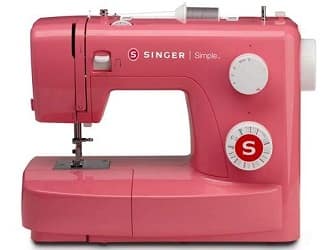 If you want to stitch a variety of clothes, it is perfect to use it. It comes with a decorative sewing machine. The front-loading bobbins are easy and smooth for insertion. You will also get an adjustable stitch length. It has a heavy-duty metal frame for the person. The foot paddle and other accessories make this device much more suitable for the users to use. The stitching machine comes with a soft cover.
| | |
| --- | --- |
| Pros | Cons |
| It is a great and portable sewing machine. | It would have been better if there were more color options for the sewing machine. |
| It has easy to insert front loading bobbin. | |
| It comes with adjustable stitch length. | |
| It has a heavy duty metal frame. | |
| It has a soft cover to cover the machine. | |
How To Choose the Best Sewing Machines in India?
A sewing machine is a useful tool for those who enjoy sewing. There are various sewing machines, each with unique characteristics and functionalities.
Budget your purchases
All-in-one gadgets should not be taken advantage of at this time; they are not necessary. But on the other hand, the industry is filled with inexpensive "beginning" machines. These are perfect for beginners in sewing and those who plan to make small adjustments.
Look for the Right Type of Machine
A sewing machine requires a large financial commitment. You will get far more use out of a machine when you purchase it correctly the first time.
Invest with a Reputable Band
Just a few top sewing machine manufacturers include Usha, Janome, Brother, and Singer. A good retailer should be able to repair equipment and provide a warranty or guarantee. Talk to the staff when you enter the store; they can explain the features of the many machines on hand, and you may even be able to check them out.
Numerous Stitches
Instead of getting seduced by the number of stitches, the trick is to purchase a machine that provides stitches which you will use:
Straight Stitch
Buttonhole Stitch
Zigzag Stitch
Stretch or Knit Stitch
Utility Stitches
Blind Hem Stitch
Special Features
An automatic needle threader is a feature of high-end machines, while a semi-automatic needle threader is found in budget machines.
Needle Up/Down – This feature enables you to halt the needle either up or down, facilitating fabric pivoting and twirling.
Needle Position Adjustment-You can adjust how faster or slower you stitch with the speed control. This works well with tough textiles.
Needle Position Alteration – This button allows you to adjust the needle left or right, ideal for zippers or topstitching.
Automatic Thread Cutter – Many machines come equipped with a thread cutter. All it takes to cut the thread is a simple button push.
Illumination – The majority of devices now have far better lighting. Check the lighting to make sure you can see what you're sewing.
Knee Lifter – The presser foot can be raised with the help of a knee lifter as you hold the cloth in place with your hands. Ideal shapes have sharp edges and curves.
Free Arm –The Free Arm is a removable section of the sewing deck that enables you to sew anything narrow (like a sleeve) below the needle. This may be a removable accessory storage box on the machine's front.
Accessories and Feet
The subject you're concentrating on will be related to attachments and feet. Quilters require a Walking Foot, a Spring Action Foot, and a 1/4″ foot. Sewers of clothing can select between a zipper foot, buttonhole foot, overcast stitching foot, plus foot for attaching buttons.
Final words
A sewing machine has now turned out to be a perfect machine or tool that can help you carry out any sort of stitching. They are one of the best tools that can help you stitch clothes in a few moments. Most of these machines are compact and have an exciting look.
Santosh Kumar, He is a SEO + Blogger have 12 years of experience in writing tutorial, informative and product reviews topics.