A refrigerator is a basic necessity for every Indian household to store ingredients like vegetables, fruits, leftovers, and much more. When it comes to choosing a refrigerator, you will find different types in it, such as single door, double door, etc. But, the most budget-friendly option is a single door, which is also suitable for a family of two to three people. However, the bigger size, or more features a fridge has, the more it will cost.
If you don't want to invest much in a fridge, then choosing a single door is still a good option under your budget. Single door fridges also have other benefits like they have a compact design which makes them easy to keep in a small space and consumes less power which makes these appliances energy efficient.
With so many options available, you might be confused as to which one best suits your needs. Before making the final choice, take a rough idea of ​​your kitchen space as to where it will be. Also, check the storage capacity, price, reviews and ratings and the brand from which you have decided to buy. If you think that you are still not able to choose the best then you have come to the right place. Keep reading to know the best single-door fridge available in India.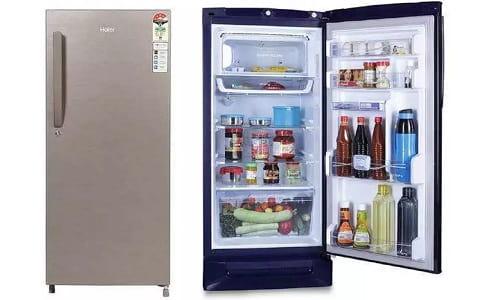 List of Single Door Fridge in India
How To Choose The Right Single Door Fridge In India
Shopping for a single-door fridge isn't as easy as it seems. There are plenty of things you need to consider while buying it. Thankfully we've got it all covered in our buying guide down below. Read along.
Capacity
First things first, whenever you go to buy a single-door fridge, you need to consider the capacity of the fridge. Always try to analyze the capacity that you'll need with your fridge so that you don't get yourself one that doesn't cover all the requirements of you and your family. Single door fridges come in various size capacities so the options will be plenty for you to pick from as best suited to you.
Energy efficiency
Fridges are known to consume a high quantity of electricity and often run all the time. This ends up increasing your electricity bill. This is why you'll find the energy star ratings on the fridge whenever you buy one. It represents the level of energy consumption and allows you to calculate how much of a dent it will create on your bill. Always focus on getting an energy-efficient single-door fridge.
Shelf capacity and design
Single door fridges come with various shelf designs and capacity options. Most of the entry-level ones come with metal or plastic shelves and have limited shelf space while the high-end ones come with multiple shelves and more spacious options. Look for the ones that can match your requirements like food compartments, water compartments, milk and egg tray, and more.
Design
Fridges aren't just mini items that you can place anywhere around your home. They are large and often take a lot of space in your home. This is why you also need to consider the design aspect of it. A fridge that doesn't go with the aesthetics of the kitchen or the dining room and seems out of place will not look good to the eyes. Try to look for the ones that offer you good functionality and also alleviate your home.
Price and Warranty
Buying a fridge is a heavy investment that you need to make and it's wise to consider the budget aspect and the warranty part of it when buying it. Always look to check the offer prices and select the ones that match your budget while also providing the maximum functionality for you and your family. And you should also consider the warranty aspect as the fridge may need repairs once in a year or two. The repair expenses can be hefty if you don't have warranty claims for it. So pick something that offers a good warranty period.
Manoj Kumar, is a Service Manager at Rakesh Electronics, New Delhi. Manoj has 8 years of experience in dealing with home electronics products. Manoj is a freelance writer and share his knowledge at IndiasStuffs.com