Everyone feels exhausted after a long journey, but do you know why that happens? It's because you don't get good sleep while travelling, and that results in a travel hangover, and you may ask, how can I avoid it then? The answer is pretty simple. You should invest in accessories that help you get comfortable while travelling, such as a good travel pillow. No matter whether you're travelling by plane, train, bus, or car, a travel pillow will always make you feel comfy and you'll fall asleep quite easily. Sometimes it happens that after a long journey, you feel a gruesome pain in your neck. Well, you can avoid it by using a travel pillow, so that's another plus right there.
And not just any travel pillow, you should always go for the best option as long as it's not hurting your pocket. But the problem is that there are hundreds of options available, so which one should you choose? Well, don't you worry now, we've got your back. Today's post is going to be all about the best travel pillows in India, with a detailed buying guide on how to find a good option on your own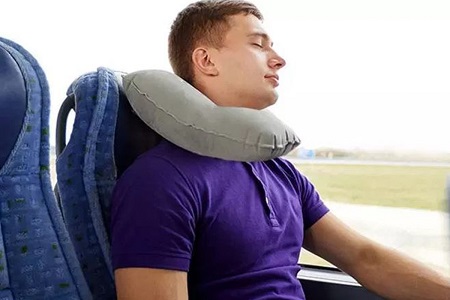 List of  Best Travel Pillow In India
How to Choose the Right Travel Pillow

Let's talk about some factors you should always consider when buying a travel pillow for yourself.
Select the right type
All travel pillows fulfil one need, which is to provide comfort for you to get some good sleep while travelling. But you may prefer a different type of travel pillow as per your requirements. There are many types of travel pillows available on the market, like an inflatable, neck-wrap, head-wrap, normal pillow, etc. And to keep in mind everyone's needs, we have added different types to our list so that you can choose accordingly. However, in our opinion, a good neck wrap pillow can do the job.
Some pillows are long; for example, the shut-eye: travelest travel pillow. This one could be a good choice, but it would take too much space in your backpack, and it's not like the neck wrap pillows that you can simply wrap around your neck and walk around.
Machine Washable Or Not
Accessories like pillows should always be washable. If it's not, you should avoid buying such pillows. It may seem pretty obvious, but when you search for these pillows online, you'll find many brands that have these unwashable or you can't wash those pillows in the machine, but they've still got good reviews. But we always recommend you go with a machine washable pillow. This way, you can ensure that you have a clean pillow every time before going on another journey. Other than that, you should always look for labels like "no extra care" or anything like that. It's because some pillows require extra maintenance, such as hand washing only, etc. You can go with any option in our list of top travel pillows and you'll be good for the most part because we have included some machine-washable pillows in our list.
Lightweight
If a pillow is bulky or heavy and you are having a hard time picking it up, then there's no point referring to it as a travel pillow; it's just a normal pillow. Usually, it is recommended to go with ultra-lightweight but with good cushioning and breathable fabric pillow. There are many pillows on the market listed in the travel pillow category with more than 1 pound of weight. Those are not travelling pillows, and you shouldn't buy them because you'll struggle a lot with them while travelling. That's why we have only added lightweight pillows to our list, so choose any of them and you'll be good to go.
Price Range
Sellers at airports and railway stations charge way too much for just a simple travel pillow, and that's why you should not buy a travel pillow from these places. The price of a travel pillow depends upon which type of pillow you're going with. But talking about a good neck-wrap travel pillow, in the Indian market, it can cost you between 300 and 1000 rupees. However, the price may vary a lot because premium pillows will obviously cost you a little more. Therefore, if a premium travel pillow is available for a slightly higher price, don't hesitate to purchase it because that would be something worth spending on.
Santosh Kumar, He is a SEO + Blogger have 12 years of experience in writing tutorial, informative and product reviews topics.