Do you have grandparents at home? Do their knees and back hurt with age? If yes then go get a walker for them. Since senior citizens often face difficulty while walking due to age-related issues. Instead of someone's support, they can walk with the help of a walker. The walkers for old age are a highly effective tool to recover the strength and balance of the limbs but also support the back & legs.
Through walkers, you can boost your grandparents' emotional confidence and let them walk freely without being dependent on anyone. However, there will be many options available in the market, but everyone's purpose is the same.
When it comes to buying a walker, the only thing to keep in mind is the maximum weight stated on the label. This ensures better safety and support while transporting your old citizen.
Best Selling Walker for Old Age in India
1. KosmoCare Premium Folding Walker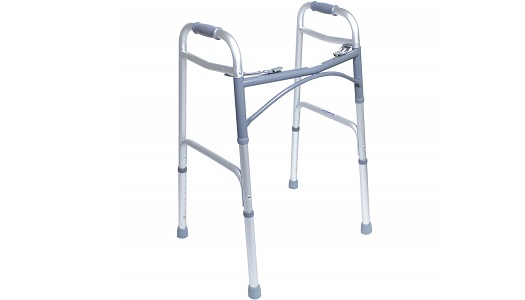 The KosmoCare folding Walker, on this list, combines durability and strength making it one of the excellent in its category. Well, it comes with numerous features like a unique trigger release folding structure that make the walker extremely effortless to fold instantly. Talking about construction, it is made up of high-quality aluminium, which makes it portable and extremely lightweight. The folding walker weighs 2.6 Kg, thus ideal for both indoor and outdoor use.
Due to the adjustable design, you can manage its height as per your need. Moreover, its overall construction ensures maximum safety and comfort for adults and old citizens. This U-shaped design walker produces the finest clearance. Therefore, the patient or anyone can carry the walker closer to assist in standing due to the well-designed cross frame.
| | |
| --- | --- |
| Pros | Cons |
| It can be useful for all persons with different heights. | Not properly lying on the ground. |
| Its easy push mechanism allows it to fold quickly for easy transportation. | |
2. Dr Trust (USA) Foldable Walker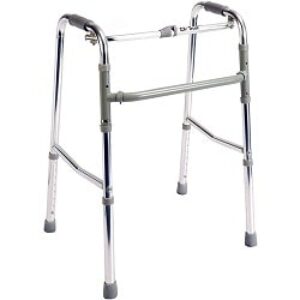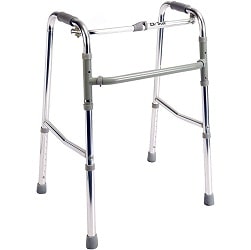 Dr Trust is known to be the best brand for medical equipment. The walker from this brand is designed according to biomechanical principles of motion that enable weight distribution for preventing falls and enhancing balance during walking. It provides customized walking support to all those patients or old citizens who have difficulty moving from one place to another. Since it comes with adjustable height settings, you can adjust it through a single touch button release.
The walker is a good combination of elegancy, durability, lightness, strength and perfectness. Being one of the most preferable aluminium U-shaped folding walkers, this helps those who are not able to walk due to ageing or medical conditions.
| | |
| --- | --- |
| Pros | Cons |
| It has a sturdy and lightweight aluminium body. | Bit costly. |
| It works on bio-mechanical principal. | |
3. Ammino India Adult Walking Walker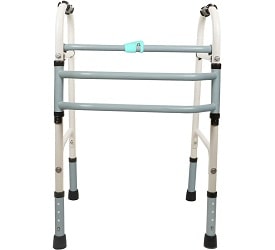 The last walker from AMMINO comes with a reciprocal feature in which the patient doesn't require much strength and balance to move. Another notable aspect is its height adjustable feature which makes storing and transporting easier. Moreover, its height can be adjusted from 30 inches to 35 inches as per individual needs. It helps reduce pressure on the legs, provides extra support while walking, and is suitable for people with lifetime disability or injuries or in the post-surgical stage.
| | |
| --- | --- |
| Pros | Cons |
| The push-button mechanism makes your folding and unfolding task easier. | The grips, shoes are not that good. |
| It is one of the most lightweight walkers | |
How To Choose The Best Walker For Old Age
A walker is an older person's walking buddy. Be it good or bad; a walker can change your old pal's life. You do not have to worry about getting sick from now on. Go for a walker preferable to you or your friends or family to grip the strength of your life.
Strength
Walkers are mostly made of aluminium metal to support the body weight of their owners. Aluminium has the potential to support the minimum weight of a person.
Weight Capacity
Look for a walker that should at the least have a capacity to bear 100 kgs to 120 kgs of body mass to support the owner.
Standard Construction Objectives
Your walker should act as a helpful tool. So, choose an easy-to-carry, lightweight and smoothly transportable walker for your loving ones. Your walker should at least weigh 2 kgs to 3 kgs made out of aluminium or some other non-malleable metal to support the weight of your caring ones.
Walking flexibility
Pick a walker specially designed not to bother you with its structure while walking or any other movement. A walker should have enough space so you can walk freely without getting imbalanced or stuck. For a better grip on your walker, you can choose added rubber grips on your walker's handle for better support. A walker's standard size is 48 cm x 55 cm wide.
Adjustment
Height adjustments can be made, ranging from 80 cm to 100 cm.
You can find automatically adjust the height of your Walker with the advanced Walker available on the market with just a tap on a push button. It makes your painful life much easier, and you do not need to waste your time on the arches.
Reciprocal Motion
For better mobility, choose a reciprocal feature. It enables the user to walk in a non-linear motion. It also adds the advance of walking freely rather than forcing the walker to move. It is important if the owner has serious issues when walking straight.
Portability
You can go for an adjustable or an automatic adjustable Walker where you can adjust the height and collapse the Walker without any hassles.
Choose facilities like easy to hold, move, and collapsible specialities based on your health needs and requirements. You need to be able to set the walker's construction to your intended height to create a supporting balance so you can rest your hands while walking.
Conclusion
People who are not able to walk on their own needs often feel a lack of confidence, so they have no better option than to resort to a walker. The above walkers are the best in India for people who are unable to walk due to disability, disease or age factors.
Ridhima Sharma is a Senior Pharmacist at Kukreja Hospital, New Delhi. Ridhima completed her Diploma in Pharmacy (D. Pharm) from UP University. She regularly writes article on health information, fitness and beauty related products at IndiasStuffs.com