While drinking wine, it is essential to absorb the whole experience perfectly. Having an excellent wine-drinking experience majorly depends on having a good wine glass. These glasses are gracefully designed to ensure the peaceful sipping of wine with the proper aroma. According to a study conducted by researchers, different wine glasses move the ethanol vapors differently, which significantly improves your wine tasting experience. Thus, it gets crucial to select a perfect wine glass. You would want to enjoy your vintage wine, and drinking it in just any terrible glass would devalue it.
Thus, ensuring proper stemware is significant as it affects the aromatics of the wine, making it more enjoyable. Therefore, while selecting a wine glass, you should carefully look for the glass's good quality, size, shape, and weight. Some best wine glasses in India are mentioned below, which would surely enhance your wine tasting experience.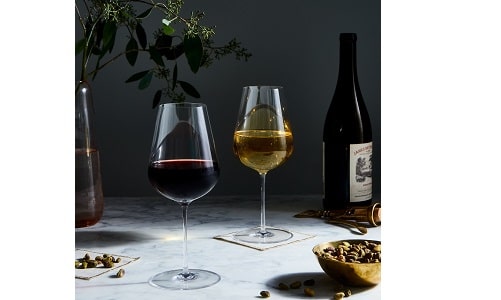 List of Best Wine Glasses In India
How To Choose The Best Wine Glasses
LOOK AT THE BOWL STYLE
It also impacts the aroma of the wine detected by your nostrils. The quantity of exposed wine's surface area to air depends on the bowl's breadth. Wide bowls allow more wine to be exposed to the air and allow more aromas to penetrate your nose. Narrower bowls allow less wine exposure to the air and lesser surface area for scent release to the nose.
TIP
If you're unsure about the optimum wine glass shape, go with an all-purpose medium-sized glass that can be used with white and red wines.
A WIDE BOWL IS BEST FOR REDS
Red wines often demand a large, wide bowl best to enable their richer, stronger aromas and tastes to emerge. Wider wine glasses allow more scents to reach the nose and aerate the wine while you sip it, enhancing flavour release.
SELECT A SMALLER BOWL FOR WHITES
A narrower glass helps direct these softer smells closer to your nose because most white wines have more delicate flavours and aromas. Additionally, it reduces the amount of wine's surface exposed to air, preserving the chilled quality of white wines.
FOR SPARKLING, SELECT A TALL NARROW FLUTE
Sparkling wine has adorable tiny bubbles that everyone enjoys. However, sparkling wine is robbed of its carbonation when exposed to oxygen. Select a narrow, tall, fluted bowl to effectively preserve the effervescence so that it lasts as long as possible.
LOOK AT THE STEM
Stemless wine glasses are less suitable for drinking white wine, but ultimately, it depends on your preferences. It primarily comes down to personal opinion when deciding between stemmed and stemless glasses. Nevertheless, because your palm is holding the bowl of the glass rather than the stem, sipping wine through a stemless glass might raise the temperature of the wine.
TIP
While stemless glasses are a little more casual, stemmed glasses appear quite formal. When you'd like, take the kind of the occasion into account while selecting your glasses. For instance, are you having a BBQ in the backyard? The best option might be stemless.
THINK ABOUT THE RIM
When you drink wine, the width of the rim of the glass affects how the liquid flows over your tongue, which can affect how the wine tastes. The wine flows more easily over your tongue when the rim is more finely cut and has no lip. The smooth flow of wine onto your tongue is impeded by more rolled and thicker rims, which can also emphasise the wine's acidity and harshness.
Conclusion
Enjoy the finest part, drinking the wine, after selecting the glass and pouring it. And always try wine in a distinct glass when you don't like the flavour! Your entire perception of the wine's flavour could be altered.
Santosh Kumar, He is a SEO + Blogger have 12 years of experience in writing tutorial, informative and product reviews topics.