There is a lot of misunderstanding about the distinction between "Make in India" and "Made in India," which has made the discussion around these terms more popular recently. Although they are often discussed interchangeably, they refer to two distinct economic policies.
Make in India
When the NDA administration of PM Narendra Modi assumed power in India's Parliament in 2014, one of its priorities was to start an initiative called "Make in India" to address the country's sluggish economy and stimulate further economic development.
Through the elimination of several trade obstacles in international policy, it sought to make India a desirable location for foreign investors from across the globe. Foreign Direct Investment was advocated as a means by which to access India's latent manufacturing potential and establish the nation as a serious player in the global manufacturing sector.
Because of the benefits touted by the initiative's proponents, India has become a center for manufacturing businesses from across the globe.
Benefits
The Make in India program aids the country's rapidly expanding labor force.
Making India a major producer of goods for international trade.
The improvement of the potential industrial sites and the surrounding communities.
Because of the massive influx of money from outside investors, the scheme will increase India's gross domestic product.
Foreign direct investment under this program would help the rupee rise in value, making it more competitive with the U.S. currency.
India, which currently lacks in many test mechanization, would have the chance to benefit from the cutting-edge technology that participating nations will bring with them.
The establishment of businesses under this program will aid in the growth of rural communities.
Drawbacks
It is the manufacturing sector that is being prioritized under the Make in India initiative. So, this has a destructive effect on India's agricultural economy.
Because industrial production takes vast quantities of raw materials such as land, water, etc. to establish. This means that the continued existence of India's massive population may be at risk should these natural resources be depleted.
Made in India
The 'Made in India' campaign helped give Indian exports a distinct cultural character. This plan does not encourage investment from outside and wastes scarce national resources. This policy promotes the use of land, labor, money, enterprise, and technology by indigenous manufacturers, which in turn creates jobs for the general populace of India.
The indigenous Indian products would undoubtedly benefit from widespread publicity for this initiative. It will give indigenous producers a chance to compete with imported goods and improve their quality.
Benefits
Manufacturing that makes the most of a country's human capital and material assets.
Making more work available for the people of India.
Incentives on Indian manufacturers to keep production in the country
Drawbacks
The present state of this Indian economy is not conducive to the success of homegrown products. To increase competitiveness and enhance the standard of Made-in-India goods, the BJP administration is placing a greater emphasis on the Make – In – India initiative. The decline in exports and the shrinking customer base may be directly attributed to the low quality of domestically produced goods.
The major differences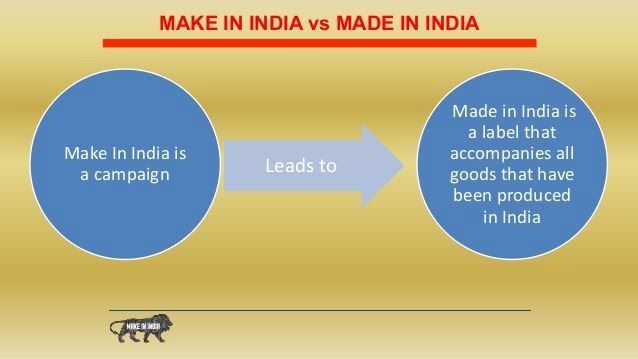 To begin with, one of Make in India's primary goals is to get outside investors to fund infrastructure improvements and other elements of production for India's manufacturing industry. Made in India, on the other hand, focuses on Indian production variables (such as investments) rather than those outside the country.
Second, Make in India isn't a company, but rather a government policy intended to revitalize the country's lagging manufacturing sector. Branding items such as "Made in India" help them get recognition in both domestic and international markets.
Thirdly, international investors will have a stake in the spoils from the Make in India effort, while all of the money from the Made in India program stays in Indian economy.
It seems that both initiatives will help the Indian economy. Make in India would encourage outside investment, whereas Made in India would help India become more self-sufficient in its manufacturing sector. To this end, it's important to choose the most reasonable path possible.
Inadequate funding for indigenous producers is a serious problem in India, threatening product quality. If enough funding is made available, domestic product quality and safety requirements would increase.
In this regard, the Make in India campaign might be useful. Foreign direct investments (FDIs) may be used to help local businesses produce sufficient funds for producing high-quality goods. They and their goods may thus become more credible in the eyes of consumers everywhere.
Eventually, after they've established themselves, they may switch to producing their goods in India by the Made in India initiative.
Santosh Kumar, He is a SEO + Blogger have 12 years of experience in writing tutorial, informative and product reviews topics.