India is one of those countries that portrays a diverse and varied culture. India is blessed with the endless varieties of cultures, the beauty of the Indian landscape is amplified by lovely traditions. All the different states have their different languages, customs, religion, eating habits, unique dishes and even their traditional dance forms representing their own culture. Dance plays a very significant part in Indian culture; every state has its own traditional dance form.
India is a religious country and dance was used to honor and please Gods in the ancient time. Though now with the modern time we might use it for the entertainment purposes. But back in time dance was a very beautiful way of expressing your devotion towards the different gods. Other than devoting gods, Indians dance to celebrate various festivals and all the happy times. This is our list of Top 10 Most Famous Traditional Indian Folk Dances. Though this is not just it as there are many other famous traditional dance forms available in India. Just like its diverse culture, many dance forms are representing every culture of India. In India Dance is a unique way to represent different cultures and their rituals. Although, they all are trying to portray the same story. In this article, we are going to read about the Top 10 Most Famous Traditional Indian Folk Dances.
Different dance forms are nothing but a unique way of communication, and instead of using words we use to take help from various body parts to express what we are feeling. Not just performing, but Dance is also fascinating to watch. Watching others portraying a story with the help of music and their unique dance steps are certainly pleasing. In India, there are mainly three types of dance forms, classical, folk and tribal where classical is used to display the religious connection, folks are mainly the one that people do when they are happy and celebrating something. In this article, we are only going to focus on the ten most popular folk dance forms of India.
List of Famous Folk Dances of India
10. Bihu Dance – Assam
Bihu is the folk dance form of Assam that is performed by both the men and women. Unique music which called Bihu music is composed using drums and other musical instruments like gogona to provide the beats for the dance. Gogona is made up of the reed and bamboo; it produces the whistle sound that people of Assam use make music for their traditional dance called Bihu. Bihu dance has got its traditional dress and headgear. People perform it while celebrating the lives of farmers. With the great music and all the traditional dresses, Bihu dance is certainly a worth watching.
9. Raas – Gujarat
Raas is one of the most energetic and frenzied dance in our list. Originally people perform Raas to show their devotion towards Lord Krishna. Although, because of its worldwide popularity you can find Muslim Taas songs. African slaves who came to the Gujrat created a mix of this Indian traditional dance form by adding their African drums. Although it may look like Garba it doesn't use the dandiyas to perform this dance. Instead, there are choreographed feet and hand moments included that made the dance look beautiful.
8. Yakshagana – Karnataka
Yakshagana is a traditional dance from the Karnataka; it combines dance, music, dialogue, and make-up to create a unique but beautiful dance form.
Some might say Yakshagana is a poor cousin of the original Kathakali, that I'm sure you all must have heard about before. The performance starts in the night and keeps going until the early morning. The dance is basically an instrumental duet (jugalbandi) between the musicians and dancers. The dance is portraying the story from the Purans that is narrated by a narrator alongside the performance. The men do, and even the role of the female.
7. Dumhal – Kashmir
Originally the Wattal tribe of Kashmir used to perform this dance form to invoke heavenly blessing and considered as the traditional dance form of Kashmir. The person who performs this dance wears colorful and beautiful long robes and a conical cap which is quite long. The long conical cap is emphasized with the beads and shells that make them look beautiful.  The music for this dance form came from the traditional drums and songs are sung in chorus timed. According to the local belief, any wish asked through this dance form is fulfilled by the gods.
6. Jawara – Madhya Pradesh
Performed by both the men and women Jawara is the traditional dance form from the Bundelkhand region of Madhya Pradesh. Commonly Jawara is performed by the locals during the harvest season to celebrate the happiness of the good harvest, even after facing a massive drought. Women's perform the complex dance steps while balancing the Jawara on their heads. Watching both men and women performing this beautiful dance form is undoubtedly a treat for the audience.
5. Chhau – Orissa
Featuring unreal martial arts steps, Chhau is one of the most popular and traditional Indian dance forms that come from Orissa. More than the dance itself the one thing that is going to attract your attention is the complex and detailed makeup, after that you are certainly going to attract by the dance form itself. Several communities like Mundas, Pattnaiks, Mahatos, and Sahoos performed this dance form. The music for the dance came from the reed pipes, drums, and shehnai. Portraying the entire village in the story of local legends and their traditions, Chhau is performed during the regional festival of eastern India. The most important and awestruck thing about this dance form is that the dance, makeup techniques, and the music are passed down to the one generation to the another orally.
4. Koli – Maharashtra
Performed by the fishermen called Kolis, this dance form reflects the way of their life. Many national and international celebrities also like this dance and promoted by doing it by themselves. First, there was Helen who performed Koli dance in her song Mungda, after that in a movie called "Ferrari Ki Sawari" VidyaBalan spotted while performing this traditional dance. But the main promoters of this dance form are the former Americal President Barak Obama and her wife Michelle Obama. During their India visit in 2011, the lovely couple moved their hips on this traditional dance form of India. Other than the international promotion, the dance work includes beautiful ethnic clothing that has been evolved with the time.
3. Saang – Haryana
Saang is another traditional folk dance form of Indian. It is a beautiful and engaging dance form that represents the true colors of Haryana. Performed in a group with even members, you'll love to see them dancing in their traditional dance dresses. The meaning of Saang word is 'to impersonate' and just as the name suggests, you will see some male dancers dressed up as females to perform the female dance steps. The dance performance portrays many religious stories of Haryana.
2. Garba – Gujarat
There is no doubt just like their sweets the dance forms of Gujrat are also very fascinating. Garba is one of the most popular dance forms of Gujrat. Performed by the women's mainly, Garba is fun to watch and even more fun when you perform it.  Especially, during the Navratri, you can easily spot the Garba functions. Originally the dance is performed by the women to honor the Goddess Durga. Garba is a Sanskrit word which means 'womb' and deep'' in the English language. Women's wearing beautiful traditional dresses and performing this beautiful dance form around the statue of the Goddess Durga is a treat to watch.
1. Ghoomar – Rajasthan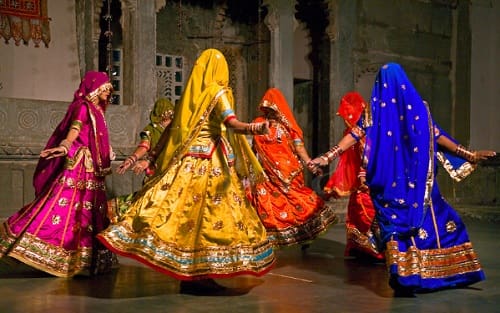 Recently performed by the famous Indian actress DeepikaPadukone in her movie made this traditional dance form popular not just in India but many foreign countries as well. The Dance is created and widely practiced by Bhil tribe of Rajasthan. Women's doing twirl moments wearing all their beautiful and traditional dresses made this dance look like a royal treat. The face of all the female dancers is covered with a veil (dupatta) and wearing the colorful ghagra's that will catch the eyes on many women. The meaning of Ghoomar words is 'ghoomna' which in English means twirl movements that dancers do while performing the Ghoomar dance.
This is our list of Top 10 Most Famous Traditional Indian Folk Dances. Though these are not the only dance forms that you can find in India. All these traditional folk dance forms are prevalent across many villages and towns in India. These dance forms are ancient and are still practiced with a lot of passion in the rural areas of India. The local people of a particular state still perform most of these dance forms during various religious festivals and even weddings.
Santosh Kumar, He is a SEO + Blogger have 12 years of experience in writing tutorial, informative and product reviews topics.