Hmangte Chungneijang Mary Kom, popularly known as Mary Kom, was born on the 24th of November 1982 in a remote village in Manipur, India. With her remarkable accomplishments and unwavering spirit, she has not only shattered unfair limitations placed on females but also became the face of women in the chronicles of Indian sports history. She has become the embodiment of resilience, strength, determination, and motivation to millions across the nation.a
Although Mary grew up in a humble farming family who had little to call their own and faced countless challenges from early on, her desire to bring recognition and honour to her impoverished state led to the path of boxing at the tender age of 15. Although the hurdles like lack of facilities and infrastructure for boxing training frustrated her, it couldn't deter her passion. She started her training under the coach K. Kosana Meitei and since then, there was no looking back. The path to her success was paved with sheer determination and strong work ethic.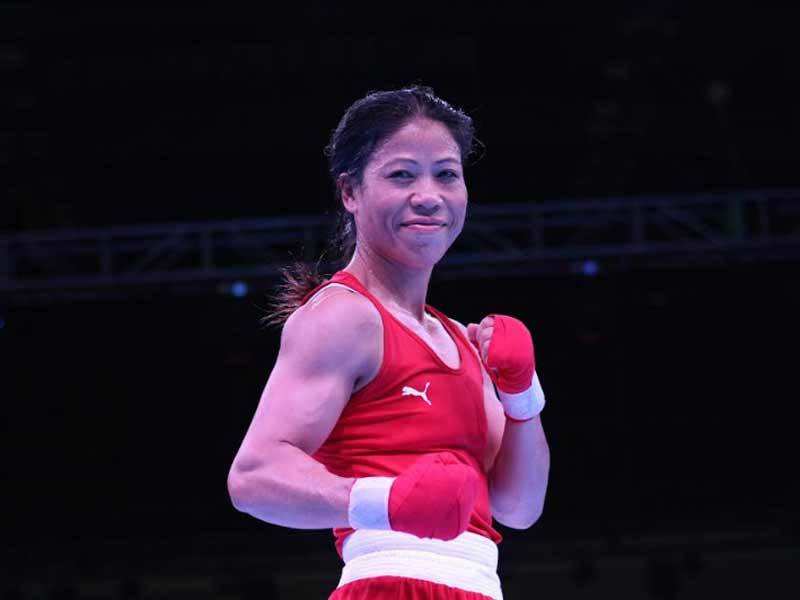 In Mary Kom biography various obstacles faced by her in the early stages of her career are also shown. Overcoming social stigma and obstruction from her conservative community, who thought Boxing to be too physically taxing career choice for women, was not easy. But the unwavering pursuit of her goal became apparent when she managed to juggle her rigorous training, studies, and family without compromising any of them. And it was this very quality that got her first international success, the silver medal at the Women's World Amateur Boxing Championship. This was the first milestone in her meteoric rise in the field of boxing. Her endeavours bore fruits for many upcoming years. She worked hard, pursued excellence, and performed consistently at the highest level, which propelled her to the top of the ranks among women's boxing with medals at several prestigious international competitions, such as the Asian Women's Boxing Championship, the AIBA Women's World Amateur Boxing Championship, and the commonwealth games. Her rise to stardom as an athlete reached its peak in the 2012 London Summer Olympics. When Mary stepped inside that ring she was not alone, she was carrying the hopes and expectations of an entire nation on her shoulders. And carry it well she did. As boxing fans and enthusiasts across India held their breath, cheered and prayed for her, her indomitable spirit made a spectacular appearance, and she climbed her way up towards the finals. With her bronze, she became the first Indian woman to win an Olympic medal in boxing. This triumph was not only her success, it was a moment of glory for an entire nation.
In Mary Kom biography Mary's remarkable achievements were also shown which were not limited to the ring and how She became an icon of inspiration and empowerment for people, especially young girls, all across the country. Her story of struggle and success transcended the boundary of sports and became a catalyst that inspired people to chase their dreams despite the hardships they might face on the path. Perceiving her influence and immovable commitment to empowering women, she was designated as a member of the Rajya Sabha, the upper house of the Indian parliament. Ever since then, she has been utilizing her position and platform to bring about meaningful changes in society by advocating for women's empowerment, gender equality, and the significance of sports in nation-building. To promote the state of the sport in India, she established the Mary Kom Boxing Foundation with an aim to support and nurture young and upcoming boxing talents from underprivileged backgrounds. Her foundation has been providing aspiring boxers with training, opportunities, support, and guidance to overcome the obstacles on their path to success.
As a recognition of her achievement of setting a new example in amateur boxing, she has also received some notable national awards such as Padma Vibhushan (sports), Padma Shri (sports), Padma Bhushan (sports), and Arjun Awards (Boxing). Her inspiring life story has also been successfully depicted in a Mary Kom biography film, "Mary Kom" to reach a wider mass.
In addition to her numerous honours and contributions, Mary Kom biography shows a tale of power resilience, and determination. Notwithstanding the countless deterrents she faced, her steps never faltered in her pursuit of excellence. She set an example that one can overcome any obstacle and achieve success if they have enough grit and passion and work hard.
Magnificent Mary's rise from a humble farmer in a village in North-East India to becoming the face of women in sports and the pride of India is a demonstration of her striking ability, unwavering determination, and tireless pursuit of success. She has broken stereotypes, inspired an entire generation of athletes, and is seen as a beacon of hope for millions. Her story reminds us that no dream is unattainable if you put your efforts into it. She will forever stay a symbol in the records of Indian sports, an embodiment of the maxim, "Where there is a will, there is a way."
Santosh Kumar, He is a SEO + Blogger have 12 years of experience in writing tutorial, informative and product reviews topics.