Band saws are highly versatile and offer many ways to make unique designs on the wood. With this tool, woodworkers can make curves, straight cuts, rip cuts, etc. easily. However, when it comes to choosing the right band saw, it can be a daunting task for many.
In this guide, we will list all the important things that you need to consider while choosing the right band saw for your work.
Band saws are usually categorized into many types. Here are the common types of band saws available in the market.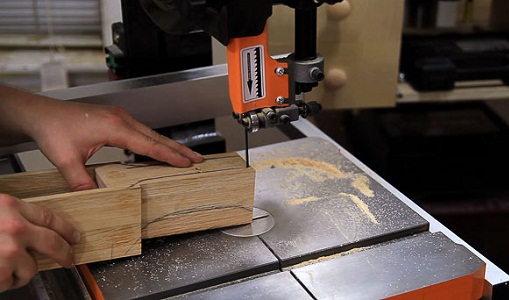 Free Standing Band Saw:
These are also known as benchtop band saw. They can be attached to a bench or table for working. These saws are powerful and ideal for both personal and professional use. The frame of these band saws is usually made of steel and cast iron,which gives matchless durability to the machine. The throat size of these band saws ranges from9 to 21 inches. Moreover, these modelscome with a bevel angle of 45 degrees.
Apart from that, benchtop band saws also come with some additional accessories to make your work easier. For example, they come with an adjustable lamp to provide you better visibility while working. The speed of these saws can be varied as per the thickness and type of the material.
Compact Band Saw:
These band saws are portable, wireless, and offer maximum convenience while using. They are compact and use a rechargeable battery for operation. Moreover, they are the small version of the benchtop band saws.These types of band saws are designed to withstand harsh conditions and provide comfort while working. The battery used in these band saws can last up to a few hours to let you do your job. They also come with several accessories for a better experience. They come with variable speed trigger, LED lighting, and line of sight features for a better experience.
Usually, cast iron wheels are a better option to select. These wheels offer a powerful performance to cut the materials smoothly. Also, the wheels of a band saw come with rubber tires that guide the bladefor cutting the materials. Because the tires are flat, they can guide 1-inch or more width blades effectively. Such wheels offer better performance in re-sawing compared to crowned wheels.
The table of the band saw should be made of heavy cast iron and adjustable to different angles. Most band saws come with a 16" x 20" table. However, you can use a separate table for larger projects.
Blade Tension, Adjustment, and Tracking:
Most band saws allow the user to adjust the blade tension as per the requirement and track the wear and tear of the blade.This will also let you maintain the blade effectively.
Conclusion
If you are looking for a good band saw for your wood projects, then this guide can help you with that. Apart from the points listed above, you can also consider your personal preferences to get the right band saw for you.
Santosh Kumar, He is a SEO + Blogger have 12 years of experience in writing tutorial, informative and product reviews topics.