Rishabh Pant, an Indian international cricketer, is a left-handed batsman and wicket-keeper in the Indian cricket team. In IPL, he plays from Delhi capitals. Due to his aggressive batting style and good wicket-keeping skills, are usually denoted as the young Mahendra Singh Dhoni. If you are curious to know more about Rishabh Pant, you have come to the right place. In this blog, we will discuss Rishabh Pant's Biography, Wiki, Family members, Career, Body measurements, and how he became part of an Indian cricket team.
Rishabh Pant – Wiki
A young Indian international cricketer, Rishabh Pant is a left-handed batsman, as well as a wicket-keeper to play prominently for Delhi in the IPL. Pant was born on 4 October 1997 in Roorkee, Uttarakhand. He got used to playing cricket since childhood. When he was 12 years old, he travelled by train with his mother to train under a coach named Tarak Sinha at the Sonnet Cricket Academy.
He lives with his mother mainly in a gurudwara as there was no ideal residence for him in Delhi. Coach Sinha had advised him to play from Rajasthan. He later started playing U-14 to 16 home matches for the state. But, he had discriminated against being an outsider in the Rajasthan team.
This is the reason why he decided to play for Delhi to establish a successful cricket career. His coach then guided him to work on his batting methods and techniques. With the constant support of his mentor, he began playing Under 19 cricket from Delhi.
A big turn came in his career when he scored 35 runs in the 1st and 150 runs in the 2nd innings while playing against Assam. Later, on 1 Feb 2016, in the under 19 CWC (cricket world cup), he rose to be a cricket champion, scoring an ½ century in 18 balls while playing against Nepal.
In the 2015-2016 Ranji Trophy, Rishabh made his 1st class debut. In addition, he scored 308 runs in an innings against Maharashtra in 2016-2017. Due to his performance and highest run scorer, he became only the third young Indian to score a triple century in first-class cricket in an innings.
Afterwards, on November 2016, he scored a century in 48 balls only against Jharkhand in the Ranji Trophy. In 2015-2016, he was selected as Delhi's captain. In the same year, he was bought by the Delhi Capitals team in the IPL, representing the Delhi team till the present date. Speaking of his International debut, he made his debut in the 3rd T20I while playing against England in Bangalore. Currently, he is indulged as a batsman and wicket-keeper in all cricket formats of the Indian cricket team.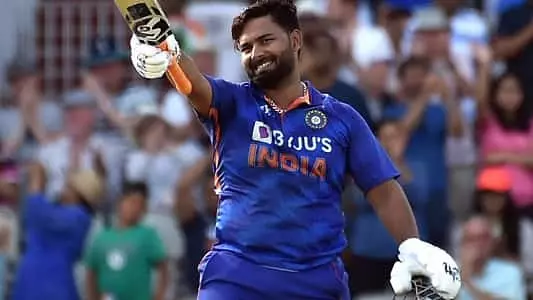 Rishabh Pant – Bio
Original Name – Rishabh Rajendra Pant
Profession – Cricketer
DOB – 4 October 1997
Age ( in 2022) – 24 years
Hometown – Haridwar
Nationality – Indian
Rishabh Pant – Family Members and Relationships
Rishabh was born in a Hindu family in Haridwar. His father's name is Rajendra pant, while her mother's name is Saroj Pant. In 2017, his father died due to cardiac arrest. Also, he has an elder sister named Sakshi Pant. Speaking of marital status, he is still unmarried.
Rishabh Pant – Body Measurements and Age
As of 2022, the pant is 37 years old, while his body weight is 65 kg. Rishabh's height is 5 feet 7 inches, approximately 170 cm.
Rishabh Pant – Net worth and Career
Pant has more than Rs 70 crores. Due to being listed in Grade A of BCCI, he also gets a yearly income of Rs 5 crores. Moreover, he endorses numerous brands, including Boost, Nike, JSW Steel, etc. In addition, he has a vast collection of luxurious cars, such as the Ford Mustang, Mercedes-Benz GLE, Audi A8, etc.
Please Note: All information are taken from the online news website, for any changes please contact us.
Santosh Kumar, He is a SEO + Blogger have 12 years of experience in writing tutorial, informative and product reviews topics.