On February 7th 2023, Siddharth Malhotra & Kiara Advani tied the knot. The pair exchanged wedding vows in front of their loved ones.
Although the couple did not make their relationship public before they got married and frequently sought to keep it private, admirers were able to draw their own conclusions based on hints they dropped here and there. The paps and the internet have been savvy enough to figure out that what they have going on is love.
The happy couple posted Instagram photos from their wedding album. Three cute images were shared, including one where Siddharth is seen kissing his new spouse.
What is the age difference between Sidharth Malhotra and Kiara Advani?
Siddharth Malhotra is currently 37 years old, having been born on 16 January, 1985. Kiara Advani turned 30 this year; she was born on 1 July, 1992. Accordingly, the Shershahs' age difference is roughly 7-8 years. The age difference between them is around seven to eight years, but they still make a stunning combination.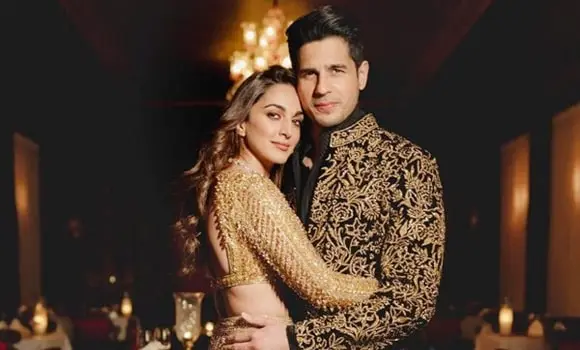 The two first met on the set of the film "Shershaah," when their on-screen chemistry ignited a real-life romance. In 2021, when the war drama was broadcast on OTT, fans went crazy over the budding romance between Sidharth and Kiara. The couple's off-screen romance left viewers wanting more.
More about Siddhath Malhotra and Kiara Advani
After photos from Sidharth and Kiara's holiday went popular online, speculation began regarding the couple's connection. Fans quickly guessed that the two were on vacation together when the two uploaded separate photos from their 2019 crazy trip to South Africa. Partying together was another way that the public learned about the secret relationship between Sidharth and Kiara.
Kiara and Sidharth's debut film together, Shershaah, has begun its promotional phase. The couple kept their followers captivated with romantic videos and photos of themselves. Many of the couple's admirers stated that, due to their obvious chemistry, they weren't keeping their relationship a secret.
Kiara enjoyed her 29th birthday with Siddharth before the 2021 release of their flick. Kiara also shared a highlight reel from the party, in which the movie called Student of the Year star could be seen. The celebration included what she called her "oldest & goldest crew," but Sidharth was clearly the newcomer.
They both made appearances on Season 7 of Koffee with Karan in August 2022, but it was Karan who made sure they both revealed their relationship status. Without confirming or denying the engagement rumors, the actor told Karan that he is imagining "a bright life" with Kiara.
The internet has melted over the footage of Kiara Advani & Sidharth Malhotra's wedding reception, which features the couple kissing and exchanging garlands on the most memorable date 7 February, 2023.
Santosh Kumar, He is a SEO + Blogger have 12 years of experience in writing tutorial, informative and product reviews topics.