Sridevi and Boney Kapoor got married to each other in the year 1996. Sadly, Sridevi left for heavenly abode in the year 2018. Every year, her loving husband Boney, posts a photograph with late actress on their wedding anniversary.
Sridevi was known as hawa hawai, and she made millions of people feel something. It is believed that she had been one of the few truly great actors in Bollywood. Sridevi found love with the married producer Boney Kapoor, despite the fact that many stars were smitten with the idea of being with him.
Boney Kapoor did everything in his authority to grab the attention of Sridevi and make his heroine feel at home on set, thus the passion between them was mutual. Boney had arranged for Sridevi to have her own private van back in the day when such things were unheard of, along with personal aides.
What is the age difference between Sridevi and Boney Kapoor?
Sri Devi was born on 13th August 1963 and Boney Kapoor on 11 November 1955. This means Boney Kapoor, was eight years elder from Sridevi.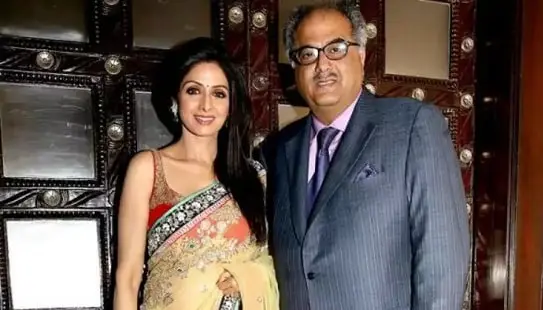 Despite the age gap, they wed after Boney divorced Mona, his first wife. Since then, the couple has become quite successful, raising two children named Janhvi and Khushi. They share a unique bond built on mutual admiration and affection.
A happy marriage requires two individuals who are compatible and determined to stick together for the long haul. Beautifully, love overcomes the bond, and an enjoyable marriage is achieved when each partner learns to respect the other's unique perspectives and thoughts. The secret to a happy relationship may lie in the fact that these famous people didn't allow a "few" years come between them.
Inside details of Sridevi and Boney Kapoor
On August 13, 1963, she was born and forever changed the course of Indian cinema as a famous actress. Her birthplace was the Tamil Nadu village of Meenampatti, in the district of Virudhunagar.
Sridevi is often regarded as amongst the most popular actresses in Bollywood. She is widely known as the first lady superstar in Bollywood.
On the other hand, Boney Kapoor was born in Meerut. He is a popular producer and actor.
They had their first kid, a daughter, on March 6, 1997, and decided to call her Janhvi Kapoor. A second daughter, Khushi Kapoor, was born to Sridevi && Boney Kapoor on November 5, 2000. While her mother Sridevi was still alive, Janhvi made her Bollywood debut in the year 2018 with the movie Dhadak.
The other daughter Khushi Kapoor, is also getting ready to make her grand Bollywood debut.
She was a devoted wife and doting mother. Boney Kapoor and Sridevi's love for one another had triumphed over the passage of time. Sridevi's death had Boney Kapoor devastated, but their love tale will live on for generations.
Santosh Kumar, He is a SEO + Blogger have 12 years of experience in writing tutorial, informative and product reviews topics.