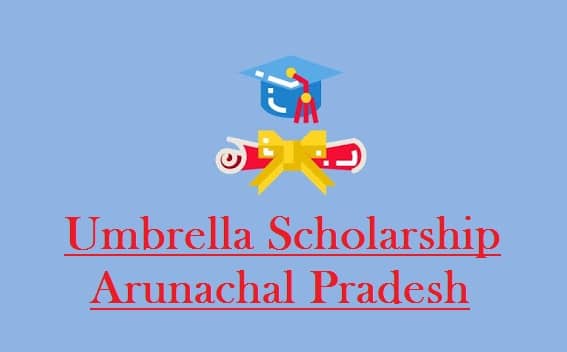 Umbrella scheme is introduced by the Government of Arunachal Pradesh to provide financial support to uplift the skilled candidates who want to pursue an education at different levels. Arunachal Pradesh is not just a beautiful place for a tourist destination but also provides various scholarship scheme to promotes education and employment opportunities.
The Department of Social Justice, Tribal Affairs, Empowerment and the Directorate of Technical Education under the Ministry of Tribal Affairs and the Government of Arunachal Pradesh provide hundreds of scholarship scheme every year to ensure that the education is common for all people irrespective of caste, culture, religion etc.. In this way, it invites all the eligible candidates to apply for the post and avail the opportunity.  In this article, you can find out the eligibility criteria, application procedure, due date, stipend fee and much more.
About Umbrella Scholarship
Mission: To uplift the educational status of students belonging to economically weaker section/physically challenged students/ mentally challenged students.
Authority: The Department of Social Justice, Directorate of Technical education, department of empowerment.
Scholarship Name
Umbrella Pre-metric scheme for ST student
Umbrella post metric scheme for ST students.
The stipend for ST students.
Due date of submitting application form: November 2019
Umbrella pre-metric scheme for ST students
Here, selected students would get Rs. 350 for 10 months. Additionally, they would get Rs.1000 for the annual book & ad-hoc grant.
Selected students should be awarded Rs.160 per month to blind students. For transport allowance, Rs.160 should be given. Stipend fee of Rs.240 to mentally ill students. For disabled students, Rs.160 per month would be awarded. For helper allowance, Rs.160 per month. Also, coaching allowance would be given to mentally ill students who find it difficult to pursue their education.
Since the government of Arunachal Pradesh provides a scholarship for different categories, candidates are advised to submit the application process before the due date.
The umbrella scheme can provide good financial support for students belonging to economically weaker section and physically challenged categories. The stipend fee received from the scholarship makes much sense for tuition fee, library, registration fee, and such fees.
Umbrella post metric scheme for ST students
If you belong to schedule Tribe category, you would get charge for study tour as Rs.1600. Also, they are awarded the amount of Rs.1600 for printing/typing charges. The government will provide extra allowances to ST students those belonging to physically challenged categories.
For prescribed books, notes, an additional charge of Rs.1200 would be awarded. Apart from that, they would get monthly allowances up to Rs.1200.
Stipend scheme for ST students
Selected Aspirants would get Rs.1400 per year.
Eligibility criteria to avail umbrella pre-metric scholarship scheme for ST students
Aspirants must be the resident of Arunachal Pradesh.
They should belong to ST category.
The annual income of their family should not be more than 2 lakh.
Candidates must be studying 9th or 10th class regular, full time.
Eligibility criteria to avail post metric scheme for ST students
Candidates must be the resident of Arunachal Pradesh.
They should have completed their higher secondary education in recognizable university.
The annual income of their family should not exceed more than 2.5 Lakh.
They should have scored at least 60% mark in their final exam.
Those who completed 12th grade and pursue the following courses can apply
B.A, B.com, M.A, M.com, M.Ed, M.phil, PhD, B.sc Agri, BBA, MBA, PGDMC, BFA, MFA, M.Tech, B.V sc, B.E, B.Tech
Documents Required For Umbrella Scholarship

Before applying for the scheme, the student should make sure that they have all the given supporting documents with them.
Documents needed for Umbrella pre-metric scheme
Parent's Income certificate
Caste certificate attested by the Revenue officer
Recent passport size photograph.
Domicile certificate
Those who are eligible for the Umbrella post metric scheme should possess the above document along with the mark sheet of 10th/12th board.
How to Apply For Umbrella Scholarship

Eligible candidates can follow the hassle-free steps to apply faster.
Step 1:  students are advised to visit the National scholarship portal. https://scholarships.gov.in/
Step 2:  provide the required details.
Step 3:  once you have registered, you would get application ID & password to the mobile number that you registered.
Step 4:  Make a note of the user name & password to log on to the portal.
Step 5: Candidates are asked to change the password.
Step 6: Now, you can give the basic details like Name, qualification details, contact details, etc..
Step 7: upload the required documents.
Step 8: click 'submit' and exit.
Other Scholarship Lists
Santosh Kumar, He is a SEO + Blogger have 12 years of experience in writing tutorial, informative and product reviews topics.