Our taste buds are in for a real treat when we indulge in some toffees. They remind me of small balls of joy. In India, you may get a wide variety of different toffee brands, all of which make delicious treats. Too much toffee every day might be bad for your health and your teeth. But a little toffee every once in a while isn't going to hurt any of us.
List of Best 1 Rupee Toffee in India
Children have a specific fondness for toffees due to their sugary flavor. For good behavior, parents frequently hand out toffees.
1. Eclairs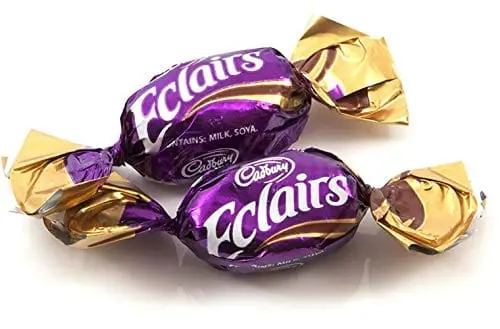 One of the finest Indian toffees is called Eclairs. Eclairs are the first thing that comes to mind when we think about sweets. Cadbury, one of the best-known chocolate manufacturers, makes eclairs.
Featuring a sweet chocolaty interior and a delicious, chewy caramel coating, this toffee is among India's top 10 toffees.
2. Melody
Melody Toffee must be included in any list of the top Indian toffee brands. Popular advertising for this product asks, "Melody itni chocolatey kyu hai?" it means "why Melody is so chocolatey?"
This Indian sweet is coated in a layer of delicious caramel and filled with a thick, creamy chocolate caramel. The perfect toffee, thanks to its two kinds of caramel.
3. Pulse
The Pass Pass brand produces pulse toffees in India. It's widely recognised as a top-tier toffee in India. The flavour of pulse is distinctive and sour. It was originally produced in 2015 by DS Group in Noida. You could only get it in Kaccha Amm, or unripe mango, flavour back then.
However, new varieties of the candy, including orange, pineapple, guava, lichi, and others, have recently been introduced.
The candy's centre is stuffed with a filling of salt, amchur, and possibly additional spices, all of which contribute a sour flavour. Considering all these factors, this toffee is among the top brands in India.
4. Alpenlible
Perfetti Van Melle, one of the largest Indian candy companies, makes Alpenliebe. It ranks among the top five confectionery manufacturers worldwide. One of the results of this is that Alpenliebe candies are now widely known throughout India. In addition, they offer various end results.
Another widely recognised item is Alpenliebe ice cream. Various flavors of Alpenliebe are available. Each one is really sugary and smooth. A person's spirit is lifted by them.
5. Candyman
Candy, a well-known brand of toffee in India, supplies us with an excellent assortment of delicious confections. ITC is responsible for producing them. A wide range of toffees appropriate for every age group have been released by Candyman. There's Pineapple Punch, Orange Josh, Duochoo, Toffichoo, Candyman Cereme Lacto, and others to pick from.
They have released a new sweet called Candyman Cofition, and it has a coffee flavor to it. ITC has also released mango and pineapple flavored candy with multiple layers. Their sour-sweet taste awakens our taste buds.
6. Parle Kismi
This toffee brand has been around since the 1960s, making it one of the finest in India. Ever since then, it has risen to prominence and become a fan favorite. The white and purple wrapping of these Indian candies is quite stunning. The candy has its own distinctive taste as well. The flavor combines caramel and Elaichi well. The fact that this candy is made by Parle speaks volumes about its superiority.
7. Hajmola
The toffee from Hajmola Candy is unlike any other. A variety of herbs and spices go into their creation. These herbs have been thoroughly researched and proven effective. Hajmola, a sugar-based confection, combines all of these flavors. One of the top toffee brands in India, Hajmola is also one of the healthiest options. They benefit our digestive systems.
Constipation, irritable bowel syndrome, anorexia, and IBS are just some of the digestive problems that Hajmola can alleviate. All the herbs & natural elements make these sweets pleasant, plus they aid in ones digestion. Hajmola candy comes in a variety of flavors. Albela, Aam, & Chulbuli Imli are the three most widely consumed flavors.
8. Pan Pasand
Among Indian toffee brands, it has been around for quite some time. The Ravalgaon Company makes Pan Pasand. In the year 1990, it made its debut in India. Ever since, it has risen to prominence as one of India's top sweets from the '90s. This delicious candy has a pan flavor and may be used as a great breath mint.
The company is also responsible for another best-seller, Mango Mood. You can also take this sweet to help your mouth feel better after a meal.
9. Coffy Bite
Lotte India Co. Ltd. is responsible for manufacturing Coffy bite. Along with various kinds of candies, India is also known for its toffee production. This coffee-infused toffee is the finest you'll ever taste. We all find it irresistible due to its velvety smoothness.
It's one of the most popular kinds of toffee in India, and for good reason.
Conclusion
Finally, these are the India's top toffee manufacturers. In addition to being excellent and inexpensive, some of the toffees even have some positive health benefits. So, indulge your palate and try everything.
Santosh Kumar, He is a SEO + Blogger have 12 years of experience in writing tutorial, informative and product reviews topics.