Dubai is a vibrant city with a plethora of family-friendly activities to enjoy. From thrilling theme parks to iconic landmarks, there's something for everyone. If you're planning a trip to Dubai with your family, be sure to explore Legoland Dubai, where kids can indulge in a day of LEGO-themed adventures. Don't miss the chance to visit the Burj Khalifa, the tallest building in the world, and take in the stunning views of the city. Experience the excitement of the Dolphin Show at Dubai Dolphinarium or immerse yourself in marine wonders at the Dubai Aquarium & Underwater Zoo.
Dubai Parks and Resorts offer a variety of theme parks to suit all interests, while Wild Wadi Waterpark promises a fun-filled day of water-based thrills. For nature lovers, Dubai Miracle Garden is a floral paradise that will leave you in awe. Don't forget to embark on a desert safari for an exhilarating journey through the Arabian Desert. Dubai Creek Park offers a tranquil escape with beautiful waterfront views. So, grab your tickets and get ready for an unforgettable family adventure in Dubai.
Checkout the best things to do in Dubai with kids:
1. Enjoy at Legoland Dubai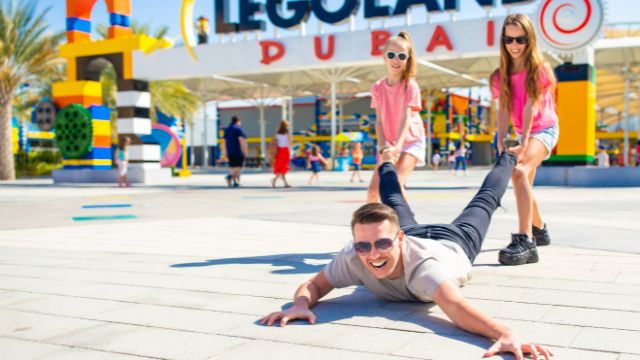 Legoland Dubai is a paradise for LEGO enthusiasts and offers a full day of fun-filled adventures for kids. By purchasing Legoland Dubai tickets you can explore the park features multiple themed areas, including Miniland, where famous landmarks from around the world are meticulously recreated with millions of LEGO bricks. Kids can explore the LEGO City, embark on exciting rides, and engage in interactive experiences that encourage creativity and building. From driving their own cars to piloting airplanes, there are plenty of opportunities for hands-on play.
2. Visit the Burj Khalifa
The Burj Khalifa is a true architectural marvel and an iconic symbol of Dubai. Take your kids on an incredible journey to the observation decks on the 124th and 125th floors, known as "At the Top." As you ascend in the high-speed elevator, marvel at the breathtaking views of the city's skyline, vast desert, and sparkling coastline. Once you reach the observation decks, you can enjoy panoramic vistas from floor-to-ceiling glass windows. To purchase tickets, you can visit the official Burj Khalifa website or buy them directly at the ticket counter located in the Dubai Mall. Consider booking a time slot in advance to avoid potential queues.
3. Experience the Dolphin Show at Dubai Dolphinarium
Dubai Dolphinarium offers an enchanting dolphin and seal show that promises to captivate your family. You can book Dolphin Show Dubai tickets and witness these intelligent marine creatures perform remarkable tricks, dances, and acrobatics under the guidance of their skilled trainers. The show also includes entertaining performances by seals, adding to the excitement. It's a great opportunity for kids to learn about dolphins and seals while enjoying a thrilling live performance. Make sure to check the show timings and arrive a bit early to secure good seats.
4. Explore Dubai Aquarium & Underwater Zoo
Located within the Dubai Mall, the Dubai Aquarium & Underwater Zoo is a mesmerizing attraction for kids of all ages. Step into the world of marine life as you walk through the 48-meter long tunnel surrounded by an enormous aquarium. Admire the diverse array of aquatic species, including sharks, rays, and colorful tropical fish. The Underwater Zoo offers interactive exhibits, where kids can learn about marine ecosystems and encounter fascinating creatures like penguins, otters, and crocodiles. Tickets can be purchased on-site at the aquarium or in advance through their website. Consider choosing a combo ticket that includes access to the aquarium tunnel and a thrilling glass-bottom boat ride.
5. Visit Dubai Parks and Resorts
Dubai Parks and Resorts is a sprawling entertainment complex that houses multiple theme parks, offering a variety of experiences for kids and families. Motiongate Dubai brings Hollywood to life with thrilling rides and attractions based on popular movies. Bollywood Parks Dubai is a vibrant park dedicated to the Indian film industry, showcasing live performances, interactive shows, and immersive rides. Legoland Dubai and Legoland Water Park provide endless fun for LEGO enthusiasts, with rides, building experiences, and splash zones. To plan your visit, explore ticket options on the Dubai Parks and Resorts website and select the parks you wish to visit. They offer single-day tickets as well as multi-park passes, allowing you to tailor your experience to your preferences.
6. Have a Fun-filled Day at Wild Wadi Waterpark
Wild Wadi Waterpark is a premier destination for families seeking water-based thrills and excitement. The park boasts a wide range of attractions, including water slides, wave pools, lazy rivers, and interactive play areas. Kids can enjoy exhilarating rides like Jumeirah Sceirah, where they'll experience a high-speed free fall, or FlowRider, a simulated surfing experience. There are also dedicated zones for younger children, such as Juha's Dhow and Lagoon, featuring slides, water guns, and shallow pools. To secure your Wild Wadi Waterpark tickets, visit their official website or purchase them at the park's entrance. Consider arriving early to make the most of your day and avoid crowds.
7. Discover Dubai Miracle Garden
Dubai Miracle Garden is a world-renowned floral extravaganza, featuring an astounding collection of over 50 million blooming flowers arranged in stunning patterns and sculptures. The garden offers a visual feast for the whole family, with colorful displays, themed gardens, and artistic structures made entirely of flowers. Kids will be amazed by the imaginative designs and enchanting ambience. Stroll through the garden's pathways, take memorable photos, and enjoy the fragrance of the blossoms. Tickets can be purchased at the garden's entrance, and children under a certain age often enter for free. Keep in mind that the garden is seasonal and typically operates from November to May, so plan your visit accordingly.
8. Enjoy a Desert Safari
A desert safari is a thrilling adventure that allows your family to experience the beauty of the Arabian Desert. Join a reputable tour operator who will pick you up from your hotel and take you on an exciting journey through the sand dunes in a 4×4 vehicle. Experience the exhilaration of dune bashing as your skilled driver maneuvers through the golden landscape. You can also try sandboarding, a popular activity where you slide down the dunes on a specially designed board. Afterward, arrive at a traditional Bedouin-style camp where you can enjoy a range of activities such as camel riding, henna painting, falcon interactions, and traditional entertainment like belly dancing and Tanoura shows. Feast on a delicious BBQ dinner buffet with a variety of Middle Eastern dishes. Many tour operators offer desert safari packages, which you can book through their websites or with the assistance of your hotel concierge. Choose an option that suits your family's preferences, whether it's a morning safari, an evening safari with dinner, or an overnight experience under the starry desert sky.
9. Visit Dubai Butterfly Garden
Dubai Butterfly Garden is a magical indoor sanctuary where your family can immerse themselves in the beauty of nature. Step into a tropical paradise filled with thousands of colorful butterflies fluttering around lush greenery and vibrant flowers. It's a unique opportunity for kids to learn about the life cycle of butterflies and witness their delicate beauty up close. Encourage your children to observe and interact with these gentle creatures as they learn about the importance of conservation. Tickets for Dubai Butterfly Garden can be purchased at the entrance, and it's advisable to check the garden's operating hours before your visit.
10. Explore Dubai Creek Park
Dubai Creek Park is a picturesque waterfront park where families can enjoy outdoor activities and relaxation in a serene setting. The park offers vast green spaces, playgrounds, and beautiful walking paths along the creek. Pack a picnic and find a cozy spot under the shade of trees, or rent bicycles to explore the park's extensive cycling tracks. Take a leisurely stroll along the waterfront promenade, where you can admire traditional wooden dhows sailing by. You can purchase entry tickets at the park's entrance, and children usually enter at a discounted rate or for free. Keep in mind that the park offers various amenities such as food kiosks, restrooms, and seating areas, making it an ideal spot for a family outing.
Santosh Kumar, He is a SEO + Blogger have 12 years of experience in writing tutorial, informative and product reviews topics.