On May 2, Bollywood icons Hema Malini & Dharmendra commemorated 43 years of wedded bliss. On May 2nd, 1980, the two amazing celebrities tied the knot.
Dharmendra is a legend in Indian cinema and has entertained us for decades. Fans of the films in which he and his wife Hema Malini co-starred adored their on-screen chemistry. Hema Malini and Dharmendra last appeared on screen together in the film Shimla Mirchi.
Hema Malini is popularly called "dream girl" As a result of her various successes, she has become an inspiration to many. However, her love story with spouse Dharmendra is just as beloved as her film career.
What is the age difference between Dharmendra and Hema Malini?
Dharmendra and Hema are one of Bollywood's classic couples since their love endured through everything. They had 13 years age difference, but that didn't stop them from getting married.
 For them, age is irrelevant. Dharmendra's first wife did not grant him a divorce, so the couple converted to Islam and wed. All's fair in love and this proves it.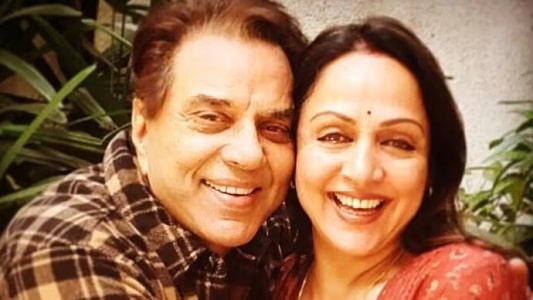 More details about Dharmendra and Hema Malini
In Bollywood, few couples are as beloved as Dharmendra and Hema Malini. They had already made plans and proven that "True Love Wins". But are you familiar with their courtship history? Who first spoke to whom, and what obstacles did they have to overcome, before their fairytale romance finally came to fruition?
During filming of 'Tum Haseen Main Jawan' in 1970, Dharmendra & Hema Malini first met each other. Evidently it was love, and no infatuation because the couple started dating soon after finishing the film. Dharmendra ji, however, was already a married man with four kids.
This is why Hema ji's dad was against them getting together.
Hema Malini rejected proposals from Sanjeev Kumar & Jeetendra because she was sure about Dharmendra. She also kept him waiting for a total of ten agonizing years. They met in 1970, fell in love the following year, and tied the knot in 1980.
.Since Hema Malini follows the Iyengar faith, the wedding was held in accordance with Iyengar customs. Only close family and friends were invited to the wedding.
 It looks like Dharmendra ji had to work very hard to win over his lady love. The Deols' two children are actors Esha and Ahana. Esha Deol was born in 1981, while Ahana soon after four years in the year 1985.
Seeta Aur Geeta, Sholay, The Burning Train, Alibaba Or 40 Chor, etc. are just a few of the hits that the duo has collaborated on. The two of them together are as timeless as ever. Recently the couple was spotted in their grand's son wedding, having a gala time.
Santosh Kumar, He is a SEO + Blogger have 12 years of experience in writing tutorial, informative and product reviews topics.