Asia is home to an array of incredible amusement parks catering to diverse interests. IMG Worlds Dubai is a colossal indoor park, divided into themed zones like Marvel and Cartoon Network, with high-speed roller coasters and immersive 3D experiences. Wild Wild Wet in Singapore offers a premier water park experience with thrilling slides, lazy rivers, and wave pools. Tokyo Disneyland and Universal Studios Singapore enchant visitors with iconic attractions. Lotte World in Seoul combines thrilling rides with an indoor ice rink. Everland in South Korea offers roller coasters, a safari park, and seasonal festivals.
Hong Kong Disneyland and Ocean Park captivate with magic and marine-themed adventures. Universal Studios Japan immerses visitors in favorite movie worlds. Sunway Lagoon in Kuala Lumpur is a multi-park extravaganza with water slides, wildlife encounters, and thrilling rides. Discover the excitement and wonder of these Asian amusement parks.These Asian amusement parks offer a wide range of entertainment options for visitors of all ages. From the enchanting fairy tale experiences of Tokyo Disneyland to the thrilling adventures at Universal Studios Singapore, there is something for everyone.
1. IMG Worlds of Adventure, Dubai, United Arab Emirates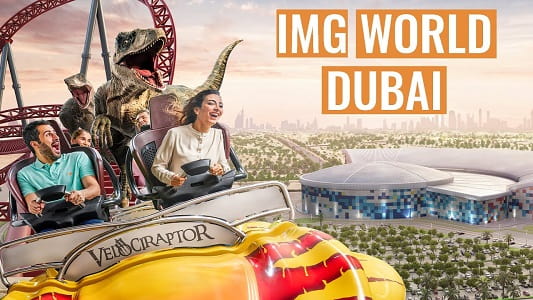 IMG Worlds Dubai offers a colossal indoor amusement park that caters to thrill-seekers. Divided into four themed zones, including Marvel and Cartoon Network, the park brings iconic characters to life through exhilarating rides and attractions. With high-speed roller coasters, immersive 3D experiences, and a vast array of entertainment options, visitors are transported to a world of adventure and fantasy. From battling alongside superheroes to exploring cartoon realms, IMG Worlds Dubai offers an unforgettable experience for those seeking excitement and thrills in the heart of Dubai.
2. Wild Wild Wet, Singapore
For those seeking respite from the tropical heat in Singapore, Wild Wild Wet offers an unparalleled experience as a premier water park. With a wide range of thrilling water slides, including heart-pumping vertical drops and winding flumes, adventure-seekers can embark on adrenaline-fueled escapades. From cascading down exhilarating slides to floating along lazy rivers and riding the waves in wave pools, Wild Wild Wet provides excitement for water enthusiasts of all ages. To make the most of this aquatic adventure, be sure to grab your Wild Wild Wet tickets and dive into a day of fun and refreshing entertainment.
3. Tokyo Disneyland, Tokyo, Japan
Tokyo Disneyland is a magical realm where childhood dreams come to life. As part of the renowned Disney franchise, the park offers a host of iconic attractions, enchanting parades, and captivating live shows. Visitors can explore the seven themed lands, meet beloved characters, and immerse themselves in the whimsical atmosphere that has made Disney famous worldwide with Tokyo Disneyland tickets.
4. Universal Studios Singapore, Singapore
Universal Studios Singapore, located on Sentosa Island, is a world-class theme park that combines blockbuster movies with thrilling rides and immersive experiences. From pulse-pounding roller coasters to 4D simulations and live shows, visitors can delve into the worlds of Transformers, Jurassic Park, and more. Explore the themed zones, dining options, and entertainment, the park provides an unforgettable adventure for movie enthusiasts and families alike with your Universal Studios tickets.
5. Lotte World, Seoul, South Korea
Lotte World is a comprehensive entertainment complex in Seoul, offering a combination of indoor and outdoor attractions. With Lotto World tickets you can visit the park boasts thrilling rides, including roller coasters and spinning attractions, as well as a giant indoor ice rink. Visitors can also explore an outdoor folk museum, shop at a luxury department store, and enjoy a variety of live performances, making it a one-stop destination for entertainment and leisure.
6. Everland, Yongin, South Korea
As one of South Korea's largest theme parks, Everland offers a diverse range of attractions and entertainment. Thrill-seekers can enjoy adrenaline-pumping roller coasters and exhilarating rides, while animal lovers can explore the safari park featuring a wide array of exotic wildlife with booking Everland tickets. Additionally, the park boasts a water park, seasonal festivals, and gardens adorned with beautiful flowers, ensuring a fun-filled experience for visitors of all ages.
7. Hong Kong Disneyland, Hong Kong
Hong Kong Disneyland transports visitors into a magical world of Disney enchantment. From classic attractions and beloved characters to live shows and dazzling parades, the park captures the essence of Disney's charm and creativity. With themed lands inspired by fairy tales and adventure, visitors can embark on a journey filled with wonder, imagination, and unforgettable moments with Hong Kong Disneyland tickets.
8. Ocean Park, Hong Kong
Ocean Park is a captivating marine-themed park nestled amidst lush greenery and stunning coastal scenery. Combining thrilling rides with immersive animal encounters, the Ocean park tickets offers a unique blend of entertainment and education. Visitors can enjoy exhilarating roller coasters, explore fascinating marine exhibits, watch incredible animal shows, and appreciate panoramic views of the ocean, making it a must-visit destination for nature lovers and thrill-seekers alike.
9. Universal Studios Japan, Osaka, Japan
Universal Studios Japan is a world-class theme park that immerses visitors in the magical realms of their favorite movies. With iconic attractions such as The Wizarding World of Harry Potter, Jurassic Park, and more, visitors can step into the worlds of fantasy and adventure. The park also offers a wide array of thrilling rides, live entertainment, and delectable dining options, ensuring a memorable experience for fans of all ages.
10. Sunway Lagoon, Kuala Lumpur, Malaysia
Sunway Lagoon is a multi-park extravaganza that caters to a diverse range of interests. The park features thrilling water slides, a wildlife park with exotic animals, an amusement park with rides and attractions, a scream park for horror enthusiasts, and an extreme park for adrenaline junkies. With its variety of experiences and attractions, Sunway Lagoon tickets promises excitement, fun, and adventure for visitors exploring Kuala Lumpur's vibrant entertainment scene.
Santosh Kumar, He is a SEO + Blogger have 12 years of experience in writing tutorial, informative and product reviews topics.