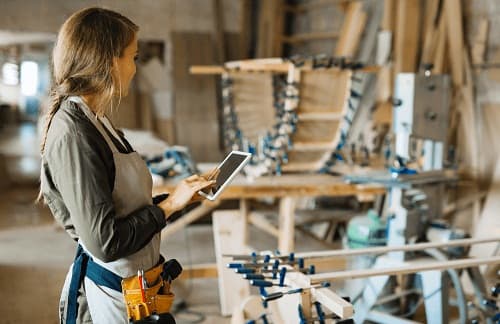 Manufacturing is a vital part of any country's economy. Services alone can't bring prosperity, and hence encouragement to local manufacturing for domestic consumption or exports is necessary. Together these two can catapult a staggering economy into a formidable one. Sensing the necessity to underline the importance of manufacturing and to give a new lease of life to the manufacturing sector, the Government of India has started 'Make in India' campaign.
The concerted efforts of the government, financial institutions and the industry is shaping up positive manufacturing environment with endless business possibilities in India for entrepreneurs to exploit. As the business environment is ripe for manufacturers to set-up greenfield manufacturing units, the financial institutions are pitching in with necessary capital assistance by providing manufacturing business loans.
The financial institutions serve the new age low investment manufacturing business ideas in two ways-
Direct investments
Business loans for manufacturers at affordable rates
The financial year 2017-18 statistics indicate an impressive 10% increase in business loan demand for various manufacturing units producing consumer durable (FMCG sector) in India.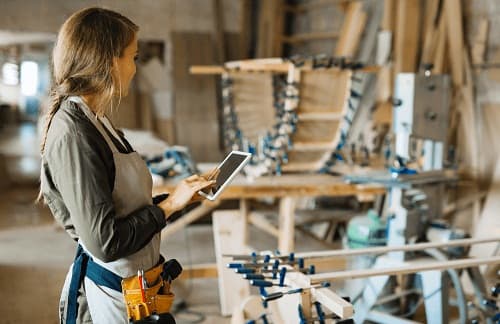 The present article discusses in detail five manufacturing Business ideas with low investments and high returns.
Five low-cost manufacturing business ideas
Textile Manufacturing 
The textile industry is growing at a rapid pace in India, and after Covid-19 pandemic, Indian vendors are emerging as new favourites for International garment companies. Already 7% of the total industrial manufacturing and 15% of earnings are attributed to the textile manufacturing sector. With readily available high-quality raw material, textile manufacturing, or specialized textile units can be established with ease. The entrepreneurs can avail manufacturing business loan for a textile unit with ease.
Some of the small-scale textile manufacturing ideas are:
Carding cloth – A carding machine can be set up for this process.
Jeans and cotton casuals – Cotton casuals, shirts and jeans are in great demand today. Setting up a manufacturing unit of cotton fabrics is a low investment business idea.
Jute garments – Jute bags demand is steadily rising and is one major export item. Apart from that, the jute is used innovatively in designer fashion garments. The raw material is easy to procure and the manufacturing unit needs small space and limited finance to start.
Men and Women undergarment unit – the undergarment manufacturing unit for men and women is another small-scale textile manufacturing idea as the market for undergarments is diverse and is increasing rapidly.
Paper bags –
Eco- friendly paper bags are fast becoming the preferred choice of people as non-biodegradable plastic bags are being banned across the nation. It is a low-cost manufacturing idea, and different types of a paper bag of varied sizes and shape are being manufactured. Today automatic and semi-automatic paper bag manufacturing machines are available and come in the range between ₹5 lakh to ₹3 lakh.
An entrepreneur can availa business loan for manufacturers and start the unit by sourcing required raw material and machinery. Paper bags of different shapes and sizes are in great demand and the market is expected to grow further.
Artificial/Imitation jewellery –
The price of precious metals is skyrocketing, leading to a boom time for imitation jewellery. The imitation designer jewellery is now a new fad among college girls and young adults who seek imitation jewellery to go with their dress on every occasion.
A manufacturing unit of imitation jewellery is a low investment idea and can be easily funded by financial institutions. Moreover, an entrepreneur doesn't need a large space to set up the unit. An entrepreneur can avail easy and affordable manufacturing business loansand also source raw material and required machinery for quickly establishing and running the unit.
Candle manufacturing –
A multi-billion-dollar candle manufacturing industry is standing at the cusp of history where the candle demand is surging at an unprecedented pace. Scented and therapeutic candles are in high demand today by hotels, restaurants, and households. The candles are always in demand and are used for religious, decorative or for creating ambience.
The candle making units require raw materials such as wax, aroma, wick, oil, moulds thread and more. Candle making equipment like a thermometer, weighing scale, hammer, oven pot is some of the other requirements. The candle making unit is a low-cost manufacturing idea, and such a venture can receive funding from financial institutions.
The furniture market in India is estimated worth ₹60,000 crores and is growing rapidly. With the right skill, funds, and ample space, one can start a furniture manufacturing unit. The growing demand of both contemporary and designer furniture makes furniture making a low cost profitable and sustainable business venture. Such business ideas are supported by financial institutions which provide business loans to manufacturers with ease.
Today furniture stores are also rampantly doing business online. The increase in demand for quality designer furniture has made furniture making a profitable, sustainable, and low-cost business idea that gets easy funding from financial institutions.
Business loans schemes to manufacturers by Government
The small-scale industries or start-ups need working capital to establish and start their operations; the government has come up with various schemes through PSBs (Public Sector Banks) to bridge the financial gap. Some of the schemes launched by the government include:
MUDRA or Micro-units Development and Refinance Agency is a part of government's initiative to provide micro-business units with business finance. The MUDRA loans are grouped as:
| | |
| --- | --- |
| Shishu Business loans | Up-to ₹50,000 |
| Kishor Business loans | Up-to ₹500,000 |
| Tarun Business loans | Up-to ₹10,00,000 |
MSME business loan in 59 minutes:
It is one of the most ambitious schemes launched by the government to provide loans through five authorized public banks. Manufacturing business loans up to ₹1 crore can be availed through this scheme.
Credit guarantee fund scheme:
The scheme aims to provide business loans to manufacturers without collateral security up to ₹10 lakh and with security up to ₹1 crore. Different public & private sector banks finance business loans under the scheme.
National small industries corporation subsidy:
The NSIC subsidy scheme provides two financial benefits to small manufacturing units –
Marketing assistance
Raw material assistance
Manufacturing business loans from Private banks and NBFCs
Private sector banks and NBFCs also provide manufacturing business loans to entrepreneurs at attractive rates. The Flexi business loans to manufacturers are actively promoted that ensures necessary capital to small scale industries in the procurement of raw material and marketing, and sale of goods.
Features and Benefits
Flexi loan facility – it ensures flexibility to withdraw and repay funds according to need.
Affordable interest rates – Loans are available at an affordable interest rate to manufacturers.
Flexible loan repayment tenure – various loan repayment options present ranging from 12 to 60 months.
Fast processing – Business manufacturingloansare available in real quick time to genuine manufacturers.
Documents required to get Business manufacturing loan
Some of the documents required to avail manufacturing business loan facility are:
Identity proof – Applicants identity proof including Voter Id card, Aadhar card, driving license, passport.
Address proof – the electricity bill, ration card, telephone bill, trade license, lease agreement and passport.
Financial documents – Copy of IT returns for a minimum of one year
last six months bank account statement
Audited balance sheet (for the previous two years)
Business ownership proof – Business loans to manufacturers is provided after submitting the ownership proof documents by the entrepreneurs.
The incumbent government is pushing the manufacturing sector to thrive amid rising unemployment due to the COVID-19 pandemic. Government has underlined that for India to achieve its target of becoming 5 trillion economies, manufacturing has to be at the centre-stage. Keeping this in mind, various schemes are launched, such as Pradhan Mantri Kaushal Vikas Yojana that intends to train 400 million workers. Similarly, schemes to provide necessary finance such as MUDRA is a new beginning.
To some extent, the efforts of the government in reviving the manufacturing sector is bearing fruit. Today, the feasibility of doing business in India in terms of 'ease of doing business, ROIs and cost-effectiveness are much better. The encouraging part is the increasing participation of first-time entrepreneurs who are setting up small manufacturing units to produce consumer goods with low investment.
Santosh Kumar, He is a SEO + Blogger have 12 years of experience in writing tutorial, informative and product reviews topics.