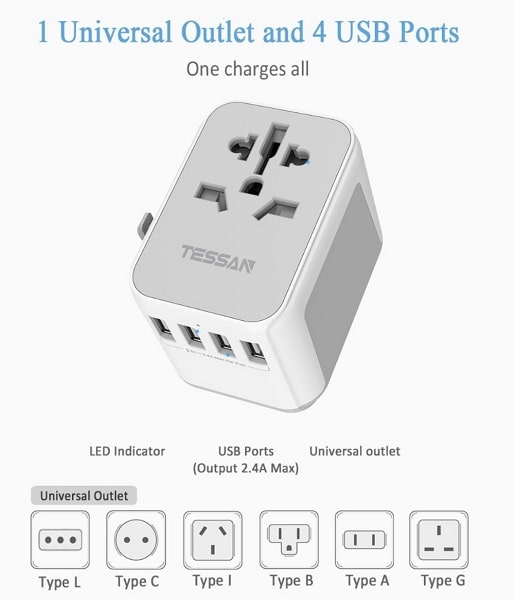 You must decide what to pack in order to use your personal electrical appliances safely while overseas. This usually entails using a travel adaptor, which is a device that enables you to plug any USA electrical equipment into a foreign electrical outlet. It should be noted that it does not convert voltage or frequency.
There are three associated plug kinds for Italy: C, F, and L. Plug type C is a plug with two round pins, plug type F is a plug with two round pins and two earth clips on the side, and plug type L is a plug with three round pins. Italy uses a 230V supply voltage and a frequency of 50Hz.
Transformers and Voltage Convertersa
Electricity supply around the world can range from 100V to 240V. Using an electrical appliance rated at a voltage different from the supply can be exceedingly risky. Because voltage varies by nation, you may need to utilize a voltage converter or transformer in Italy.
The regular operation of an electrical item may be affected if the frequency is altered. A 50Hz clock, for example, may operate faster with a 60Hz power supply. Because most voltage converters and transformers include plug adaptors, you may not need to purchase a separate travel adaptor.
All converters and transformers have a maximum power rating (AMPS or WATTS); therefore, check to make sure the device you plan to use does not exceed this value.
Appliance with Dual Voltage 
By inspecting the appliance rating plate, you can establish whether a converter or transformer is required. A dual voltage-rated appliance will indicate, for example, 'INPUT: 110-240V' on its body or power supply. Because Italy runs on a 230V supply voltage, which is within the 110-240V range that the dual voltage appliance operates on, you won't need a converter or transformer, only a travel adaptor.
Appliance with Single Voltage 
The supply voltage in Italy is 230V. If the appliance is a single voltage rated, it must function at the same voltage as the country's supply voltage, which is 230V. If this is not the case, it should be used in conjunction with a voltage transformer or converter to ensure that the appliance operates safely and properly.
Although converters and transformers provide similar functions, their applications differ. Converters are often used with appliances that run for a short period (1-2 hours), whereas most transformers can be used with appliances that run continually.
It is critical to recognize that some travel adaptors are incompatible with appliances that require an earth connection. These travel adaptors should only be used with double-insulated equipment that is clearly labeled with the symbol displayed below.
What to Look For When Purchasing a Power Adapter
Universal Usage
The usual guideline is that the larger the plug, the more widespread it is. If you're backpacking across Europe or traveling with only a carry-on, invest in a European-only adapter.
Number of Devices
If you're a gadget enthusiast who travels with a lot of equipment, consider investing in a charging station. They can power several electronics on the same strip while also providing USB charging connections and normal outlets. They're a little more pricey, but you'll have one (or three) fewer things to leave behind in your hotel room.
Cost
Simpler adapters are typically less expensive. Consider how much money you want to spend, especially if this is your first trip outside of the United States. If you plan on taking more travels in the future, consider investing a little more in an adaptor that can, well, do more.
List of the Best Travel Adapter For Italy
The pandemic is not over, yet some corners of the world are once again welcoming visitors. Whether you're planning a country-hopping adventure or a simple business trip, having the correct gear will make your travel go more smoothly. This includes a reliable travel adaptor so you can charge all of your devices safely wherever you land. We tested numerous adapters, and our favorites are listed below. They will work in most places of the world. Adapters make fantastic gifts for travelers, and if you're a traveler, be sure to check out our collection of other travel essentials.
220V to 110V Voltage Converter Power Adapter
While many modern devices can automatically switch between voltages, others cannot. This is where the converter enters the picture. It converts 220/240V to 110/120V, allowing you to use single voltage American appliances in Europe safely. It also comes with a European power cord and three replaceable adapters for the United States, the United Kingdom, and Australia, allowing you to use it for subsequent excursions.
It is simple to use because it only requires the necessary adapter, plugging it into a socket, and pushing the power button to function. With two normal US plugs and four 5V/ 2.4A USB ports, you can charge multiple devices at the same time—just keep the overall power under 200.
To prevent overloading, overheating, or short-circuiting, the converter immediately shuts down, keeping you and your equipment safe. Avoid using curling irons, hair dryers, or straighteners.
In addition to a single AC power connector, it has four USB ports that can all be utilized at the same time. It is FCC, CE, and RoHS approved for safety and comes with a lifetime guarantee to give you peace of mind. What are the drawbacks? It is not ideal for use with high-powered equipment, such as hair dryers, and measures 1.96 x 2.79 x 2.08 inches, making it significantly larger than a conventional single adapter.
If you travel regularly, consider purchasing the Tessan Universal Travel Adapter rather than just the one for Europe. This is also a fantastic investment for individuals planning a vacation across Europe with stops in countries where the regular Type E/F connector is not accepted. The power adapter's interchangeable input and outlet ports allow you to use it in over 150 countries.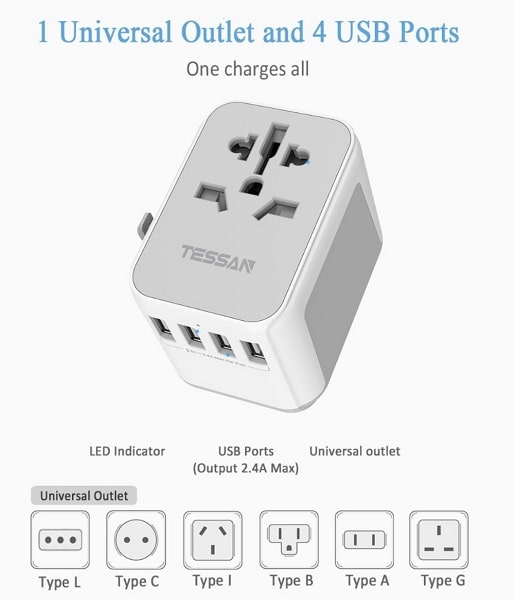 Travel Adapter for AC Power
The AC Power Travel Adapter is intended for usage in most European countries and is compatible with Type E/F or Schuko connectors (notably excluding Italy, Switzerland, and the United Kingdom). Its robust structure and vivid purple color make it easy to notice and, as a result, less likely to be left plugged into the hotel room socket when you check out.
With a total weight of 0.11 pounds, the power adapter is exceptionally light while being large enough to be easily removed from the plug socket. With dimensions of 2.7 x 1.5 x 1.5 inches, it can fit into almost any pocket, handbag, or backpack for simple travel. It's also long-lasting due to the lack of moving parts. Its dual connectors allow you to charge two electrical gadgets at the same time.
The input on the plug's front is universal: It accommodates two-prong polarized American plugs, three-prong grounded American plugs, and standard plugs from Europe, the United Kingdom, Australia, and India.
Tessan European Power Adapter Plug
The Tessan European Power Adapter Plug is a simple and inexpensive alternative for American visitors to Europe and Russia. It is Type E/F plug compatible and should operate in most nations with the exception of Italy, Switzerland, and the United Kingdom. It also fits into the recessed, circular plug sockets common in many parts of Western Europe and ordinary square-faced sockets.
Its newly enhanced design includes internal metal contacts for greater conductivity. The power adapter plug has a maximum capacity of 250V/13A and can power equipment requiring up to 3,000 watts (including most hairdryers). However, keep in mind that it is only suitable for dual voltage equipment. The dual ports allow you to charge two devices at the same time, which is very useful in hotel rooms with restricted plug connections. Except for South Africa, the universal input accommodates plugs from most nations.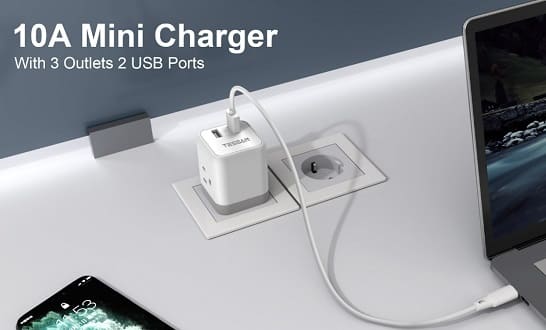 The Type G Travel Adapter Plug, designed in the United States, simplifies travel to the United Kingdom (where regular European adapters will not function). The plug is also applicable to British Overseas Territories and ex-colonies in Europe, such as Gibraltar and Cyprus, as well as other locations like Hong Kong and Dubai. Your purchase contains three different adapters, allowing you to use all of the sockets in your hotel room at the same time.
Each power adapter has two inputs that take either two-prong polarized US plugs or three-prong grounded US plugs. They are only suitable for dual appliances and have a maximum load rating of 250V. Because the device comes with a limited lifetime guarantee, you can return damaged adapters for a free replacement.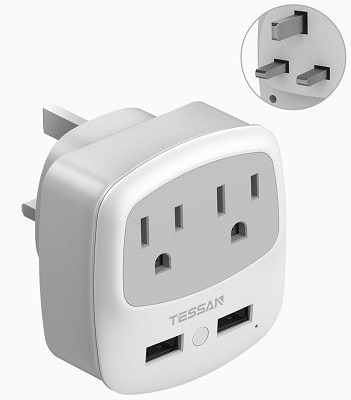 2-in-1 US to Italy Adapter Plus
If you're going to Italy, the US to Italy Travel Adapter Plug is the finest option. The two-pack contains two Type L connectors for charging devices in Italy and San Marino. Both adapters have multiple inputs, allowing them to accept two US plugs simultaneously. One of the inputs is universal, accepting plugs from all countries except those that utilize Type M connectors (e.g., South Africa, Swaziland, and Lesotho). You may rest easy knowing that the adapters are CE-certified and RoHS compliant.
Santosh Kumar, He is a SEO + Blogger have 12 years of experience in writing tutorial, informative and product reviews topics.