Darjeeling, known as the 'Queens of Hills,' is a tourist destination where clouds meet the lush meadows and create an aura of regeneration. Darjeeling, in the state of West Bengal, is one of India's most important tourist destinations. Darjeeling's lovely ambiance is particularly romantic, making it ideal for couples or honeymooners. The following are the top five things to do in Darjeeling:
1. Darjeeling zoo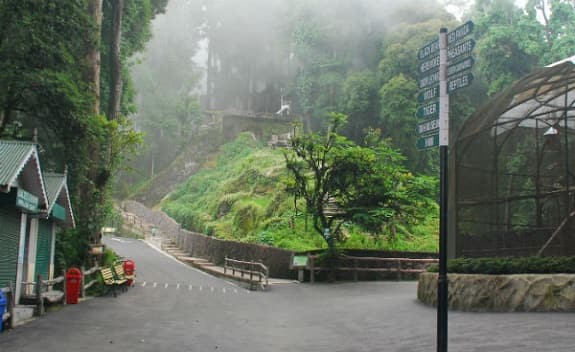 Padmaja Naidu Himalayan Zoological Park is the only zoo in the country that is internationally recognised for Tibetan Wolf, Snow Leopard, and Red Panda protected breeding programmes. It's one of the few sites in West Bengal where you may observe the famous Red Pandas.
Entry fee: The entry is Rs. 60 for Indians and Rs. 100 for foreign nationals.
Timings: 8.30 AM to 5 PM. (The Zoo is closed on Thursday)
Location: Jorethang Road, Near Birch Hill Resort, Darjeeling,
2. Nightingale park
Take a stroll through Nightingale Park and breathe in the fresh mountain air while admiring the magnificent view of the towering mountains from this equally spectacular and unique garden place. The park's centrepiece is a massive monument of Lord Shiva and a musical fountain, which also happens to be the park's main attraction.
Entry Fee: Rs. 10 for adults
Timings: 7 AM to 8 PM
Location: Richmond Hill, Darjeeling
3. Tiger hills
This lovely peak, which offers an amazing sunrise view, is also a great site to see the Himalayan charm during the day. If you want to see the sunrise, start early during peak season. The Summit of Ghoom, the highest point in Tiger Hills, provides a spectacular view of Mt Everest and Mt Kanchenjunga. From the hilltop, you can see Kurseong and other mountain peaks. Since Darjeeling Queen of Hills, this is one of the places you must visit.
Entry fee: No entry fee
Location: Darjeeling, West Bengal
4. Visit the tea gardens at Darjeeling
Darjeeling is known for its tea gardens, which produce high-quality tea. There are several tea estates near Darjeeling, and you can hire a car from a local taxi stop to tour them. Alternatively, you can spend a couple of nights in Darjeeling's tea estates, which will undoubtedly be a wonderful experience. Tea estates, on the other hand, would be extremely pricey in compared to other Darjeeling hotels.
5. Treat your taste buds with Darjeeling's specialty
Darjeeling is well-known for its high-quality meals and beverages. Unique northeastern dishes such as Alu Dum and spicy curries are well-known. Tibetan delicacies Momo and Thukpa are on the menu. Apart from that, Darjeeling has cake, pastries, good quality tea, and more delectable treats to satiate your sweet tooth.
6. Batasia Loop
When visiting Darjeeling, you must take a ride on the vintage toy train. From Darjeeling railway station to Ghum and back, it takes two hours. At Batasia, where the train makes a loop around the magnificent garden, you can admire Kanchenjunga's magnificence. This is a must-try activity. Begin your journey in Ghoom and make a pit stop in Kurseon to eat at one of the many restaurants. You may explore the panoramic view of the surrounding hills from here, which will transport you to a romantic world.
Toy Train Fare: Diesel Engine Rides: Rs. 805; Steam Engine Rides: Rs. 1,405
Timings: 5:30 AM to 4:30 PM.
Address: Batasia loop, near Ghoom, West Bengal
Located in the foothills of Himalayas, Darjeeling is one of the must-visit hill stations in India. Apart from Darjeeling, there are many more hill stations you can visit with your friends and family to unwind. You can check out some of the closest hill station to Delhi such as Manali, Dalhousie, Nainital and many more to enjoy the beautiful weather and picturesque location.
Santosh Kumar, He is a SEO + Blogger have 12 years of experience in writing tutorial, informative and product reviews topics.