India has always been popular for their rich culture, traditions, different languages, and Concept of Joint family. Living together in a common domicile has been popular since the Vedic time. The joint family includes maternal uncle, aunt, papa, mummy, grandfather, a grandmother who share their happiness, sorrow and even their comfort zone with each other.
Learning life lessons from different individuals, sharing happiness with loved ones, fighting for each other can prepare you for world challenges.In a Joint family, you always have someone around who cares for you, listen to you in the worst situation, supports you in your bad times and even care for you.
Due to the westernization, the generation has been changed, nobody wants any interference of elders. The joint families are now converted into nuclear and semi-nuclear families. Living in a joint family can create various difficulties such as an adjustment in every little thing, property disputes, different cooking needs and various others.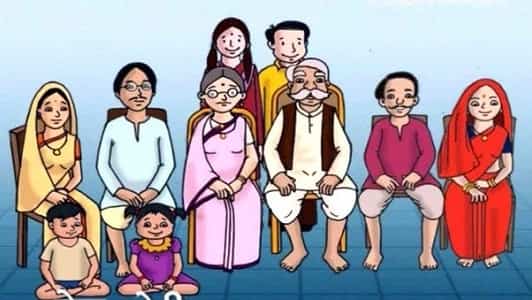 Today's generation learned that living in a nuclear family is far better than living betweenmultiple members.It depends on the children whether they live in a joint family or a nuclear family. Let's have a look at the advantages & disadvantages of a joint family.
Joint Family Advantages
Let's have a glance on some positive factors of joint family
1. Love, Care & Unity
Living together under a single roof brings unity, care & love for each other. Children are taught to respect elders, take care of elders and serve parents in joint families. Getting scolded for the wrong thing, being celebrated for topping the exam, learning something from your elders is seen only in a joint family.If someone says something about your elder, fighting for him in front is a sign of unity. That's why having a joint family told you about various good things.
A child grown in a joint family learn sharing from childhood. Lack of sharing and respect habit has found in a child living in a nuclear family.If he has food items, groceries, toys, etcunder his possession, he knows that he has to be distributed them among his cousins, sisters & brothers. The sharing and caring concepts have seemed in every joint family. These good habits are taught to them by their elders and parent. Growing in a joint family tell you how to care and how to respect someone?
3. Financial Support
In a joint family, you have to contribute equally whether expenses, rents, water bills, monthly power, house maintenance.  Moreover, if a person is a joint family has a good income can easily support large expenses. For instance, for a bright future of a child, parents should have enough savings for their education, so a financially strong member can easily support them. Therefore, each member gives their best to support in financial crisis.
4. Confidence & Social Skills
People's personalities, natures, likes & dislikes differ from each other. No one has a similar personality and neither does he act according to others. Children growing up in a joint family learn the art of keeping their point, understanding the point of view of the people. They learn how to deal with different personalities, how to communicate, how to react in different situations. It also gives you the confidence to state your point of view. If the parents are in a job and the child is rising in the nuclear family, then the social life ends, resulting in hesitation to talk.
5. Quality time
In today's fast-paced life, sitting and talking to children, spending time with them is becoming less.Only joint family has been the last concept where children would get the love of elders, spend quality time with their siblings, grandparents, aunts, uncles and cousins. Joint families allow creating memories and having a good time every day. That doesn't in a nuclear family you can't do things like this.
6. Moral and Family Values
For many, home is just not a boundary; it's a school that teaches about family and moral values. Children are being a part of the value system from childhood. Growing up under the strictness of elders learns to follow their ideals and certain principles. Under the guidance of the elders, every child learns the lessons of morality and ethics. In a joint family, you can see that the family's ethics & values are never compromised in case of stubbornness & wrong thing.
7. Team Work
In a joint family, everyone plays their role in every case. From cooking to cleaning, buying groceries to washing, each one knows their responsibility very well. Children growing in a joint family learn the lesson of working together. This achievement helps them to learn social skills, leadership, communication skills for real-world challenges.
Joint family Disadvantages
There are key disadvantages of living in a joint family. Let's take a look:
1. Compromised privacy
Living in a joint family is a great way to surround yourself with loved ones. However, you can't expect much privacy. The rooms among kids are shared with their cousins. It doesn't matter whether you are studying, doing Yoga or anything that requires peace, there will be someone around. It is less likely that family members will get enough time to spend alone. It might seem fun but you can't have someone all the time even when you want peace and want to sit alone.
Cooking in the shared kitchen is the primary feature of a joint family. Food is cooked for all members at the same time. You can at least cook two different dishes at one time. However, there are conflicts. There is always a picky eater in every house and cooking more than 2 dishes is going to cost more and it became the topic of the fight.
3. Interference
Some children are introverts and have difficulty putting their thoughts in front of everyone. If such a child lives in a joint family, then he cannot keep his point. Apart from that issue, life's control is at the head of the family. Especially, an independent person feels interference in every situation.
Final Words
From start to end, you read how living in a joint family becomes advantageous and disadvantageous. But every person wants their personal space and comfort zone. That's why they prefer living in a nuclear family.
Santosh Kumar, He is a SEO + Blogger have 12 years of experience in writing tutorial, informative and product reviews topics.