Like every year, this year also Amazon.in is going to start the great Indian festival sale during the festive seasons. Although the exact dates and times are not announced, the e-commerce giant is fully ready to bring exciting offers for people in October. During this period, people can avail up to 80% discount in different categories of products available on Amazon India. Moreover, this is going to be one of the biggest opportunity for people those who are willing to buy a new gadget or any electronics item for their home because there will be discounts on almost all products on Amazon during this sale.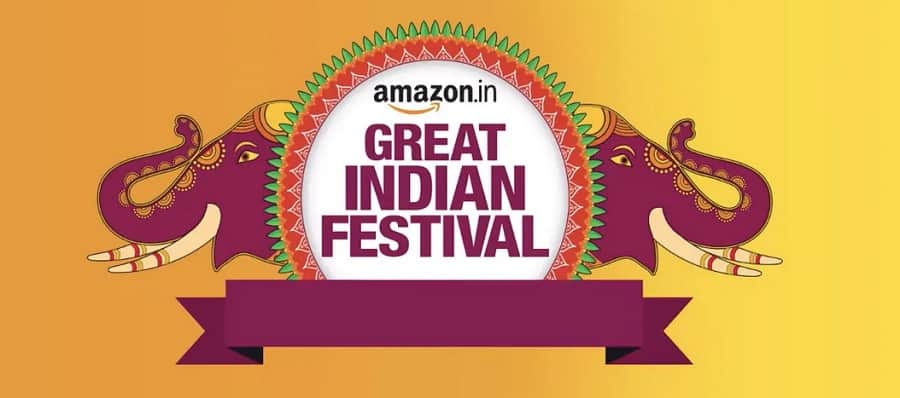 Amazon Great Indian Festival Sale offers some additional discounts on some specific debit and credit cards and its own payment method Amazon Pay. Therefore, people can easily find the best and affordable deals for them during this period. However, this sale is going to be more beneficial for the prime members of Amazon because they will get access to the Great Indian Festival Sale a day before regular customers. That's why Amazon is enabling people to join the prime membership as soon as possible to get the benefits of this offer.
Are you interested in the Amazon Great Indian Festival? Do you want to know more about the offers and discounts and how you can benefit from this? Here are the answers to all your questions about the Amazon Great Indian Festival Sale 2021 Dates. So be with us till the end of this article to know how to get benefits from this sale.
What is Amazon Great Indian Festival?
Many of you might be wondering what this offer is and who can benefit from it. Actually, it is the annual sale of Amazon.in, the largest e-commerce store in India. Every year Amazon brings this sale during the most awaited festivals of every Indian, Dussehra, and Diwali. Once this sale is on, everyone who shops online can get the best products from all categories available on Amazon India.
This sale offers 30-minute lightning deals on Amazon fashion, Mobiles, Laptops, Electronics items, Kitchen essentials, Home appliances, Books, and various other categories. So, if you are looking to buy some items for your home, kitchen, or daily needs, then you can take advantage of it. Since Amazon offers early access to this sale for its prime members, you can also try prime membership at just 129 rupees per month or 999 rupees per year.
Let's know the dates and offers on different products to buy some products this year from Amazon during this offer period.
When Does The Upcoming Great Indian Festival Start On Amazon?
Although Amazon India is wholly prepared to start the Great Indian Festival Sale 2021, the dates are still not revealed. Currently, you can keep in mind that the sale is going to start in October, and it is going to announce the dates soon. Also, you should be prepared to get your preferred products once the sale starts.
Now, you can see the posters regarding the grand sale going to start very soon on the Amazon website and mobile App. By doing this, Amazon is making its customers ready for the upcoming sale event so that they can get the best deals easily. As we stated above, the Prime members can avail of this offer early than normal customers. So Amazon India is going to announce separate dates and times for prime members and other customers.
However, the e-commerce company has revealed some of its offers that are going to be listed during this sale. So let's check what those offers are.
What Can I Buy At Amazon Great Indian Sale?
Amazon Great Indian Sale is going to offer discounts on many products that are available on its website. During this offer period, you can buy mobiles, laptops, computer accessories, daily essentials, electronic items, mobile accessories, tablets, pen drives, Amazon fashion products, kitchen & home appliances, TVs, cameras, memory cards, and many other items at pocket-friendly prices. This is going to be an incredible option for those who are willing to buy the best products at reasonable prices.
During this offer period, you can get up to 30% off on the mobile phones of different brands. The top mobile phones that are going to be available at discounted prices include Samsung Galaxy M series, Note and Note 9, Vivo V15, V17, U10, and U20, OPPO F11 and Reno 2 Z, OnePlus 7 Pro, 7T, and 7T Pro, Apple iPhone 11 and 11 Pro, and mobiles from other brands like Redmi, Realme, Xiaomi, Poco, Nokia, etc.
Apart from that, there are also discounts on laptops like Apple MacBook Air, Acer predator, and other gaming laptops. There is also a 60% discount on books, 40% discount on games and accessories, 70% discount on fitness and sports items, 50% discount on Alexa smart home devices, 60% off on fitness bands and smartwatches, 70% discount on vehicle accessories and parts, etc. So you can get your preferred product at a discounted price with ease.
The upcoming great Indian festival sale also has discounts on refrigerators, LED & OLED Televisions, washing machines, and other appliances form the top brands. So if you are planning to buy any new appliance for your home or kitchen, then this is a chance for you to get the best deals. During this sale, you can get up to 25% discount on Samsung appliances, 35% off on Sanyo and Philips products, 45% off on Micr4omax appliances, and 40% off on Panasonic products.
This sale also has discounts on Amazon fashion products. In this category, it offers up to 80% discount on clothing, footwear, bags, and luggage, and a 30% discount on gold and diamond jewelry items. Therefore, the Amazon great Indian festival sale is going to be an incredible opportunity for many people to get the best products at cost-effective prices.
How Do I Get The Best Deals On Amazon India?
It is very easy to get the best deals on Amazon India if you opt for shopping online frequently or are a prime member of Amazon. Otherwise, you can simply signup to Amazon.in, update your shipping address, and order your preferred product during the offer period.
Apart from the discounts on the products, Amazon is going to offer an additional discount of 10% on HDFC credit and debit cards. If you have this card, don't forget to avail of this offer. Moreover, there is a 25% cashback up to 250 when you shop with Amazon pay later. This offer is valid for the first transaction on Amazon pay later. To avail of this offer, you will need to purchase a minimum amount of 3000 rupees. The billing cycle of this offer is from the 16th of your ordered month to the 15th of the next month.
If you want to get early access to the Great Indian Festival Sale, then you can become a prime member of Amazon. By doing this, you can get many benefits. This allows you to get free and fast delivery of your orders, free access to prime video, and music.
What Is The Difference Between Amazon And Amazon Prime?
Amazon India offers many services apart from just selling a variety of products. If you have an Amazon account, then you can purchase products ranging from books, electronics, jewelry, home and kitchen appliances, and many other products.
Amazon Prime is one of its services that offer an improved experience while shopping with Amazon. If you are a prime member of Amazon, then you will get speed delivery for your orders without any delivery charge. Apart from that, there are many benefits of being a prime member of Amazon.
There are two plans for joining Amazon prime. The monthly plan is 129 rupees, and the yearly plan is 999 rupees. Once you become a prime member of Amazon, you can get unlimited access to the Prime video where you can watch original web series and the latest movies for free. Moreover, this offers you unlimited access to prime music to play and range of songs anytime, anywhere. Another benefit of being a Prime member is that Amazon allows early access to its sales like the great Indian festival. Therefore, it is worth being a Prime member of Amazon.
It offers a trial period of 30 days for new customers who want to join Amazon Prime. During this period, the user can enjoy all the prime benefits. However, after the completion of the trial period, it depends on the user whether he or she wants to continue the Prime membership or not. If the user chooses not to continue the membership, Amazon cancels the membership plan without asking any question.
Although Amazon offers faster delivery to Prime members, it depends on the location of the user. Moreover, if the product is not in stock, the delivery may get delayed. However, Amazon prime membership is a good option for many who want to experience better shopping and other benefits of it.
Santosh Kumar, He is a SEO + Blogger have 12 years of experience in writing tutorial, informative and product reviews topics.