Arya and Sayesha's love story is talk of the town. They duo got married on March 12, 2019. While filming Ghajinikanth, they grew close to one another. Both are part of the Suriya's Kaappan- KV Anand, where they have developed a close friendship. Everyone in Sayyeshaa's family has been happy whenever Arya has visited.
However, Arya claimed in an interview that he only started to fall in love with Sayyeshhaa after Ghajinikanth. Her maturity drew him. The love birds tend to encourage each other to try new things and enjoy the adrenaline rush.
Age Difference Between Arya and Sayyesha
Jamshad Cethirakath, a.k.a. Arya, was born on December 11th, 1980. On the other hand, Sayesha Saigal, was born on August 12, 1997.
On March 10, 2019, Sayesha, grand-niece of seasoned Bollywood actress Saira Banu, married Tamil superstar Arya. The pair has a significant age difference (17 years), but they have never let it stand in the way of their romance.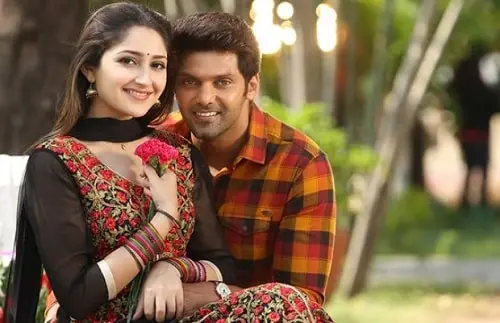 More about Arya and Sayyesha
Arya is the stage name of Indian actor & producer Jamshad Cethirakath, who primarily works in Tamil and a small number of Telugu and Malayalam films. Arya has been nominated for two Filmfare Awards and two Vijay Awards, and he has grabbed the Best Male Debut from South in Filmfare.
Sayesha is indeed the daughter of Shaheen Banu and popular '90s actor Sumit Saigal. Shaheen Banu is Sultan Ahmed's sister and Saira Banu's niece. Sayesha has over 23 million people following her on Instagram alone.She is a household name among Tamil cinema fans.
She made her acting debut in the 2015 film Akhil, when she was just 18 years old. She gained recognition for her roles in movies that were successful like Yuvarathnaa, Kaappaan, and Teddy. She debuted opposite Ajay Devgan in the Bollywood movie Shivaay.
Sayyeshaa and South actor Arya confirmed their marriage on February 14, 2019. Sayesha had sent a message on her Instagram account informing her followers of her wedding.
In two days of pre-wedding festivities, the pair exchanged romantic, fanciful images against the Taj Falaknuma.
On March 12, 2019, Sayesha and Arya got married despite their 17-year age difference. She chose to make a change in her life when she was 21 years old. The couple's small nikaah ceremony took place in Hyderabad's Taj Falaknuma Palace.
Since the couple got married, internet users haven't missed a chance to make fun of their age difference. But the couple don't pay attention to such trollers. They are enjoying their life to the fullest and inspires others to do what they heart says, not what society says or thinks.
Arya and Sayesha is also a wonderful parent to a baby girl.
Santosh Kumar, He is a SEO + Blogger have 12 years of experience in writing tutorial, informative and product reviews topics.