The Captain Cool, MS Dhoni, who gave us innumerable unforgettable cricket matches, also won our hearts with his sweet love story with Sakshi Dhoni, his wife. 13 years have passed since the marriage on July 4, 2010.
The two resolved to keep their connection a secret after entering into a romantic relationship. Before deciding to get married in 2010, the pair was deeply in love with one another. They truly enjoyed their courtship while keeping their affair a secret, and after asking their parents' approval, they decided to get married.
Age difference between MS Dhoni and Sakshi Singh
Mahendra Singh Dhoni, age 41, was born in Ranchi, Bihar India on July 7, 1981. On November 19, 1988, in the Assamese city of Guwahati, Sakshi was born. Accordingly the age difference between Dhoni and Sakshi is roughly around 7 years.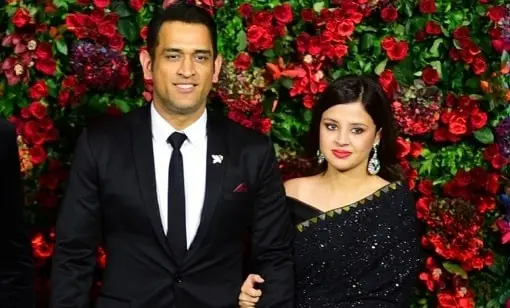 It is nothing short of a fairy tale how the former Indian captain and his wife met. The two eventually met in 2007 while she was completing her internship at the Taj Bengal in Kolkata after graduating from the Institute of Hotel Management in Aurangabad. Who knew that the future had something in store for these two endearing individuals?
We have also witnessed their love story in a popular movie Ms Dhoni- the untold story.
More about Mahendra Singh Dhoni and Sakshi Singh
In 2007, Dhoni was chosen to lead the Indian squad after making his debut on the international stage in December 2004. India won the 2010 Asia Cup, the 2007 ICC World Twenty20, and the 2011 Cricket World Cup under his direction. In addition, during his leadership, the side topped the ICC standings in both Test and ODI cricket.
Sakshi graduated with a degree in hotel management from the Institute of Hotel Management in Aurangabad. She secured an internship at the Taj Bengal in Kolkata soon after graduating, and in 2007 she was reintroduced to MS Dhoni on the final day of her employment there.
Yudhajit Dutta, who also happened to be Sakshi's buddy, served as Dhoni's manager and introduced the two.  Yudhajit contacted Sakshi on her final day of her internship at the hotel and requested her to come. He then Introduced Sakshi to MS Dhoni, and the two eventually became friends.
Before proposing to Sakshi for marriage, Dhoni waited for her to finish her schooling. Their wedding was held at the "Vishranti Resort" in Dehradun, which MS Dhoni's wife cherishes, and their engagement was place at the "Hotel Competent" there.
On July 4, 2010, in Dehradun, the CSK captain and Sakshi exchanged vows. Dhoni's associates from the worlds of sports, politics, and movies all attended the wedding. On February 6, 2015, a baby girl named Ziva Dhoni was born to the happy couple.
Santosh Kumar, He is a SEO + Blogger have 12 years of experience in writing tutorial, informative and product reviews topics.