These days, TV manufacturers are releasing new models every quarter of the year. Therefore, it'll cause confusion among buyers since there are plenty of options to choose from. But this competition usually remains in the category of TVs with less than 4K resolution. And we can definitely say that if you decide to buy a 50-inch 4K TV, then there are some really good options available on the market. Speaking of the 50-inch size, then it's pretty good for a casual TV experience, and the sharpness that comes with 4K resolution is like the cherry on top. But when buying one, you must invest in a relatively good option since TVs are not something we replace every 2-3 months.
In our opinion, you should always consider branded TVs so that you can rely on the brand itself in case something goes wrong with your TV. And to help you out with your 50-inch 4K TV purchase, we have decided to come up with a detailed list. Below, you'll find our top picks, which we have picked after thorough research. Not only that, there will be a comprehensive buying guide on how you can select the best option out of thousands by looking at some important factors you should never ignore.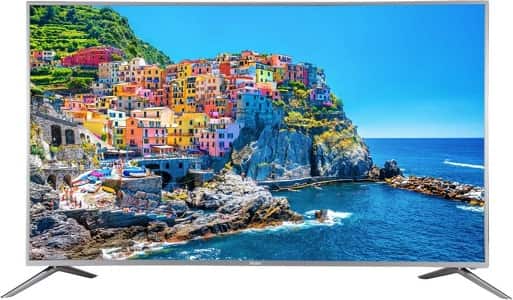 List of Best 50 Inch 4K TV In India
How to Choose the 50 Inch 4K TV Buying Guid
It is time to consider some of the deciding factors that you should never overlook when buying a 4K TV on your own.
Display Panel and Viewing Angles
In a modern TV, the display panel is the most important thing you should consider. If you go with a bad display panel option, your experience will be quite disappointing. Usually, when buying a 4K TV, we recommend buyers at least choose an IPS panel, that is the bare minimum. If you can afford an AMOLED or OLED display TV, then definitely go for it, It will be worth every dime you spend. Display panels are the most important thing to look at because they determine what type of viewing experience you'll get when watching anything on your TV. With the panel options we mentioned earlier, you'll get better viewing angles, amazing color reproduction, and incredible contrast levels.
The Brightness of the Panel
The TV screen's brightness also matters a lot, suppose you have set your TV in a room where light luminosity is considerably high, then your TV must have higher brightness levels to counter that. TV manufacturers represent their product's brightness in "Nits," so next time you see this word, you'll know that it is used to show how bright the display panel is. In our opinion, you shouldn't go below 300 nits, just remember this simple rule: the higher the Nits value, the better the watching experience you can expect. In today's post we have added multiple options with more than 300 Nits of brightness, so make sure to take a look at our top picks.
Speakers or Soundbar
Another aspect that affects your watching experience is the sound and audio quality. An expensive TV like the 50-inch 4K version must have a good speaker set or soundbar in-built. If you have decided to install the new TV in a smaller room, then a 10W speaker or soundbar would definitely be a good choice. For bigger rooms and halls, we recommend at least going for 15W or higher. Thankfully, in our list, we don't have any TVs with poor audio or sound quality, so choose one from the list and you'll be good for the most part.
Connectivity
In our opinion, connectivity options for a TV may depend upon your needs. It's not necessary to always go with the maximum possible ports. For normal use, where you just want to enjoy watching TV by just connecting to the Set Top Box, basic video input, a few USB ports, and a 3.5 mm jack would be great. Talking a little more about the types of ports, so always choose a TV with an HDMI video input port, at least 2 to 3 USB ports, and a 3.5 mm jack for connecting external speakers. In our top picks, we have only added 50-inch 4K TVs that come with good connectivity options, so go ahead and choose one, this way, you won't have any issues in the long run.
Manoj Kumar, is a Service Manager at Rakesh Electronics, New Delhi. Manoj has 8 years of experience in dealing with home electronics products. Manoj is a freelance writer and share his knowledge at IndiasStuffs.com