Do you want a generator for multipurpose use like recreation, home backup, events, small businesses and more? Well, a 5 kVA generator would be more than enough for your needs. The smaller size and the good amount of electricity production are the things that make 5kVA generators stand out as compared to others. With such a generator, you can definitely rely on it during a power failure, especially if you have a small house. And for small business use, a 5kVA generator is a perfect choice. Just go with a silent option and you'll be good.
But as expected, when you look for the best 5kVA generator, you'll be overwhelmed by the number of options available on the market. This makes it extremely hard for someone who doesn't know much about generators to make an informed decision. And to save you from that hassle, we have decided to compile this list of the best 5kVA generators in India, so you don't need to look at dozens of them. Apart from that, we also have a detailed buying guide listed below to help you find a 5kVA generator on your own. So let's get going, and find the best power generator as per your needs.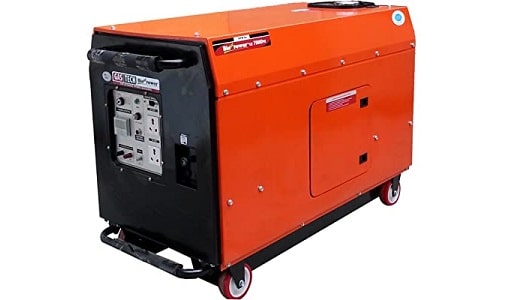 List of Best 5kva Generator In India
How to Chosse the Best 5kVA Generator?

Here are some factors you should never overlook when buying a 5kVA generator in India.
Use Case
Before you even head to the market, you need to decide for what purposes you're going to use this generator, and also, would the 5kVA be sufficient? Well, it can be used as a backup generator for small homes and businesses. Along with that, if you want a power generator for construction use, like if you want to use some construction tools like drills, then it would be a great option to consider. So yeah, if you've got any similar use case, then you definitely should always go with 5kVA generators.
Fuel Type
When it comes to fuel type, you can find generators that run on petrol, diesel, CNG, PNG, solar-powered and some are hybrid as well. Usually, we recommend choosing hybrid options over others. This way, you can get some flexibility in terms of fuel use. When it comes to the fuel cost, then diesel generators definitely top the list because of the lower cost as well as the lower flammability.
Silent or Not?
For home and business use, if you're buying a noisy generator, then it's hard to consider it a good purchase decision. It's because it may not seem like a huge issue, but when you have it at your home or business, you won't be able to ignore the noise. Therefore, we always suggest soundproof generators, and if that costs you a little more, then at least you should go with a well-built and compact generator that will make less noise as compared to normal ones. In our list of top 5kVA generators, we have added some options that don't make that much noise, so you would want to consider them.
Maintenance
More maintenance means higher maintenance costs, and that's not a good thing if you're going for a 5kVA generator. We always suggest that you always go with low-maintenance options. Of course, it would cost you a little more, but you don't need to take care of it that much. Just put in some fuel and you'll be good to go.
Portability Features
A smaller generator like 5kVA is always a portable option. But if you are going to buy one, then you should look at a few more options. Why? Well, it's better to have a 5kVA generator with a compact body, lightweight and some wheels on the base, so you can take it or place it anywhere you want. In our top picks, we have made sure to add the highly portable options, take a look at the list so you don't need to wander around the market.
Guarantee And Warranty
First of all, don't buy things like generators from unauthentic sellers. It's always good to go with reliable brands. It's because these power generators tend to break down sometimes, and when it happens you would want to get it fixed by the manufacturer if it's in the warranty or guarantee period. In our list of generators, we have included some options with warranties and guarantees, so consider taking a look at those generators.
Manoj Kumar, is a Service Manager at Rakesh Electronics, New Delhi. Manoj has 8 years of experience in dealing with home electronics products. Manoj is a freelance writer and share his knowledge at IndiasStuffs.com