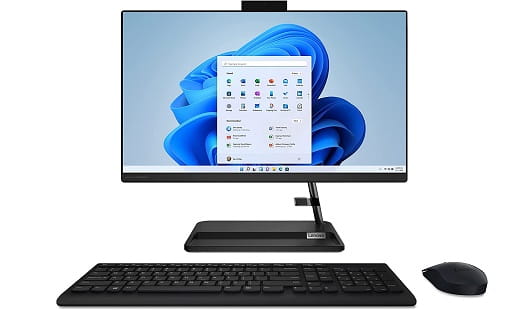 If you're the type of person who just wants a clean PC setup and doesn't want to deal with choosing various PC parts on your own, then for sure, All In One Desktops are the perfect fit for you. Just think about it. When building a PC, you need to choose the parts with the right specifications as per your requirements. And when looking for PC parts on the market, you'll realize there are probably thousands of options to choose from.
And if somehow you're able to build a good PC, then you'll have a hard time setting it up if your focus is to achieve a neat and clean setup since there are so many components, such as the CPU box, monitor, keyboard, mouse, speakers, and a bunch of wires. And if you don't want this much clutter on your work desk, then AIO (All In One) PCs or Desktops are the way to go. To assist you in selecting the best AIO desktop, we have compiled a detailed list of the Best All-In-One (AIO) Desktops in India. Apart from that, if you're buying such a desktop from the offline market, then there will be a buying guide to help you make the right decision.

How To Choose The Best All In One Desktop in India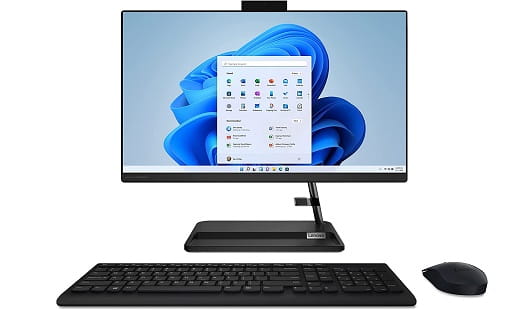 By keeping an eye on the specifications of various AIO desktops, you can get an idea of what might be a good fit for your needs.
Processor And GPU
The processor is the heart of a computer, and there's no doubt about that, so if you underestimate the importance of the processor when buying an AIO desktop, you'll more likely end up buying a worthless one. If you have a clear understanding of what purpose you're going to use this desktop for, then you'll be able to determine what would be the best processor for your work. Similarly, if you're going to perform tasks such as video editing, photo editing, and 3D modeling, then your desktop must have a good GPU inbuilt. In our opinion, don't ever buy an AIO desktop without a GPU inbuilt, even for regular usage.
RAM
When browsing through so many AIO desktop options, you'll notice that some models still have 4GB of RAM. And if you want a good experience with your desktop and don't want it to lag anywhere while performing heavy tasks, then make sure to go with at least the 8GB RAM option. Keep in mind that 8GB of RAM must be the minimum, and it's always good if you can afford a higher RAM variant.
Display Panel Type and Size
AIO desktops are popular all over the world because they're perfect for regular use and also an incredible option for content consumption. No matter if it's about reading documents or watching movies on your desktop, the display plays a huge role in improving your experience with your desktop computer. In this modern time, you should consider a crisp, bright, and color-accurate display. It would be an excellent choice if you purchased a desktop with at least 1080p resolution or higher, a 22-inch size or larger, and an IPS panel. However, some other display panel types are available, such as VA, TN, etc. But IPS displays are the best value for money, and for content consumption, you'll have a great experience watching movies and TV shows on them. In our opinion, when buying an AIO desktop, you shouldn't compromise on the display department.
Quality Of Peripherals
You'll interact with an AIO desktop's screen, keyboard, and mouse on a regular basis. If your desktop peripherals, such as the keyboard and mouse, aren't good quality, it'll be quite noticeable to you every day when working on your desktop computer. And one more thing, it's always better to choose a desktop with a comparatively silent mouse and keyboard.
Connectivity
This is the thing that is not as important as others in this buying guide, but still, the connectivity of your desktop should be up to the mark. A decent AIO desktop comes with in-built Wi-Fi (go for the latest version), 1 or 2 HDMI ports, 2 or more USB ports, a USB Type-C port, a 3.5mm jack, and if possible, a thunderbolt port option.
Satyakam Pradhan is an Independent Computer Networking Professional from Cuttack, Odisha, India. Satyakam completed his graduation from Bhubanananda Orissa School Of Engineering. He regularly writes topics about technology, gadgets and computer for IndiasStuffs.com