In India, a lot of people are working from home. Almost everyone is dependent on a PC or a Laptop for their work. Most of the offices have a docking station for the laptops, which helps you in having an advantage of a dual-screen setup for your work. This setup is usually not possible at home, and it causes you to compromise on productivity. The easy way to maintain productivity is by buying a PC monitor. This monitor can not only be connected to your Personal Computer buy you can also connect it to your laptop.
Today, the monitors are not bulky like the CRT monitors used to be. LCD and LED monitors are very compact. You can find the right product in less than Rs. 5000, and it will also enable you to maximize your productivity. If you have a PC at home, then the monitor will also help the children to work on the laptops with ease. The only problem is that a lot of knock-off products are available in the market, and this is usually a risky purchase. We have an easy way out for you. We have listed some of the best monitors that are available in India, and we have tried and tested them all for you.
So, jump on to the next section, and check out what we have for you.
Best Buy Computer Monitor Online In India
In this section, you will find the top 10 best monitors that you can buy below Rs 5000. We have covered various brands instead of restricted to products from a specific set of brands. We also have a lot of Indian brands on the list. So, go ahead, and check out the monitors that can make your life easy.
1. Dell D1918H 18.5-inch LCD Monitor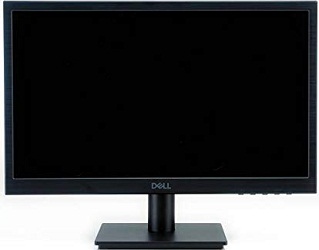 Dell is quite a famous brand in India, and the credit goes to the customer service offered by the brand. It is available with a three year long warranty, and it provides a viewing angle range of 90 degrees. Most of the monitors have only one kind of port, but the advantage of buying this monitor is that it comes with an HDMI and a VGA port. Apart from this, the screen has an anti-glare film, which enhances the experience for you. You do not experience any kind of lag, as this monitor has a response time of 5ms. There is a combo pack available from Dell that comes with a Mouse and Keyboard. You can choose that combo pack, or you can buy a standalone monitor. Overall, it is the most reliable choice that you can make.
Pros
It comes with a three year warranty.
The display offers a comfortable flicker-free experience.
The screen has a VGA port and HDMI Port.
Cons
The monitor is slightly expensive.
2. Acer 18.5 inch Monitor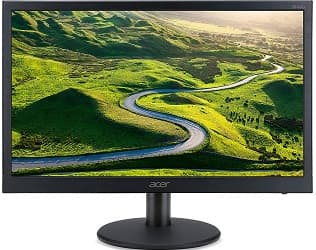 Another reliable brand in the Indian market is Acer. This screen has a TN Panel, and it features LED Backlit technology. The images on the screen are very crisp, and it also offers an extraordinarily comfortable viewing experience to the users. What makes it different is the ability to tilt the screen. The vertical viewing angle of this screen is 65 degrees. The display is made of environmentally friendly technology, and it is also free of mercury. The screen of the monitor doesn't flicker, and it helps in ensuring that your eyes are not strained. With an excellent resolution, this monitor can help you as it can be connected to the PC or even the laptop.Overall, it is going to be an excellent choice if you like Acer.
Pros
The monitor can be tilted to adjust the viewing angle.
Acer offers a three year warranty on the LED monitor.
It is available in 4 different sizes – 18.5 inches, 19.5 inches, 21.5 inches & 23.8 inches.
Cons
3. Micromax 54.61 cm MM215FH76 Monitor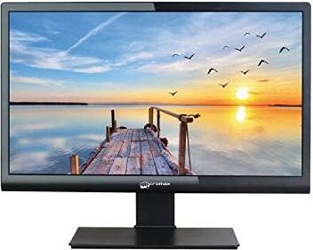 If you prefer an Indian brand, then you can also buy a monitor from Micromax. It is also a reliable brand, and the products have around in India for a long time. The display is significant, and it has a 21.5-inch screen size. The response time is a lot faster, and it supports a dedicated Game mode. If you wish to use it with the laptop, then you will be glad to know that this display can even be mounted on the wall. The resolution is the best until now, and it also has a flicker-free technology. Most of the phones these days have a low blue light technology to reduce the strain on the eyes. You will be happy to know that even this display has such a feature for you.
Pros
It has a full HD resolution of 1080 P, and it also supports game mode.
The monitor can be mounted on the wall.
The screen also has low blue right technology that can help you while working late at night.
Cons
Some people do not like the quality of the monitor.
4. Zebronics 18.5 Inches Monitor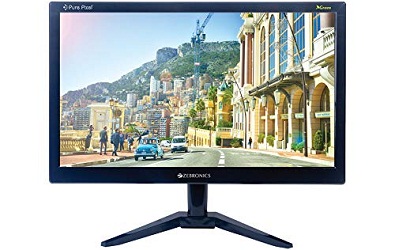 Zebronics entered the Indian market with computer accessories, and in recent times it also started manufacturing the monitors. If you are looking for something very affordable, then you can buy this monitor from Zebronics. Another advantage of buying this monitor is that it is a LED monitor, and it has a resolution of 1366 x 768. The viewing angle can be adjusted by bending the screen vertically. Apart from this, it also has a very slim design. The bezel of this monitor is very glossy, and that makes the monitor look very attractive. You can save the space on your desk by mounting the monitor on the wall. Overall, the monitor has an impressive configuration, and it is available at an affordable price. You can check out more details by clicking on the product link.
Pros
This monitor comes with a one year warranty.
It is very affordable, and it is also available in a combo pack.
The monitor can be mounted on the wall.
Cons
5. LG 19-inch HD Ready Monitor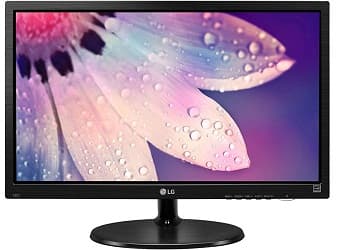 A lot of people prefer good brands for the monitor. If you are among that set of people, then you must check out this monitor from LG. It is a 19 inches monitor that comes with HD display technology. The resolution of this monitor is 1366 x 768. It also supports the auto resolution, and it has a colour depth of 16.9 M colours. Smart energy-saving mode helps you in keeping the power bills in check, and the screen can also work in 4 split-screen modes. The monitor supports only VGA input, and we feel that it is a drawback. If you do not have a VGA port on your laptop, then you can also use an HDMI to CGA convertor.
Pros
The quality of this monitor from LG is very reliable.
The monitor offers a high level of customization, and it also has a better colour vision.
LG offers one year warranty on the monitor.
Cons
It is slightly expensive than other models on the list.
6. Adcom 15.4 inch LED Wide Screen Desktop Monitor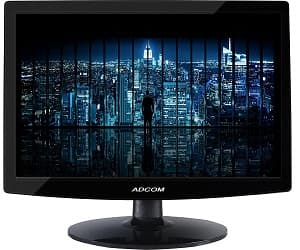 At number 6, we have a monitor from Adcom, and this is the most affordable option on the list. It has a size of 15.4 inches, but it is enough for you to work. The monitor comes with a Smart eco mode, and it helps in saving the electricity. The display resolution of this monitor is 1280 x 800. The screen has a minimalistic design, but there is no compromise on the features. The display is bright, and it also has a dynamic contrast ratio. This monitor is also HD ready, and you can connect the HDMI input to the monitor. It can be a good purchase if you plan to use the monitor as a second screen for the laptop.
Pros
Adcom offers one year warranty on the monitor, and it is the most affordable monitor in the list.
You can connect it via VGA input as well as HDMI input.
The monitor has extended viewing angles of 170 degrees horizontal & 160 degrees vertical.
Cons
Nothing specific that we could find.
7. Lenovo 18.5-inch HD Monitor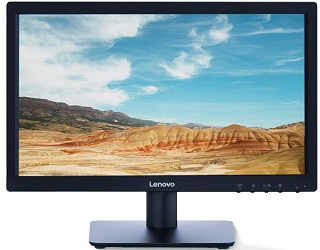 At number 7, we are going to talk about a monitor from Lenovo. It is an 18.5-inch monitor, and it also has a TUV Blue Light Certification. This feature ensures that the eyes are not strained much. Apart from this, the monitor has an HDMI, as well as a VGA port. The advantage of these two ports is that it offers versatility to the user. Another feature that you will like is the ability to mount it on the wall. This monitoris ideal for small offices as well as students. You must check out this monitor in detail, and we are sure going to like the utility it offers you.
Pros
Lenovo offers a one year warranty on the monitor.
Two input options available are HDMI & VGA. The monitor can also be mounted on the wall.
The brand has a good reputation in the Indian market.
Cons
Nothing that we could notice.
8. Compaq B191 18.5-inch LED Monitor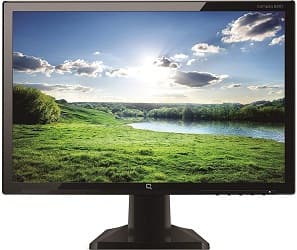 Compaq is another brand that has been in India for a long time. This monitor from Compaq is for the people who prefer an extended warranty on the products. You heard it right; this monitor comes with a three year warranty. It is a Full HD monitor with a screen size of 18.5 inches. In addition to this, the monitor. It should be noted that the monitor uses LED-backlit technology. Apart from this, the monitor supports VGA connectivity only. You can connect it to PC and Laptops with the VGA port, but if your laptop doesn't have a VGA port, then you might want to purchase an HDMI to VGA adapter as well. Lastly, the display is mercury free, and it offers a safe user experience to you.
Pros
The monitor can be mounted on the wall.
The brand offers a three year long warranty on this LED Backlit Monitor.
It is a lightweight product with a total weight of 1.98 Kg.
Cons
9. Aopen by Acer 19CX1Q 18.5-inch LED Monitor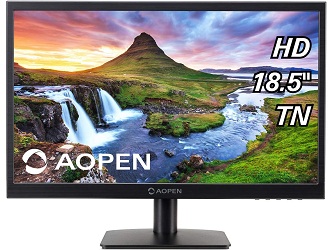 Aopen is a subsidiary of Acer, and hence a lot of people even buy monitors from this brand. This monitor has a resolution of 1366 x 768, and it comes with VGA connectivity. The screen has a high brightness of 200 nits, and it operates at a refresh rate of 60 Hz. The monitor is also compatible with VESA port, so if you want higher flexibility in your office, then you can install it along with the VESA port. The blue light shield technology reduces the blue light output, and hence it reduces the amount of strain on your eyes. With the support for HD resolution, it becomes theright choice for the people who are looking for a monitor that offers high performance.
Pros
Aopen offers a three year warranty on this monitor.
The screen of this monitor doesn't flicker.
The monitor comes with Blue Light Shield TM Technology.
Cons
The price is slightly at the higher side.
10. Philips 193V5LHSB2 18.5-inch LCD Monitor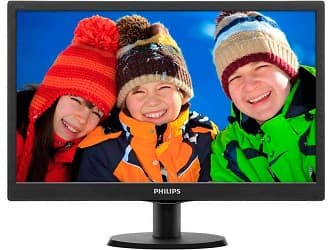 Philips is a brand that is known for its quality products. You can also buy a monitor from Philips, and this is also the last product on our list. The monitor uses LED technology for vivid colours, and it also has smart contrast settings to offer a rich experience to the user. The display tunes itself to provide you with the best output. One necessary feature present in this monitor is the HDMI connectivity. Overall, the design of the monitor is compact, and it helps you in saving space. You can even use a VESA mount to add flexibility to the display. You can buy this monitor if you are looking for a product that offers you great value for money.
Pros
The monitor comes with mercury free display, and it is an eco-friendly product.
It is compatible with the HDMI port, and it can be used with VESA mount.
Philips offers one year warranty on this monitor.
Cons
How to Buy Best PC Monitor in India
In the current situation, since most people are working from home, monitors have become a need for many. But buying a PC monitor might be difficult due to the number of options available in the market. However, in this detailed buying guide, we are going to list some important factors that will let you select the right monitor for your PC.
Many people may need an additional monitor with a bigger screen to work more conveniently. So, it is an essential point to look for while buying a monitor for your PC. You can find monitors with screen sizes from 15 inches to 27 inches or more. So, make sure to check your requirements and choose the right size screen for you. In general, medium-size screens are the best option for working.
While considering the screen resolution, you will need to understand the pixels. These are small dots that come together to form an image. So, if the pixel number is more, the image quality will be better. Undoubtedly, you will want to select a higher screen resolution to have a better experience. But before doing that, you need to check whether your PC has a powerful graphics card or not. If the graphics card has the processing power to manage a high-resolution screen, you can go for it.
There are different kinds of screen resolution available for PC monitors, and those are HD (1280 x 720P), FHD (1920 x 1080P), WUXGA (1920 x 1200P), 2K (2560 x 1440P), 4K (3840 x 2160P), and 5K (5120 x 2880P). You can check your needs and select the resolution accordingly.
Brightness is also an important factor to consider for getting a better experience. Usually, too low or high brightness is not ideal for eyes. So you can choose a monitor with a normal brightness level for an excellent performance. But those who are looking for HDR compatible PC monitors can opt for high brightness levels to meet their needs.
The design of the monitor allows users to use the product conveniently. So you can consider the PC monitors that come with a user-friendly design to ensure ease of use. Moreover, it should have easy to use controls and a firm stand to let you use it comfortably. Some PC monitors also come with rotating stands that are more convenient to use.
The next factor that you need to look for is the refresh rate, which defines how the monitor updates the data every second. If the refresh rate is higher, it will load the images quickly and smoothly. The typical refresh rate to select is 60 Hz. However, for higher needs like gaming, you can go for 120 Hz to 144Hz.
You can also consider the connectivity ports of the PC monitor to make sure it meets your needs. Before, PC monitors were used to coming with VGA ports for connectivity, but today they include HDMI, USB-C, and Display Ports for connectivity.
HDMI 1.4 and 2.0 are ideal for supporting running a 4K display and a 60 Hz refresh rate screen, respectively. The PC monitors that come with Display Port 1.4 are capable of handling 8k resolution at 60 Hz and 4K resolution at 200 Hz. Although USB-C ports also handle 4K resolution, they are not efficient compared to Display Port.
Final Verdict
While buying the monitor, pay attention to some of the factors that would matter the most. For example, look at the screen size, and look at the technology used by the display. Usually, the LED displays are more durable than LCD ones. Apart from this, you can also check out the type of connector that comes with the monitor. You may want to buy something that comes with an HDMI port, as it is the standard choice of the people today. If you have any more confusion about the buying guidelines, then you may contact us, and we are going to help you in resolving your ambiguity.
For checking out more details of the product, you can visit the links associated with them, and let us know which monitor did you like the most.
Santosh Kumar, He is a SEO + Blogger have 12 years of experience in writing tutorial, informative and product reviews topics.