Keeping a dog's fur clean and shiny last for long can be slightly difficult, especially when you're not experienced or do not know how to groom a dog. Grooming is more about giving an appropriate shampoo, spreading essential oil throughout the coat, removing stray hair, using cleaning products to remove dirt, or brushing the fur, it also involves a massage process to make the coat shiny.
While it may seem bothersome to brush your pet regularly, regular brushing can help prevent the growth of mats and tangles in the coat, almost every pet owner can understand mat in a dog just how painful condition it is and how it can lead to health concerns like skin irritation or infection, even parasites or other health problems.
Grooming brushes ensure that you will be able to care for the dog, keeping the coat attractive and healthy, removing tangles and mats, preventing hair from sticking to furnishings or clothing, and stimulating the hair with natural oils. While shopping for a grooming brush, there are plentiful options out there in the market.
Remember, the breeds of dogs are different, and at times grooming can be harmful to some of them. For instance: it would be a poor idea to groom a poodle with a brush crafted for a German Shepherd dog. Let's check out some of the best grooming brushes for your pet.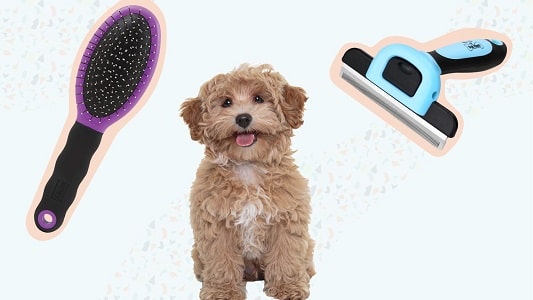 List of Dog Grooming Brushes
How to Choose the Best Dog Grooming Brushes?
Because depending on genetics, different dog breeds have different coat types and maintenance needs. Therefore, when shopping for a grooming brush, you should consider the type of coat your dog has. Not only for grooming, consider the type of dog coat when purchasing a rubber, slicker, pin, or rubber brush. Dogs with curly coats or medium to long hair may opt for a slicker brush and dogs with shorter hair may opt for a rubber brush. The use of a de-matting rake and an undercoat rake can benefit a dog with a double, thicker, and coarse coat.
Shedding combs and undercoat rakes can reduce your pet's shedding by up to 90 %. A slicker or bristle brush can be effective for eliminating loose hair from a dog with minimal shed. Some of the common types include long hair, smooth coats, curly hair, design, and double coats. When it comes to grooming brushes for any breed of dog, ensure the product you choose has a simple design. You should consider a model that offers a strong grip and a slim appearance.
Brushes for dog grooming are divided into four types such as bristles, pin brushes, slicker brushes, and rakes.
1. Bristle brushes
These brushes are crafted thoughtfully to eliminate dead undercoats and mats from a dog having thick hair. The bristles of brushes don't cause harm to the shiny outer layers. They often possess one or two rows of narrowly spaced pins and are similar to shavers. While using it, you may feel it works like a razor with minimal pressure.
2. Slicker brushes
Slicker brushes have short, fine strands that are closely spaced on a level base. They are ideal for dogs with curly hair or medium-length hair. You are advised to spend on a slicker brush that has a bendable handle and right-sized bristles. These brushes are considered the best for easy grooming.
3. Pin brushes
There is a similarity between brushes and pin brushes. Pin brushes have a haphazard arrangement of blending wires attached with pins and often have oval shapes. Considered the less effective type of grooming brush and is also famous among all. They are effective for brushing stray hair before it gets on your furniture. Plus, they are ideal for fluffing and finishing a brushed coat. In the last process of grooming, pin brushes help a lot.
4. Rakes brushes
These are one of the special types of brushes designed to remove dead undercoats and mats from the deeper layers of the skin. They typically feature a shaving blade and have a double or single row of closely-spaced pins. Like a razor, they require very minimal pressure on the hands.
Be sure to choose a quality brush that will last a long time. Unlike high-quality beauty accessories, cheap ones won't last long.
Related Topics:
Santosh Kumar, He is a SEO + Blogger have 12 years of experience in writing tutorial, informative and product reviews topics.