Weddings of your sisters are often an emotional rollercoaster ride. You go through so many mixed feelings, seeing your sister get married and bid adieu to your parental home. Add to that the loads of responsibilities you have to handle being the brother in your sister's wedding. It's a lot to handle.
But among these feelings, there's also an urgency to dress yourself in the right manner for your sister's wedding. You can't dress up in just normal attire because it's not any normal day but the marriage of your loved sister. So, we thought about what dresses would suit a brother in his sister's marriage. Thankfully, there are tons of options in the market and we'll list them out for you down below. Read along.
7 Best Dress for a Brother to Wear at Sister's Wedding
1. Jodhpuri Suits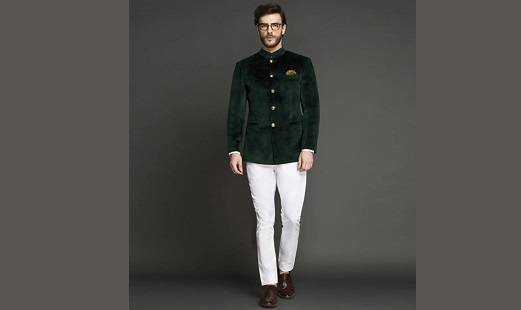 Jodhpuri suits are special and a very classic pick that goes well with weddings all around. It comes with an Indo-Western touch and has a closed-neck jacket that suits the overall tailoring and design. With high collars and a variety of fabric options to choose from, these can be your fantastic pick for the wedding. You can further select from embellished buttons or colored ones to go with. Just add a floral pocket square and off you go.
2. Sherwani
Sherwani is the most common type of ethnic wear preferred by men for any festive and wedding events. They are classic, and simple and yet have been the best of the lot for ages. You can experiment with your sherwani and use various dark-hued fabrics for a timeless look. You can add the closed-neck design and even go with a minimal plain kurta and a traditional dhoti to accentuate the overall look.
3. Nehru Jackets with Kurta
Another gem of a pick, Nehru jackets with your kurta can be one of the best options. You can pick Nehru jackets in a dark hue color and pair it with a light-colored kurta which will fit the overall attire look and give a perfect combination of color and style. You can opt for a similar shade of pajama as the kurta or can play around with the pajama color as per your choice. This combination is widely used in weddings these days and has become quite a trend.
4. Asymmetric Kurta
An asymmetric kurta combined with pajamas is the flavor of the season and is surely being picked by many guys to wear. You can use a draped asymmetric kurta along with pajamas to give a vibrant look. The asymmetric part allows for a trendy design and if you add a drape over it, that brings a classic modern look that will certainly earn you tons of plaudits.
5. Kurta and Patiala Pant
Patiala is always in the trend, isn't it? Whether it's for the suits for girls or guys, Patiala is the flavor of the event. For guys, getting a kurta with matching Patiala pants will bring a coherent look that will accentuate your overall feel. You can use a pastel or light shade of kurta to match along and add a printed stole to go with it for a complete Bollywood look that will bring the eyeballs.
6. Manarkalis
Manarkalis are the ultra fashion take on the wedding dress for men and have certainly become one of the preferred ones around. It provides a royal look while adhering to maximum comfort levels. The dress can be paired with a Nehru Jacket on top to add to the vibe. You can add a white churidar with a solid color-based Manarkali to bring a wholesome look to your wedding event dress.
7. Tuxedo
When nothing comes to mind, the safest and evergreen option is Tuxedo. It is the epitome ofa classical dress that stands the test of time and gives you a perfect gentlemanly look. Pick something like a classic tuxedo look with printed bowties, cufflinks, and more. The color tone for the tuxedo can be your normal classic or if you want, a modern partially floral kind which is getting quite trendy.
Final Words
There are a lot of dresses that men can wear for a wedding event as aforementioned above. But that's not all, you can even try additional picks like Angrakha Kurtas or short kurtas if those are your things. Go with the flow and pick the ones that accentuate your look and have a blast in the wedding with your graceful look.
Santosh Kumar, He is a SEO + Blogger have 12 years of experience in writing tutorial, informative and product reviews topics.