A bride begins her wedding preparations with the selection of her tilak Ceremony attire. You've come to the correct place if you're seeking for suggestions on what to wear on your tilak ceremony.
Let's be honest: Indian weddings are exhausting, but the best part is the love-showering ceremonies, the traditional customs, the getting dressed up for even the smallest function decorating, and the gorging-on-some-lip-smacking-delicious-food.
Even if it refers to changing up your look for specific events, because let's face it: we all enjoy a good costume change.
However, before we get to the haldi ceremony, the mehendi ceremony, or anything else, there is this one incredibly crucial event that takes place, and marks the beginning of a huge fat (or a basic and elegant) wedding ceremony extravaganza, and that is the tilak ritual.
Saree gowns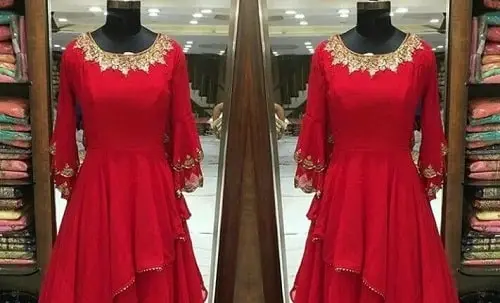 The saree is an elegant traditional Indian dress, but not all women feel confident wearing it. After all, it's your big day, and you don't want to be constantly holding onto your pallu. And if, despite all that, you still want to wear a saree, elegant saree gowns are the way to go. Pinning and pleating are not an issue. They are both practical and fashionable.
Lehenga
Everyone's favorite Indian dress is the lehenga. It come in a dizzying array of styles. If you don't want to choose a lehenga that's excessively flashy or cumbersome, wear a lehenga of a pastel hue. For your tilak event, light-colored lehengas with minimal embellishment would be ideal.
Floor length anarkali
The anarkali dress is a style that has been popular for a long time. These Indo-Western anarkali dresses are stunning. These are a great option for the tilak ceremony.  Choose a light dupatta in a pastel color palette or one with a floral print.
Gowns with capes
These days, everyone is wearing capes. Why not wear both the gown and the cape you've always wanted to wear on your tilak? A gown with a cape is an acceptable alternative. They've really stepped up their style game and become quite hip. Choose dresses that may be worn again and again by purchasing one with a removable cape.
Anarkali lehenga
An elegant option for an tilak gown is a floor-length front-slit anarkali paired with a contrasting lehenga. It's the newest thing for the wedding season, and it's perfect for you. So many lovely patterns await your selection. Wear some fancy jewelry and make a traditional hairstyle.
Lehenga with dupatta attached
These are cutting edge and trendy in the industry. The lehenga with the connected dupatta is lightweight, easy to wear, and fashionable. You may rest assured that you and your fiance will be the center of attention during your tilak party.
Traditional saree
Is there anything more stunning than an Indian woman in a saree? To put it plainly, the reply is NO. When a woman dresses in the traditional saree, she is at her most stunning. It captures India's natural charm. Numerous styles are available for your selection. The saree will always be in style. When in doubt, the saree approach is the way to go.
Boho traditional dresses
The current fashion trend is for bohemian or eccentric clothing. The bride can be decked in a lehenga that features a rainbow of hues and designs. The ensemble is supposed to look like it was pieced together from leftover cloth and embellished with gold zari. The costume will burst with life because of the use of so many different colors. Specifics in Latkan can be included.
Bright color attires
Do you like to choose for the most out-there yet cheery hues whenever possible? With all the glittering embroidery and sequins, the lime yellow number is equally at home in a daytime or evening occasion.
You can go for lehenga blouse that has unusually shaped cut-outs that resemble leaves at the bottom with a provocative dupatta! The lehenga can have a wonderful belt-like structure at the top of the skirt.
Conclusion
There is no other part of the wedding more significant than the tilak ceremony. Every event is the bride's chance to shine as the center of attention. Keep your style in check because all eyes will be on the bride.
Santosh Kumar, He is a SEO + Blogger have 12 years of experience in writing tutorial, informative and product reviews topics.