Trekking & hiking have risen to the top of the list of favorite outdoor activities for individuals trapped inside with no way out. If you're feeling down, get outside, soak up some rays, and get your blood pumping.
But you should plan your trekking dress if you want to make stylish instagrammable reels along the way! There are a plethora of casual and athletic options for trekking dresses, allowing you to find the perfect look for your on-foot adventure. Consider the below-mentioned list of dresses for trekking while making your clothing selection for your trek:
Best Dress For Trekking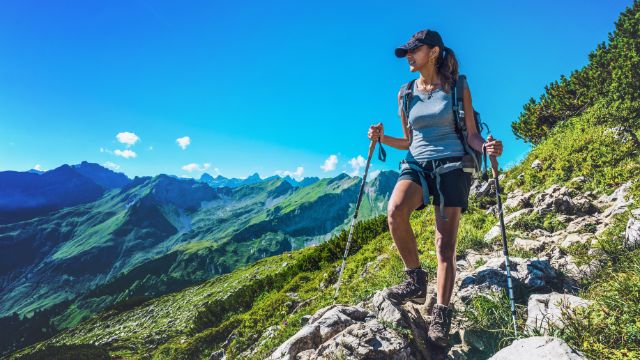 Innerwear
After countless miles on the trail, we've realized that the layer you wear next to your skin could have a profound effect. When it involves safeguarding our most prized possessions, cotton simply won't do. The best materials for women's hiking clothes are those that drain moisture from your body, such as polyester, nylon, & merino wool.
Shirts
This layer is best described by the phrase "wicking." Whether it's a base layer for a chilly winter hike, a short-sleeved shirt for the spring, and a long-sleeve UPF-protected shirt for the summer, it needs to wick sweat away to keep you cozy and dry. Merino wool & synthetic textiles are ideal for this layer. Whether you shop online or in-store, you can easily get trekking apparel in India.
Bottoms
Whether you're looking for jeans, shorts, dresses, or something else, while packing for a trek, it's important to have clothes that allow you to move freely and dry quickly. The optimal length and thickness of bottoms are heavily influenced by environmental factors (such as parasites, poison ivy, & sharp pebbles).
 In this case, the best leggings might be useful on a track that requires some rock scrambling. A pair of flimsy yoga pants might not make it through a day of hiking, but walking through tall grass might call for long pants to protect against unwanted visitors.
Socks
If you want to avoid appearing like a broken record, steer clear of cotton socks. As cotton readily soaks up perspiration, you run the risk of your feet becoming damp during the trip. This could lead to severe blisters, ruining your walk.
Jackets
Whether or not you'll be hiking will largely dictate what kind of jacket you wear. Women's hiking gear A good rule of thumb is to select a windproof and waterproof jacket that can be easily packed away. This means that you can feel comfortable wearing the jacket no matter what the weather throws at you as you stroll.
Monsoon trekking outfits
During the monsoon period, rain is expected and one must be prepared for all times. When it rains, your clothes may stick to your skin and become less breathable. When it comes to hiking garb, synthetic, full-body covering garments are the way to go.
 It is highly recommended that you wear non-cotton T-shirts and pants. Traction and lugs on your shoes are essential.  Trail runners are another option for hikers because they dry more rapidly than leather boots and protect feet from blisters.
Summer trekking outfits
Light, loose clothing is ideal for hiking in the summer. In addition, there is a wide variety of options when it comes to women's trekking apparel, such as the fact that lighter colors retain less heat than darker ones.
Wool, polyester, & nylon are great fabrics for summer hiking since they dry fast and absorb sweat. Dermatitis is a skin condition that causes irritation, itching, and sometimes blistering, especially in the armpits. These moisture-wicking fabrics can help prevent this. When the temperature is not too high, different fabrics besides wool can be worn on a hike.
Winter trekking outfits
When going outside in the winter, experts recommend dressing in layers like an onion. Insulation and comfort can be achieved by recapturing your body's lost heat.
 Putting on extra layers of clothing can help you keep your body warm in the winter. Whether you're feeling warm or chilly, you may easily adjust your outfit by adding or shedding layers.
Conclusion
You should have a blast and really live in the moment when out trekking. Follow the above-mentioned clothing ideas and don't ruin it by showing up in inappropriate attire.
Santosh Kumar, He is a SEO + Blogger have 12 years of experience in writing tutorial, informative and product reviews topics.