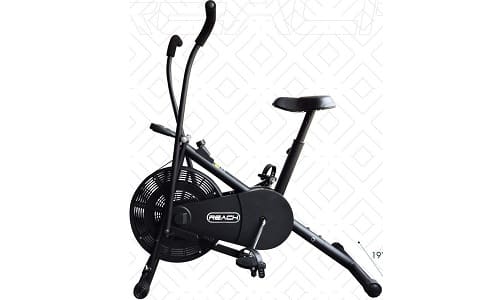 Cycling machines for weight loss are one of the best gym equipments to keep at your home. It boosts your physical activity. When an exercise bike is available in your home, you get to see it every day. You simply can't ignore it. Affording an exercise bike has become very easy nowadays. They are available online in a feasible price range. If you are a chubby person and looking for an effective exercise to shed some fat, then you should consider getting a stationary bike for yourself. If you can't hit the gym every day, why not to bring the gym to your home? These bikes can do wonders to your body. You need to be regular to get a good result.
Indians have the proclivity to gulp more processed and oily food. Our diet consists of a substantial amount of fat and carbohydrate. This is the primary reason why people in India accommodate a large amount of adipose tissue from a very small age. Our dietary habits are very stubborn and nearly impossible to get rid of.
When we consume fat-filled food, carbonated drinks, and junkies; our body's metabolic processes and enzymes required for such processes are hampered. Indians are so habitual to this kind of food that they simply cannot give up on it. Then what is the option left with us?
Exercise is the only option that can keep you fit, even if you don't prefer to give up on your daily meals. Cardio exercises are the best for people of the beginner level. This also works in the case of pro gym addicts. The most preferable equipment for cardio is an exercise bike.
The stationary exercise bikes to lose weight are very beneficial for burning calories. These bikes work best for people who miss to follow proper diet plans by burning fat. This builds up the strength and stamina of a person's body. These bikes have also shown an effect on lowering the cholesterol and TGA levels of the body. Utilizing half to one hour on the bike 6 days a week boosts your immunity level and detoxifies your body.
In recent days the use of exercise bikes has shown a tremendous rise. This is because of the aids provided by this equipment. It does not only target any single part of your body like other equipments; it is multifunctional. What is the need to hire a personal trainer if you can have your gym at home?
There are several more reasons to consider an exercise bike. It focuses on low impact workout. You get to sit while working. Comfort and body strengthening go hand in hand. It is best for the cardiorespiratory system. You can also burn leg and belly fat. Out of all, it is the best and safest option as riding a dynamic cycle makes you prone to accidental injuries. There is no such point to be worried about a stationary exercise bike.
People usually don't have time to warm up before the gym due to their busy schedules. There is no need for external warm up. By setting the low resistance modes on the paddle you can easily do warm up on it. You can do multitasking while using this bike. Like watching TV and checking the phone. Unlike other exercises, you don't feel the need to get a perfect gym gear for this. All you need to do is to hop on and get started!
Best Buy Exercise Cycles Online In India
Without any more delay, let us look at the top 10 best exercise cycles in India.
1. Reach Air Bike Exercise Cycle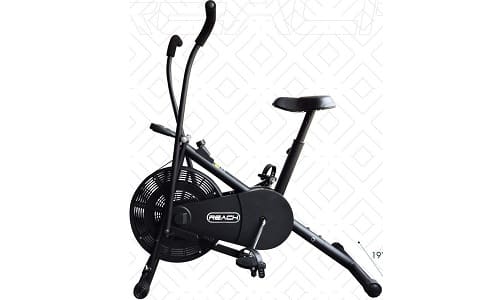 Reach air bikes have scored the first rank in the category of exercise bikes. This is exclusively designed to make your lifestyle healthier. It increases your fitness level within a few weeks of proper use. This bike is entirely versatile. Thinking of cycling exercises, we can only assume a lower body workout. But, in fact, it focuses on the abs and arms too. Hail the ergonomic design of this cycle! But it has some limitations. It can bear maximum weight up to 100kgs. It can monitor distance, time, speed, and calories. Moving handles ensure cross-training that helps in firming your arms. It is very easy to access. The LCD screen provided in the front panel monitors various entities listed above. The machine builds a high level of endurance, along with comfort. The seats are padded to avoid any discomfort while paddling. Handles are layered with cushion to eliminate unwanted gym rash. This also decreases the risk of stiffness, strains, and muscle aches. The pedal is built with a strap in it. This will keep your feet in position and protect you from injuries. The belt-driven resistance system is one of the best features as it builds up the strength and allows you to warm up.
What we liked:
Top-ranked among the category of workout cycle
Comfortable seats and handles
Paddles fitted with belts
Made with the belt-driven resistance system
Designed for a full-body workout
Easy to install
What we didn't like:
Few customers have complained of scratches in machine
It becomes noisy after getting old
2. Powermax Fitness BU-200 Upright Bike/Exercise Bike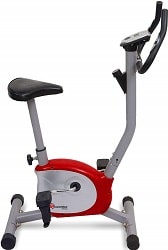 This bike from Powermax is one of the most preferred equipment by Indian people. It fulfills all the prerequisites of a home gym bike. This bike is perfect for a home workout. This captivating bike is an excellent way to get in shape. It comes with a sturdy design. The silent and smooth running belt system grants you an easy workout without disturbing others. This equipment comes with a monitor that is placed in an easily identifiable position. The monitor enables you to quantify distance peregrinated, haste, and time and keeps the count of the calories burned in every session. This is the best way to perform low impact aerobic workout. The stylish and easy to go bike with cushioned seat makes the exercise session less tiring for you. It requires a very small space to accommodate itself. It comes with a limited warranty of one year.
What we liked:
LCD is perfectly built to asses the workout pattern
Adjustable seat and handle
The ergonomic and sturdy design is perfect for small areas
Makes less noise and functions more
Installation services are provided all over the country
What we didn't like:
The resistance provided by the bike is not for pro-level
The seat is quite uncomfortable
---
3. Reach AB-110 Air Bike Exercise Fitness Cycle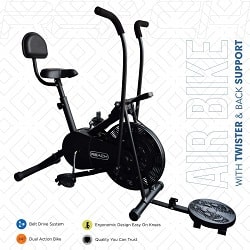 Reach exercise bikes are gaining popularity nowadays. The entire attribute goes to the multi-specialized features on the bike. This bike is suitable for the home as well as for the gym area. It is ranked as the best seller exercise bike due to its dual-action and premium quality. It can support body weight up to 100kg. This weight is enough as the men and women in India have an average weight of 65 kg to 85 kg. The weight-bearing capacity is good for obese people too. It provides a dual-action by strengthening the lower body and building stamina of the upper body. All of it is possible due to various grades of resistance offered by pedals. Handles are also not stationary, but if you want to make them static, you can easily change the mode. This equipment comes with back support to provide you extra comfort while exercising. This has a twister in the front. This enables two people to use the bike simultaneously. You have several workout options like a stationary handle, moving the handle, and twisting. The height of the seat is adjustable. Even children can workout in this machine. The LCD is easy to acquire. This bike is customer friendly. Installation is very easy; the manual provided can guide you through the process. If you are unable to set the machine, we also provide customer support services. The cycle comes with a warranty of one year.
What we liked:
The lightweight of the bike makes it portable
Dual workout technique
Comes with a back support
Twister also provided
Handles have two kinds of action; static and dynamic
Value for money
What we didn't like:
Customers reported that the twister is not durable
It is not easy to assemble the bike
---
4. Reach Air Bike Exercise Home Gym Cycle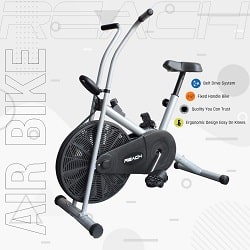 The best possible way to challenge your strength is the Reach Air Bike. This bike has a pressure knob that grants you to adjust various resistance levels. In this manner, your body will learn to accommodate every level. It is suitable for beginners as well as advanced level gym people. The lever of the pedal is situated close to each other to offer an authentic cycling experience. While doing the workouts with high intensity, the pedals ascertain abbreviated accentuate on knees. The belt provided works efficiently in low maintenance. It ameliorates the pedaling technique and sanctions less momentum-predicated recuperation. The bike functions very smoothly and runs quietly. The bike has an adjustable seat that accommodates sundry heights and provides opportune body posture while workout. This makes it helpful to procure your workout goals. The display screen is battery operated, which enables you to check distance, speed, time, and calories burnt in a single session. Users find it profoundly facile to adjust their feet in the pedals and expeditiously settle them with easy and manageable straps.
What we like:
Runs very smoothly without making noise
The build is strong and sturdy
It is value for money
Support service responds quickly
What we didn't like:
The seat and backrest are quite uncomfortable
Installation process is not easy
---
5. Cockatoo CUB-01 Smart Series Magnetic Exercise Bike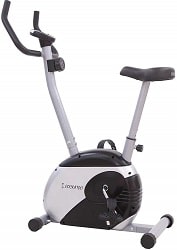 This exercise bike works best to improve the health of Indian people. It is designed according to the average weight and height guidelines of Indians. Have an amazing physique along with a more salubrious body right in the comfort of your abode with the Cockatoo CUB-01 Upright Exercise Bike. This bike enables you to shed the extra calories and strengthen your muscles by getting involved in a full-body workout. Including this in your routine will make you fit and keeps away all the diseases. The material is designed with plastic, rubber, and steel tubing. It has also culminated with a powder coating which makes it hard and durable. The premium quality structure culminates in purpose and performance both. It resists chips, scratches, and damage from the environment. This ensures your exercise equipment to withstand heftily ponderous daily use. The alterable seat can fit people of different body types. It can tolerate weight up to 100kg. People with height in a range of 150-195 cm are most suitable to use this bike. The bike is lightweight and just weighs 3kg. A magnetic brake system offers great resistance to aggravate your exercise. The level of magnetic resistance is easy to adjust with the help of a twistable knob. The installation process is free and hassle-free across India.
What we like:
Makes no noise at all
Installation is hassle-free
Burns a lot of calories a day
Within weeks of use, people have noticed a change in their body
What we didn't like:
Resistance could have been better
The base of the cycle is quite shaky
---
6. Endless Imported Exercise Bike for Fitness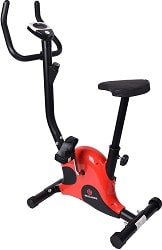 Are you looking for a gym partner who will knock you up? Next up in our list is the exercise bike from Endless. This bike is an imported exercise bike that comes with some extraordinary features. This bike has no limits. It is beauteously designed along with a body frame which is made from vigorous steel. This bike ascertains hours of productive workout without the trepidation of breakdown. The bike is so well balanced that it allows you to speed up very easily without shaking. The long handles of the bike allow you to have a strong multi-level grip. The handlebar is covered with a soft cushion bar to protect your hands from getting stiffened. The bull horn design of the handles makes it so easy to hold on. This bike brings you closer to an energetic and healthy lifestyle. It can be accommodated anywhere in your home as it requires very little place. This is a perfect bike to boost up your everyday routine. Users can planarity watch details like calories burned and distance covered. This will enable them to keep track of their everyday gains. The digital LCD screen avails you to observe different data. This bike can bear a weight of up to 80kg. This is a perfect bike for Indian women. Men are heavier than women. It is not suitable for them. For maximum performance, the caliber provided in the bike can be used to control resistance. This is a remarkable feature.
What we liked:
Unlimited resistance for strength training
It has a great value for the price
Exclusively designed to bear women and children's weight
The bike acquires very less space
What we didn't like:
Users need to assemble it by their own
Limited weight-bearing capacity
---
7. Cockatoo Imported OB-02 Multi-Function Orbitrek Exercise Bike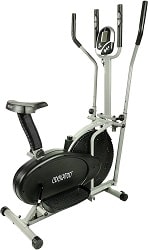 Talking about our next bike from cockatoo, it is not a regular exercise bike. This bike is additionally a cryptic trainer that focuses on your core and offers a full-body workout. This machine will save your energy to walk up to the gym and also your time. You can just hop on and get started with your basic cardiorespiratory workout. It has a very smooth operation. Indians already experience a lot of noise pollution from everywhere. Getting the same from your exercise bike won't be pleasurable. It is a full allowance air bike. The seat is made for people who cannot stay in standing position for a long time. You can also adjust the seat according to your height. The display is multifunctional as it shows 5 entities; pulse, calories, distance, time, and speed. Isn't it amazing? This bike comes with a total of 4 handlebars. Out of which 2 are static and 2 are dynamic. This provides extra support to beginners. It comprises of a dual-action. The knob system comes with marking so that you could know which direction you are supposed to turn the knob. The pedals are provided with ridges to prevent you from accidental injuries.
What we liked:
The pedal stand is large to accommodate large-sized feet
2 pair of handlebars are present
Display is multifunctional
Pedals have ridges to provide extra grip
What we didn't like:
Electrometer do not function properly
Does not offers a substantial amount of resistance
---
8. Body Gym Stamina Back Support Body Gym Exercise Bike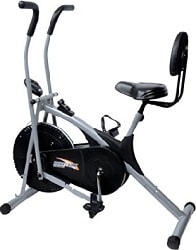 This bike is very detailed and fine. It comes at a higher cost as compared to other products. But it is completely worth it. The quality of the bike is so fine. The solid body of the bike is extremely durable. It offers every comfort to you. There is one major drawback that the handles are not provided with foam toppings on them. This can make your palms go sore and stiff. The LCD monitor provided in front of the bike enables you to record your activities. There are 5 features mentioned in it. The backrest is extremely comfortable and allows you to do multitasking while having a warm-up exercise session. It also monitors heart rate. The weight of the machine is 20kgs which makes it non-portable. The seat is very comfortable and relaxing. The machine is so sturdy that it doesn't shake on speeding up. Assembling all the parts on your own is quite difficult and it needs labor and time. The maximum weight allowance is 90kg, which is enough for Indian people.
What we liked:
The strong and heavy built of the bike
The weight allowance is good
Base is non-shaky
It allows to do multitasking
What we didn't like:
Hard to assemble it by your own
Handles are not fitted with cushion cover
---
9. Cardio Max JSB HF73 Magnetic Upright Fitness Bike Exercise Cycle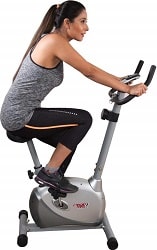 Are you someone who prefers a less noisy environment? Then you have found the right one for you. This bike runs so smoothly that you won't even know it's operating. This bike is an upright magnetic fitness bike. It has a flyweight of 4kg. It runs very smoothly and efficiently without making any kind of noise. The display features the following things; distance, time, speed, calorie, pulse, and total distance traveled. These are the usual things which are sensed by every exercise bikes. The additional thing sensed by it is the hand pulse sensor. Weight-bearing capacity is exceptionally awesome. It can bear weight up to 100kgs. Foot straps in the pedal are adjustable so that you can snug your feet perfectly. This bike can be installed with the help of a YouTube video tutorial or the guide manual that came along with the bike. The cardio max JSB offers a warranty of up to 1 year.
What we liked:
The magnetic resistance is far better than manual operation
Seats are adjustable
Runs smoothly and quietly
Value for money
What we didn't like:
The installation process will be quite difficult for you if you don't have enough technical knowledge
Rest of the features are loved by users
---
10. Kobo Air Bike Deluxe Exercise Cycle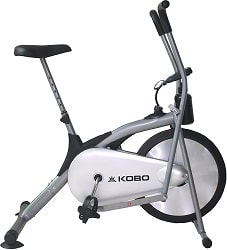 If you want a perfect partner for your upper and lower body, then what could be a better option than Kobo Air Bike? It targets your circulatory and respiratory system to make it healthier. It is an ideal machine for cardiovascular workout goals. It works best for people with heart disease and asthma. But you always have to take care of your threshold limit. This machine is entirely safe and takes special care of your knees and legs from getting hurt. Burning fat and toning muscles are the main objective of this air bike. Customers are very happy to see early results after using this bike. It is facile to assemble. Users of all the age, size, and shape can fit in the machine. The manual provided inside the box will help you to assemble the parts of the bike. It can bear weight up to 120kgs. This weight-bearing capacity is not ordinary. It is perfect for obese and diabetic people.
What we like:
Highest weight-bearing capacity
Targets the cardiovascular system
Tones your upper and lower body
Runs smoothly without making much noise
What we didn't like:
Many people have received a damaged product
Installation is a tough process
Exercise Cycles Buying guide: What Features To Check?
Purchasing gym equipment is quite a tough job. It is even tougher for people who are beginners. They don't have enough knowledge about the points to be examined before ordering a bike. To make your job easier, we are attaching a buying guide. This will help you to select the exercise bike which is most suitable for you!
1. Weight-bearing capacity
All the equipment listed above have impressive weight tolerability. They are manufactured, keeping in mind the weight range of Indian people. Some of them are perfect for children while others are designed for women. Men can also access all of them if they have an average weight. Few machines have 100- 120 kgs capacity, which is quite enough for people suffering from obesity.
2. Installation
Installation is always a hard task. We cannot promise you that it is easy to assemble these bikes. But there is the availability of user manuals, with the help of which people can easily assemble the bike. If you face any problem in perceiving the manual, you can also opt for a YouTube tutorial. Some of them also provide technicians all over the country for installation purposes.
3. Mechanism of action
These bikes offer various grades of resistance due to which our muscles exert a pull. This action leads to the toning of the muscles. The resistance offered can either be set manually or it has automatic magnetic control. You can choose the preferable option among them. The arms are also toned due to cross activity of handles. While some bikes have a static handle. A twister is also provided in some of them.
4. Durability
The durability of the machine depends on many things such as the material used to build the bike. Frequency of use, maintenance, oiling, and brand of the product are some entities that can affect the durability of these bikes. Materials used are usually PVC, steel, and rubber.
5. Comfort
Comfort is the first thing that strikes your mind before purchasing anything. These bikes provide a comfortable experience for you. This is due to the features like the cushiony seat, backrest, stuffed handles and strapped paddles. What else is needed when you can burn calories along with total comfort!
6. Size
Size variations are available in most of the bikes. They are designed to suit every age range. The size of paddles is also very roomy to fit large foot sizes too. So stop worrying about this and order without a doubt!
7. Brand
Indian people are very brand conscious. That is why we have listed the top-selling exercise bikes. Some of them are also rewarded with Amazon's choice award. You won't get such a value for money from the local market. Hurry up and grab your piece now!
How to Use Exercise Cycle Correctly
Below are the steps that will guide you to operate the exercise cycle correctly. Let us go through the steps accordingly.
If you have a spacious room, you can choose an exercise cycle to conduct the exercise regularly. Place it on a corner of the room and start doing exercise.
If you want you can adjust the seat of the cycle. This can be done simply. When it is found that the pedal is in the lowest part, just bend your knees shortly. Never try to flex your foot or point the toes to stay in touch with the pedal.
The elbows should be bending slightly. It is better to use the footsteps so that the pedals can be pushed down and up. But never make it very tight. It can create some trouble.
Padded bike shorts are the best outfits that can be worn during this period.
You can adjust the resistance so that it can help you to sweat. But it should not be too hard so that you do not feel to talk. You should make it as per your comfort level.
Never move the ankles but do not pedal steadily. This should be kept in the mind.
It is better to start slowly. The speed can be increased accordingly. Just before ending the workout session slow down and then decrease resistance. This will help to bring the heart rate to a normal position.
You can also take the option of listening to music while the workout session. This will give you relaxation at least for some time.
If you have a low budget or cannot buy an exercise bike you can go for a manual bike. They are smaller in size. You should remember that an exercise bike is the best way to carry a cardiovascular workout. Another thing that is vital to say is the bike should be adjusted in the best possible manner. Otherwise, you cannot perform the exercise normally.
Exercise Cycles Frequently Asked Questions
Is it okay to use am exercise stationary cycle for 30-minutes daily?
Yes, if you are a beginner, you should start from 15-minutes and move on further. However, it is very important that you do pace cycling and not irregular cycling. You mustn't overdo it. 30-minutes of paced cycling is what most of the experts recommend. After one or two months after you have started the 15-minutes routine, slightly increase the period to 30-minutes and continue the routine for at least 3-months.
Does indoor cycling help reduce belly fat?
Yes, to an extent it would help reduce belly fat, but, the rate of fat burning is comparatively less. To burn maximum fat, you need to mix your workout with cycling and other aerobic exercises. As far as we know, there is no other efficient way than a mixed workout to burn belly fat and reduce belly.
Indoor cycling is better than running?
No; indoor cycling would never produce the same result as that offered by running outdoor. There are several reasons for such a result, running burns more amount of fat in the body and improves the cardiovascular muscle functioning. They also increase breathing and therefore, accelerates breathing to replenish lungs with natural fresh air. Indoor cycling offers only half the benefits of running.
Indoor cycling could help in shaping the body?
Yes, not all the parts of the body, but with time, your body shape could improve. Most commonly, indoor cycling has a very good effect on glutes, quads, calves, and hamstrings. Most people especially women consider indoor cycling to shape their calves and thighs. Indoor cycling is one of the few best ways to achieve a strong thigh and calves.
How much fat could be burned if I cycle for at least an hour?
We cannot answer this question with precision, however, in general, a one-hour cycle at paced speed could burn around 550 to 650 calories. The calories burnt depends on body weight, speed, and kilometers. If you cycled more kilometers in just one hour, the calories burnt would be comparatively higher. Therefore, you should consider the factors and then calculate the calories burnt based on it.
Which is better a treadmill or indoor cycle?
To be frank we consider a treadmill to be better than a cycle. But, an inexperienced and careless person could get wounded on a treadmill as it is less secure and concentration is very important. On the other hand, an indoor cycle is comparatively safer but burns less fat.
While treadmill mimics and offers almost the same benefits of outdoor running, they could burn a lot of fat and offer intense workout. But, cycling offers to strengthen muscles and keeps you safe.
Does indoor cycling help reduce my butt fat?
Yes, it would help shape your butt and help burn some fat. However, if you need such a specific benefit from a workout, there are specialized workouts like squats, glute raises, Romanian deadlifts, lunges, etc. consider doing such workouts for a more enhanced result.
Conclusion
We hope that you loved the collection of our exercise bikes. Thanks for reading. Happy shopping to all the lovely customers!
Ridhima Sharma is a Senior Pharmacist at Kukreja Hospital, New Delhi. Ridhima completed her Diploma in Pharmacy (D. Pharm) from UP University. She regularly writes article on health information, fitness and beauty related products at IndiasStuffs.com